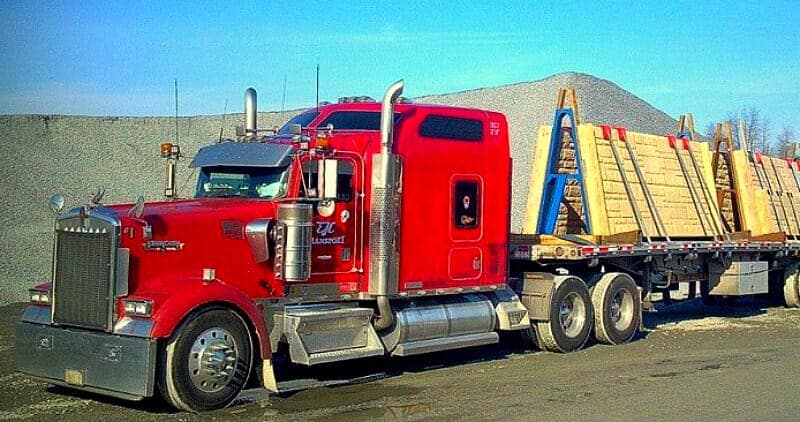 Eric Correira is a trucker with a very unusual rig: a 2002 Kenworth W900, but not your average W9.
I first 'tripped across a photo of Eric's truck on the Smart Trucking Facebook wall.
At first glance, the big, red W900 Kenworth, looks like a pretty cool rig….. not for show, but a working truck…. nothing highly unusual about it.
But, when it came to the interior photos posted on the Facebook wall, I couldn't help but notice the fascinating decor of the interior….all decked out with skulls!
My curiosity got the better of me, so after a brief chat, I asked him a bit about his rig.
Interview With Eric About The Reaper and His Trucking Career
— What attracted you to a career as a trucker?
Since I was a kid, I dreamed of one day, owning a Kenworth W900. Never in my wildest dreams, did I ever think I would ever drive one, let alone own one free and clear.
I once worked for a gas utility company. In my second year of employment, I was in a horrible gas explosion. I developed PTSD from it….forcing me to my destiny.
I had watched lots of trucker movies from Duel to Smokey and the Bandit and anything that had a big rig in it! I loved them all!
— How did you get into trucking?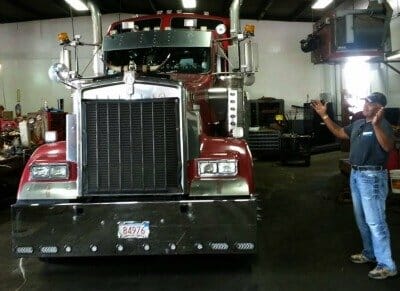 I tried the owner operator thing about 17 years ago. The first rig I owned, was a Freightliner…… couldn't afford a W9 at the time.
I took their 'Route to Success Program' and got a 120 HDL… small, and no power and a super 10, which at the time, I had no idea how to even shift it!
The company I was working for was ok for a bit, but they become shady with the money. I wasn't happy with that Freightliner either….. it wasn't a W900!
So, I decided to upgrade, which was hard in that program. I ended up with a Freightliner Classic 18 speed, powered by a 550 cat engine. I was happy, but the payment was crazy and the Freightliner had a lot of problems. I tried to stick it out and did a few things to improve the look of my rig.
One day, I saw a W900 pass by me, and I muttered to myself, 'Some day, I'll have one of those.' I saw Petes, Macks and lots of other fantastic trucks pass me by, but my had my head stuck on having a W900!
When 9-11 happened, my business went right down the tubes. The company I worked for was bouncing cheques like super balls and I lost everything.
With the help of my father, I got an '86 W900 with a 425 Cat, 13 speed, low top small single sleeper. I eventually had to sell it too, as the repairs were sinking me.
That was a sad day for me.
MY 2002 KENWORTH W900L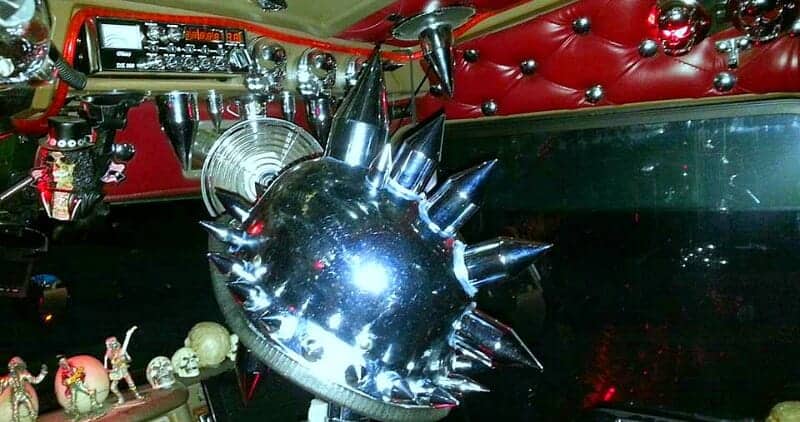 My present truck is a 2002 Kenworth W900L. I bought it from an owner operator in Harrisburg, PA. The truck was nice, but it needed a lot of work as I eventually found out! The specs:
a C16 600 hp, cranked up to about 900 hp
18 speed Eaton transmission
285″ wheel base, with 86″ studio sleeper
I've replaced the pump, radiator, clutch, transmission, clutch fan, injectors, hoses, front tires, brakes, air conditioning. I've added 7″ straight pipes, too.
There's over 1,000,000+ miles on the truck, although I don't know the exact number of miles on it. It has the original Cat motor and runs strong and sounds healthy. I'm completely happy with it.
I took a chance on ripping out what Kenworth put their heart and soul into.
When doing the project, I got to the point of no return and successfully accomplished what I set out to do.
I'm constantly changing the accessories too. At one time, I had 4 TV's.
Now, I have 2 in the front, and installed a 50 inch plasma tv with 1200 watt surround in the bunk area. One side of the bunk had to be completely torn out to install this tv.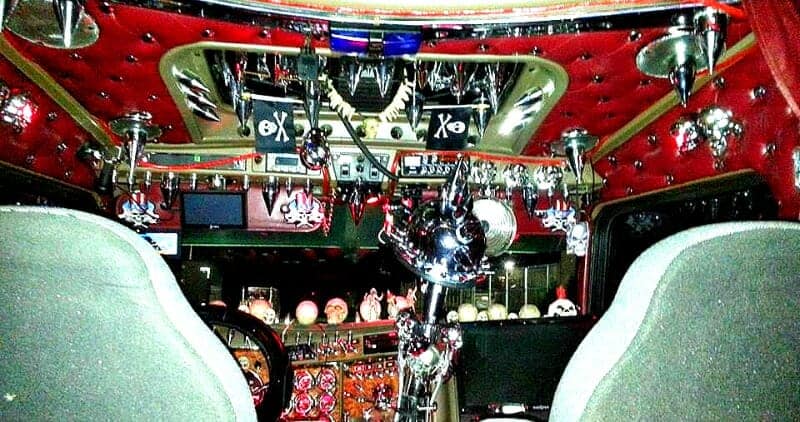 — Do you have a name for 'the look'?
I call my truck 'The Reaper'. I figured it fit the theme… the 'reaper' comes for anyone at any time, no matter if you're ready or not, so I figured I'm going to keep on trucking, no matter how hard it gets.
— You have very unusual decor for the interior of your Kenworth. What inspired the choices?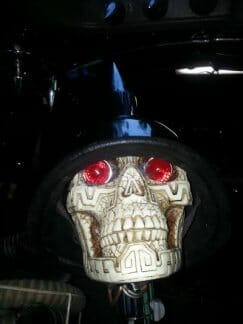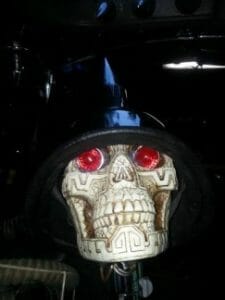 The idea kind of came about one Hallowe'en. That celebration was always big at my house…we all loved Hallowe'en and my mom and I thought skulls were cool.
I just started out with one…..my father called him Skully. He was a small one and the first one to be put on my shifter. Dad said to me, 'this is your passion… you should come up with a theme for your truck'.
It all started from there…. more and more, every state I went to that had a chrome shop or accessories store , I'd get something else to add and install it.
I saw lots of nice trucks, but basically, they were all the same to me….stretched with chrome, wheel covers, big stacks, etc. Don't get me wrong, I love all that stuff but when I came to the inside, it was all the same… chrome parts, Rockwood floor, tall shifters.
I wanted something different. I wanted something people would remember. I wanted to create an interior that was comfortable for me and made me happy.
The best part about my rig for me? When I'm parked at truck stops, it's like I'm home….. I'm not huddled up in some smelly room watching just whatever is on tv with strangers.
It's cool to be able to enjoy the results of my hard work, and be comfortable in my own environment.
I made the Reaper into my own little world where I can enjoy peace and quiet. But I never thought people would go crazy over it and fuss over it!! LOL.
My rig isn't show quality by any means, with hundreds of thousands of dollars into it, but it's all mine…. and it works hard. Love my Kenworth W9.
Since your design and decor are unique and pretty unusual, I'm certain you get mixed reactions. How do other truckers and people respond to the look?
Everywhere I go, people get a little glimpse of the inside of the reaper and ask to see the full interior….. and they love it. I am really flattered by this. Many customers specifically request that I haul their freight, which is pretty cool, I think.
Most of the comments I get are positive and lots of folks take photos of it. They say they haven't ever seen anything like it…. which is what I love to hear!
At a recent truck show, there were crowds of folks checking out my truck in amazement, commenting they had never seen anything like it before!
Related > Check out the North American Truck Show Schedule
If folks like it, cool. If not, I don't care, it's my truck… I drive it and live in it for long periods of time, so it only needs to suit me.
Some people really don't like the 'look' at all. But I figure, those people, no matter what, always have negative things to say.
To them I say, 'Here's a dime.. call someone who cares what you think!' (Eric chuckles a little.)
My Dad by the way is one of the biggest supporters of my dream.
Tell us about your trucking pet.
Boston is my buddy…..I got him to keep me company when on the road, and help me get through some bad times in my life. He's a loveable dog. It took him a bit to get used to traveling and it took me a lot of time to train him too!! He's a very loyal companion…. love him to death.
Owning your rig (2002 Kenworth W900) outright, is a pretty big accomplishment for a young man. What advice would you extend to other young entrepreneurs who are owner operators…. what are some of the things that have contributed to your success?
I would suggest to new owner operators to do lots of research on the trucking industry and what kind of work you want to do.
The business is not easy….. it takes dedication and it also takes 'money'. It's important you be a really good driver, too and keep on learning.
Related > Our Top 10 Tips For Owner Operator Success
If driving is your passion, never give up on your dreams. Start small and keep on climbing.With every mile you turn, with every load you pull, you build experience….. and you create a new adventure.
Share some of your thoughts on your life as a trucker.
Love trucking. I've been through a lot with PTSD and just recently found out my girlfriend has been cheating on me, while I've been on the road….. devastating.
Related > Top Tips For Successful Trucker Relationships
I've had my ups and downs in life, sometimes I think more downs than ups… but I have a good family and we all help each other.
But that's a trucker's life, …. it sucks at times, but I still love what I do.
There's people who drive trucks and then there's real truckers who have trucking in their blood. Aside from the look of trucks, I even love the 'smell of them'…LOL… love everything about them.
For me, being a trucker is a way of life. A trucker is so much more than someone holding the wheel and doing deliveries. I'm talking about trucking being in your blood…..the passion…..the feeling of pulling into a truck stop or loading dock…. feeling proud of and loving what I do….being proud of owning my own truck.
I wouldn't want to do anything else for a living. I love being a owner operator. When I park my truck for the weekend, I can't wait to get back on behind the wheel and start up that C16 Cat.
When I hit the fuel pedal and feel the power of pulling a loaded trailer…successfully delivering a load on time and safely….. that's what I love.
I have my dream truck and I'm doing what I've always wanted to do. I wouldn't trade my 2002 Kenworth W900 for anything.
Related Articles