This post may contain affiliate links. You can read the full disclosure policy, which is pretty dull, but
here it is.
Finding the best trucking company to work for can be a stressful and daunting task. When you start your research, you'll soon discover that there's no shortage of negativity about the various carriers and trucking jobs.
Disgruntled drivers and people with nothing better to do, will leave their comments and opinions on internet websites, sometimes as retribution due to their own negative experiences with companies, or because they have serious shortcomings and well, they need to blame someone for their mistakes.
However, in spite of the heavy criticism you read regularly, there are good carriers out there.
A truck driving job isn't for wussies. That's a fact. Being on the road for days and weeks at a time is challenging and stressful. But for those who have their heart set on making truck driving their career, there's a few things to look for when looking for the best trucking company to work at.
Personally, I haven't worked for very many different trucking companies in my 35+ years of trucking. This is because I knew ahead of time the particular type of work I wanted. I then researched the various carriers which interested me. I was very specific about the kind of work I wanted.
Tips For Choosing the Best Trucking Company
One of the biggest factors for success in trucking, is choosing the right carrier. This is true for all drivers, both owner operators and company drivers.
The following tips and advice will help you to determine the best trucking company to work for, in order to make your career in trucking, the best it can be.
Job Search Board – Truck Driving Jobs Available
Job Search by

1. Big Trucking Companies – My Personal Experiences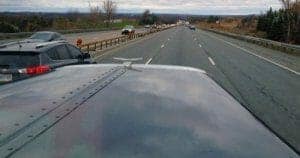 Most all my work experiences with carriers were positive, other than one. I worked for a huge Canadian carrier as an owner operator, only for a couple of months. The driver recruiter had misled me.
I quickly found out I was truly just a number when I called in to dispatch each day.
That mindset did NOT work for me. The miles they had promised also weren't there.
I did discover that some of the big companies, provide free CDL training, with a job afterwards. This can be a good deal, if you're prepared to stay with the company after you're trained for the required time period. But beware. These companies usually offer notoriously cheap wages to truckers. On the other hand, you can learn the ropes, get some seat time (experience) and learn to drive on their equipment. Remember, the first year of your professional driving career will be the toughest.
2. Medium Sized Carriers – Often a Better Choice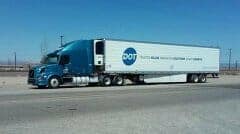 I've had better luck with medium-sized carriers where the staff knew my name and recognized the caliber of my driving. They were a small enough company to recognize the day to day results of my work.
Usually, in somewhat smaller companies, the owner of the trucking company is accessible and available.  It's his own money that's paying your salary, and he's usually smart enough to see drivers as assets to his business, as compared to a dispatcher who may just see a driver solely as someone to be used.
I've also found that a medium sized company has a higher, better structured pay scale, in order to attract and retain good drivers.
This can also be true of some smaller carriers. But sometimes these smaller businesses lack the manpower and resources to replace you, when you want home time or a break, or to cover a load you simply don't want. Smaller carriers can often want to run you harder than you care for.
I look for companies with good quality, well maintained equipment because I find it can be an indication that safety and maintenance is a priority to them, as it is to me.
Well maintained trucks and trailers are an indicator of their focus and how they carry on business. They don't expect you to be fixing their junk equipment on the side of the road.
3. Evaluating a Trucking Company
The truth is that trucking is a business and the first goal in business is to make money.
Some carriers make money by taking advantage of their drivers and short changing them on their pay. These are the type of carriers professional drivers must avoid.
There are a few simple steps to take to help determine if the carrier you are considering working with, is an honest one.
The Company Recruiter – Most trucking companies, particularly the larger ones, have specific staff designated for the recruiting process.
Unfortunately ,the large majority of recruiters actually know very little about the trucking company itself, or how the pay system works, or are capable of answering most pertinent questions or potential driver may have.  Some large trucking companies even out source their recruiting to a different company.
Most recruiters are 'bottom level' employees who are paid to repeat what they have been instructed to say. Some don't even do that very well.
When interviewing for a driving position, record the answers to your questions.  IF the recruiter is vague, or doesn't know an answer, ask to speak to someone higher up the ladder, to ensure the answers you are getting are correct
Payroll – Ask to speak to someone of authority in the payroll department to verify that the payroll information you have received from recruiting is correct.
 Drivers – One of the best resources you have to ensure that the carrier you intend to hire to is an honest one is to talk to other drivers, both ones that currently work there and ones who used to work there.
Find out how long most of their drivers have worked there.  Plenty of long term, older drivers are a good indication of a good company because drivers have stayed with them for years.
Ask if they often have payroll issues, how dispatch is to deal with and what the job entails.  Find out how well they feel the equipment is maintained by the company.
Dispatch – Speak personal to the head dispatcher as to what dispatch expects of you in the performance of your duties and compare it to your information from the recruiter .
Manager – Finally, meet with the terminal manage personally to clear up any inconsistency in the answers you have received to your questions and take the opportunity to introduce yourself to him or her.  Often that personal introduction is beneficial to both of you in establishing a line of communication to deal with any later issues that may arise.   The higher up their corporate ladder you are able to go, the better.
Calculating Pay – Finally, it is important to determine before starting with a carrier how you will be able to verify that your pay statements will be correct from the company.
If the company is to pay 'by the mile' you need to be able to verify that the paid miles are the correct miles.  Almost all trucking companies that pay by the mile, use the PC Miler program. This program is printable to hard copy off the screen and should be included with your pay statement to help you verify that they have paid you correctly.
Some companies rather than print a copy with your pay statement make a computer terminal available in the driver's room that has PC Miler available do driver may, at any time, check their mileages with their pay statements.
If the carrier has no available way to allow you to verify the miles you are paid are valid, and they're not willing to help you verify the paid miles, walk away and find another carrier.
Shortening the miles paid to drivers, is the most widely used pay scam in the trucking industry.
4. Seek Out a Company With Major Freight Lanes in Your Favorite Areas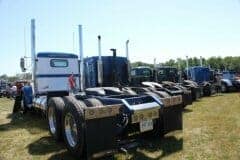 This factor is pretty high on my priority list, when looking for the best trucking company to work for. I know where I like to run…. what parts of the country I like to travel in, so I look for carriers which service those areas on a regular basis.
A company can offer a good pay package running LTL freight to New York City, but if you hate going to New York City, you certainly won't last long at that driving job. Save yourself the trouble and do your research first.
5. What Type of Trucking Do You Prefer?
You probably have a preference as to what niche you wish to work in: produce hauling, flat bed work, dry freight etc, how much home time you want etc. This will help you hone in on a select few businesses in your area. No point in applying to a place that keeps you going for 5-6 weeks at a time, if you want to be home every weekend.
6. Driver Focused Companies
I look for a carrier who treats their drivers like people and as equals. I don't tolerate being talked down to or verbal abuse, just because I'm a driver. I do not put up with that behaviour at all. No one should. In the present state in our industry, with a worsening trucker shortage, no driver needs to.
Remember, they need you worse than you need them.
The Rest Is Up to You
There's no magical, cut and dried method to find the best trucking company to work for. No one can tell you what the BEST company is…. what works for one trucker, may not work for the next. We all have individual expectations of what makes the best driving job.
After you've done your homework and have made a well thought out decision, the rest is up to you.
Give the company a chance and give the driving job enough time to see if it'll work for you. There's absolutely no sense in jumping ship after a week or a month, unless there's something about the company that really stinks… but that shouldn't be the case if you've done your due diligence and checked out the company very carefully.
Where Would You Like to Go Next?
Smart Trucking Home > Truck Driving Jobs