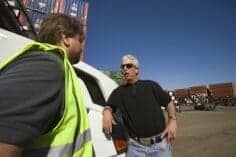 What makes for the best trucking jobs? This is a question that we're asked time and time again…….and with good reason.
It doesn't seem to matter the most, whether it's flatbed trucking jobs, liquid hauling, reefer work, general freight or car haulers,truckers are usually pretty specific, about what they want from a driving job.
What Makes the Best Trucking Jobs?
It may be surprising that the rate of pay isn't always the most important factor a trucker considers when job shopping. There are many other things that are equally if not MORE important, than money.
These are some of the common factors which truckers consider.
Mileage. Truck drivers expect from the best jobs, that the carrier to provide and live up to the number of miles per week or per month, promised upon hire.
No forced dispatch. Some big rig truck drivers don't like running in certain areas, require certain days off, etc. The trucker has the right to say 'no', if he wishes, WITHOUT RECOURSE. The company is flexible with scheduling, re: home weekends etc.
Rate of Pay. Drivers want to be paid for the work they do…. that's not asking too much. The top jobs in trucking, aren't necessarily the highest paying jobs. Of course, the rate of pay is important, but it isn't everything.
Equipment. Some drivers won't drive anything other than a Peterbilt or a Kenworth. Others don't care, as long as the equipment is reliable and well-maintained. The best trucking jobs to some truckers, are those that provide top of the line equipment!
Respect. Decent treatment from supervisors, dispatchers and managers. Some dispatchers are known for getting on 'power trips' and using their job to make a professional driver's life miserable.
Communication. When there's an issue that needs resolving, there's someone to talk to that listens and tries to work out a solution. Also, when the trucker is on the road, an after-hours system in place, for responding to emergencies and urgent needs.
Accurate Pay. One of the biggest pet peeves of drivers, is a pay cheque that is consistently wrong, week after week. It can reflect a serious lack of attention to business, by the owner, if the company doesn't think it's important to make sure the trucker's pay is correct, and paid on time. To rate as one of the best trucking jobs, some drivers demand 100% accuracy of pay, and 100% paid on time, or they'll quit a job.
Simple pay statement. There's no need for a pay statement to be confusing or difficult to read. A driver has the right to expect a statement for his pay, that is straightforward. It shouldn't be necessary to call payroll frequently with lots of questions regarding deductions or expenses paid.
Company rules. Drivers, whether justified or not, whether reasonable or not, often don't like particular rules dictated by a trucking company. Some drivers expect to be able to take their big rig home (company drivers), some expect to be able to utilize the company truck as their personal vehicle, etc. Drivers are often known to quit companies that have rulesthey just simply can't live with.
Sufficient home time. Truck drivers need time at home, to spend with their families. More and more carriers are realizing just how important this is. If a trucking company runs a driver too hard, and doesn't allow for ample home time, they may eventually loose the driver, when he quits the job, in order to save his marriage!
Carriers need to be aware of the needs of the driver. Any company can attract a driver, but it can be a challenge to retain a driver! It's in the company's best interests, to have a designated individual to communicate with the drivers and listen to their needs. The good carriers do just that!
Truck Driving Jobs Search Board
Job Search by