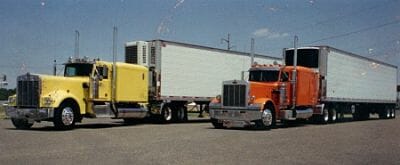 We bring to you, lots and lots of big rig pictures…. plenty of what you're looking for…..photos and even MORE photos of cool big rig trucks. Semi truck fans can talk shop about big rigs, all day long, but it just isn't the same as checking out photos of those fantastic machines.
Because there's such a huge choice of custom features and accessories that truck owners are able to choose from, it's rare that there are two custom big rigs are ever the same.
It's not a 'if you seen one, you've seen 'em all' scenario. Die-hard' big iron' fans, just can't get enough of photos of big rigs.
Get ready to dig some really fine pics of some of the top working class semis, big rig show trucks, Peterbilt show trucks, custom rigs, cabovers, Macks, Freightliners, Western Star trucks, custom cabovers, old rig classics, Kenworth show trucks and older truck pictures, and all the other makes and models we can find.
  Class 8 Highway Trucks: Semis, 18-Wheelers,
Tractor Trailers, Big Rigs, and Some Very Cool Iron
Drop around again soon, as more and more big rig pictures are added to the existing galleries and we'll be adding brand new photo galleries of the hottest rigs out there. We gather lots of fantastic big rig pictures from our visits to the truck show, as well as submissions from photographers and truckers.
The saying, 'a picture speaks a thousand words', really hits home here.
If you have a pic of any make or model of big truck…. anything from a cool tricked out extreme rig to an older vintage model, be sure to send it along and I'll add it to the collection.There's no such thing as too many truck pictures.
We'll continually add to this collection, until it's filled up and overflowing….. then we'll start another gallery. It will continue to grow over the years.
Bookmark this page…. you'll be glad you did. I'll be hauling out some old pictures of some great classics from my albums and adding them regularly.
If there's a favorite type of rig you don't see in any of our galleries of pictures above,
let us know
and we'll be happy to check into our archives.
We aim to please.