Big Truck Tires. Commercial rubber for big rigs take lots of hard-earned bucks! They're an ongoing expense and often a 'surprise' expense, if you get a flat.
Tips for Extending the Life of Big Truck Tires
Commercial truck tires are pricey. They're a significant part of a truck's operating costs. Therefore, it's important to extend the life of your tires as long as possible.
Check tire pressure at least weekly.
Watch for signs of wear and rotate accordingly.
Implement a rotation schedule. Review your maintenance records and rotate the tires. Rotation frequency would depend on the work application of the truck, the terrain, average gross weight etc.
It's a good idea to rotate the drives regularly.
Always be sure the tires are balanced. Spend the money to have them balanced after new installs.
Buy 'wheel balancers' to help extend the life of the tread.
Facts About Retreads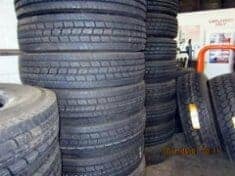 Retreads are widely advertised. If you see or hear an ad for semi truck tires that seems to good to be true, it's probably for retreads!
These tires are not a good alternative. Manufacturers sometimes make false claims regarding the longevity of the tire.
The hotter retreads get, the more apt they are to fall apart. They're only held together with glue, so in warmer climates and in warm conditions, they often fall apart.
They're a serious safety hazard when they fall apart when a truck is in motion. Every year, people are injured and killed from flying pieces of retreads and pieces lying on the road.
States and provinces must hire road crews to pick up the mess left behind by retread pieces.
They're cheaper than regular tires to buy, but ultimately cost more in the long run. Theyneed replacing more often.
Retreads aren't allowed to be mounted on the steering axles. Even the safety authorities recognize that they're dangerous potential safety hazards.
Super Singles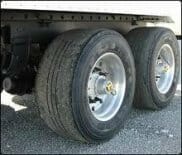 These tractor trailer tires are making a 'resurgence' in the market. They seem to be of better quality this time around!
Super singles are one 'big wheel' found on both ends of a semi truck's axle, instead of two tires on each end. The whole idea behind these tires is the weight saving and fuel saving potential.
However, when you blow out one of these babies, it automatically means a service call. You can't limp your truck to a repair shop.
If you're looking for a great buy on decent tires, try 'imports' from China. We've found them to be a decent deal, a good product and last well.
Another problem with these big truck tires when you blow a tire, is the axle drops and damages the rim, too. There's no other tire in place to take on any of the weight.
It's not unusual for a service call to be $1500…..for tire, rim, service call and labor. Definitely not cheap!
Where Would You Like to Go Next?