Choosing the RIGHT big rig specs is critical to the success of the owner operator. The value of a big rig is an important aspect when designing or spec'ing a truck.
It's something which many people overlook. When buying new, the cheapest truck off the dealership lot, will most likely be worthless at resale time…. a throw away truck, as I like to call them.
Is this part of your business plan, to have a rig that's virtually worthless when it's time to trade in?
Building and buying a new rig is a vital process the owner operator needs to GET RIGHT.
No one can afford to screw up this important process!
Build a truck that will service your needs and be a good investment. It's also wise to keep resale value in mind too.
This will be important when you sell or trade, or hang up the keys for good some day.
Find the Best Sales Rep
1. Hunt for a qualified truck sales person. Look for someone who's been in the business for awhile… someone who is knowledgeable about the mechanics and application of specifications of big rigs… not just a fast talking sales person, trying to make a fast buck. A former mechanic or a trucker can be a good choice.
First and foremost, a good equipment sales rep is an important tool when spec'ing your rig. Look for a sales rep who has been in the business for awhile…… note that this type, are few and far between lately.
Most of the knowledgeable sales people have left the business, as the new truck Class 8 sales market has slid into the dumpster, due to the extreme costs of new equipment. However, there are still some out there.
When you find a good rep, tell them the application for the equipment you wish to buy. They should be able to suggest good drive lines for different types of work, whether you're running the mountains pulling trains or pulling 5 axles through the U.S. These are two different truck specs for 2 different jobs right there.
Consider Fuel Mileage – Big Rig Specs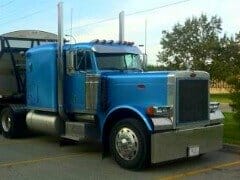 2. Assess Fuel Mileage. The fuel mileage factor has become very important for profitability in the past number of years, where it really wasn't a major factor, many years ago when the cost of diesel wasn't so high.
However, a fuel efficient engine doesn't equal a good, reliable performing engine. Ask your rep or research what engine has a history of reliability and performance….. be very careful of the fuel efficiency factor. Too many are influenced by the BIG SAVINGS promised by the manufacturers, and the promises to spend less at the fuel pumps.
However, those savings at the pump may be spent in the shop on an engine which won't run. Spend your money at the pumps? Or in the shop?
If you spec a lemon of an engine that gets great fuel mileage, when it runs, but only runs 50% of the time, and spends the other 50% in the shop, you've blown it!
These days with the profit margin being so slim, a mistake like that may be fatal to your business.
The engines of the newer vehicles are not performing as well as they ought to be, so beware.
A New Big Rig Spec Mistake: Remember the Kenworth Anteater?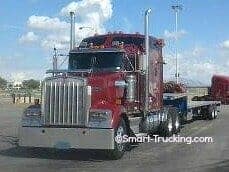 3. Don't choose the SPEC of the month. Let's look at a real world spec'ing mistake. When Kenworth first came out with the Anteater, named for its drop nose configuration, everyone knew Kenworth had come out with a winner in response to the rising fuel costs. It was so much more aerodynamic which meant more fuel efficient.
Anxious buyers flocked to the Kenworth dealerships to buy up these Anteaters. Some of the buyers were contracted to pull heavy weight through the mountains areas. Smarter heads stood back and did not run out to buy these hot new fuel efficient vehicles right away.
But what these people didn't know, or didn't bother to find out, was that in order to achieve the drop nose profile, Kenworth designers found it necessary to use a smaller radiator in these trucks, in order to fit under the sloped hood.
A smaller rad meant less cooling capacity. The truckers doing mountain pulling, quickly found out these small rads didn't have the cooling capacity for their trucks, with heavy loads in the mountains.
The problem of cooling capacity came to light, and Kenworth dealt with the problem. All worked out well in the end, except for the few who had bought too early and had the mountain application….. they had big problems!
There are many lessons such as this, throughout the industry. Tried and true specs are usually the way to go, not the latest and the greatest gadgets and designs.
Choosing Big Rig Specs: Will It Cost You in the Long Run?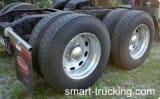 4. Be careful of going for design elements you don't really want. Another new technology out there, although truly it's just been re-introduced, after falling on its face the first time are super singles.
Yes, there are the advantages of weight savings in some applications, but very few.
A couple of years ago, I needed to stop in to a tire repair shop in southern Utah, in the middle of nowhere. While having a trailer tire repaired, I looked around the shop and was surprised to see a very large selection of not only super single tires, but rims for the super singles as well.
I commented to the owner that I was surprised he had such extensive stock of them, not thinking he would have many local customers in this area who used them.
He smiled at me and said, "I sell them from my road calls and I'm making a fortune! These out of state carriers coming through, blow them quite often, but with no supporting tire beside them, the axle drops and drags the rim on the road before the truck can stop. The vehicle is then unable to 'limp in' for repairs like you did. So I get a few hundred for the road call and better than a thousand for a new tire and rim. Super singles are the best thing to happen to the tire industry in a long time!"
I hadn't thought of that. But I could appreciate what he was saying. I wouldn't spec super singles for a long haul, cross country application.
Be Sure You NEED it, Not WANT It
5. Be sure you NEED it. For example, consider moose bumpers. Moose bumpers can be a love/ hate thing.
I find an interesting new direction in the spec'ing of 'moose bumpers' on trucks in some areas of the country. Though I hate the look of them, I sure understand the necessity. One deer hit on an average tractor trailer these days can run as high as $20,000, not including the revenue loss of the down-time.
One moose hit may well mean the insurance adjuster may write off the truck. No one ever wins when it comes to insurance claims, so if you run in areas prone to wildlife traffic, it may be wise to include one of these on your truck. So definitely a good purchase if you have the need.
Highly Recommended Big Rig Specs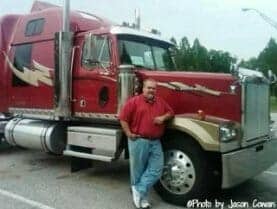 6. Choose Versatile Specifications. Select big rig specs and do try to build a truck that is well suited for more than one type of narrowly specific application.
From my personal experiences, I have found at resale time, the potential buyer may find that it will work for what he wants to do with the truck, even though that's not the kind of work I was using the vehicle for.
I spec rear end gears and transmissions in the middle of the available spectrum. That way, the rig is geared well for mountain work when necessary, but still able to cruise at low RPM'S on the interstates of Nebraska and Texas, for example.
It's vital to get the correct drive line combination for longevity and best performance with your rig.
I have always spec'ed long hood trucks, one reason is due to the great resale value. However there is now enough demand for the drop nose trucks, if I were to spec another truck, I'd consider a drop nose.
Long hood trucks, despite all the controversy, still bring top dollar if they are well kept and maintained. Their fuel mileage can be decent too, if they are driven correctly…. if you're a lead foot, don't buy a hood.
What are the top semi truck brands for resale value? From experience, Peterbilt and Kenworth models normally bring in the best bucks, depending on their condition. Freightliners and Volvos tend not to have high trade-in value.
However, a good clean, well maintained owner operator driven rig, can always bring in good value at trade time, too.
Buying a Used Rig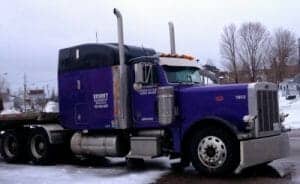 7. Consider a Used Rig. But Use Extreme Caution. Shop Diligently. Due to the volatility in the trucking industry, particularly for the owner operator, the tendency has been to purchase used trucks, due to the tighter profit margin.
I've bought used tractors a few times. However, I knew both the history of the vehicle, knew the owner and the driver personally, since the time the truck was new.
There are exceptions to this practice, but as a rule, I don't recommend it. You just never know what kind of problems you're buying in to. Most owners or companies these days, don't sell their rigs when it is not costing them money. Make sure to research a used vehicle extremely thoroughly.
Again, there are exceptions. I know a trucker who purchased one of Challenger's used fleet trucks and has had a good return from his investment. But remember, situations like this are the exception, not the rule.
One mind set is to buy used, buy cheap and run it into the ground, scrap it and buy another. I'm not sure how well these groups do with customer service, on time deliveries or the DOT? Not very well, I suspect, due to their lack of reliability. I, however, wouldn't recommend, this practice to any owner operator.
I also feel this methodology does not bode well for the professionalism of the industry.
However, at the end of the day, in the trucking industry, it's all about money. So if shippers can't belly up to the bar with fuel surcharges and current rates, they get what they pay for.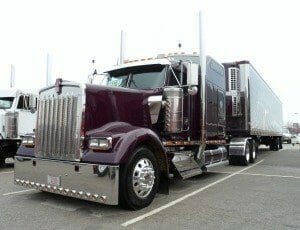 Choosing the correct big rig specs for your application and building a well rounded, versatile truck, will provide the owner operator with a truck that will serve him well and be a money maker, and will also generate a tidy sum of money when he's done with it, and it's time to trade.
More Related Articles You May Like
Return to Owner Operator Guide