I recall when I first heard of the Long Combination Vehicle (LCV) configuration some time ago, when reading in a Canadian trucking publication, that LCV's, were being allowed on Canadian highways.
I just shook my head in disgust, knowing this was just the beginning of a bad thing. We'd already seen these monsters in action on the New York State toll roads.
What is an LCV?
An LCV is an extra long configuration of tractor trailer, consisting of a tractor and 2 full size trailers. The basic idea is to move twice as much freight as can be moved with a regular tractor trailer configuration. These are very, very large trucks.
In Canada, there are restrictions placed on the operation of Long Combination Vehicles, which varies slightly from province to province. But the main rules of operation are fairly consistent across the country.
The Ontario authorities promote the use of these trucks, as stated by the Ministry of Transportation…..
i) as they allow freight movement of lighter weight goods, for less money, which in turn benefits the consumer
ii) they are more environmentally-friendly as the same truck emissions from one truck, can transport twice the volume of freight.
ii) they claim they are safer than regular tractor trailers
They have also placed rules and restrictions regarding the operation of the long combination vehicle, including what particular highways they can travel, speed limits, nature of the freight, freight weights, seasonal restrictions, specialized safety features as well as extra qualifications and certification for the drivers of the trucks.
---
LCV vs. SUPER B Configurations
LCV drivers as well as others in the trucking industry who defend the use of them, claim that these set-ups are really not much different than a Super B configuration.
LCV units are NOT as safe as a Super B unit, and here's why.
Here are the essential differences between
Super B's and Long Combination Vehicle units.
LCV – uses a converter to hook onto the rear trailer
Super B – Super B's and B trains utilize a fifth wheel for the rear trailer, which is attached to the frame of the lead trailer.
Therefore, Super B's are inherently more stable, track better and don't suffer from swaying problems on the rear trailer, associated with a converter system.
LCV – configuration is approximately 130′ in length.
Super B – configuration is 75′ total length. Considerable shorter configuration.
LCV – suffer safety issues in a strong cross wind because their height combined with light freight, virtually turns the configuration into a 'sail' in a strong cross wind, as the unit will catch the wind.
Super B – loaded to a height of 13'6″, they are almost always loaded with heavy product such as lumber, so that strong cross winds aren't a problem.
LCV – much greater surface area exposed to cross winds.
Super B – much less surface area exposed to catch cross winds.
LCV – Difficult to maneuver other than drive in a straight line.
Super B – Easy to maneuver and back up.
Our highway infrastructure was not designed with these monster trucks in mind. They can't negotiate most corners and can rarely find parking easily. The shoulders of our roads are usually not wide enough to accomodate an LCVehicle. Also the angle of the shoulder can be too steep as well, if they need to pull off the road.
Super B's are much more stable and safer than a long combination vehicle unit.
---
Is Safety Really the Priority?
I cannot understand how a government can preach to the public that commercial vehicle safety is of prime importance on one hand and then with the other hand, ALLOW these behemoth vehicles on the road.
Just looking at the massive size of them alone, would alert anyone with common sense, that these vehicles are dangerous on roads shared with the driving public.
I find it difficult to swallow the fact that Long Combination Vehicle configurations are safe. It's also disturbing knowing we're being 'bluffed' to a certain degree.
Just Like the 53′ Promise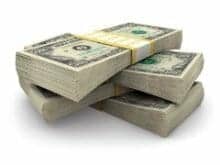 Those original restrictions on the Long Combination Vehicle configuration lasted about as long as the promise made by the authorities when 53′ trailers were introduced, and became legal. Remember: '53′ trailers will only be allowed to carry light freight'?
Then the promise changed to, " Well, if it's necessary to carry heavier loads, they'll only load the front 48′ of the trailer and leave the back 5′ empty." "The freight rate for 53' shipments will be higher because they can carry more freight".
That lasted for about 6 months. It seems to be the same with the L.C. Vehicle.
Restrictions Are Not Always Enforced
Although they are only allowed to operate under the most controlled conditions apparently: dry roads, no high winds and no bad weather, would all be essential elements before these things are allowed to be dispatched on a trip.
In spite of these rules, we've had 2 reports from Canadian truckers of encounters with these trucks, in conditions which we felt were downright dangerous.
The first sighting of a longer combination vehicle, was a few weeks ago, in January, on the Trans-Canada highway, on a snowy winter's day. The cross winds were gusting to around 100 km/hour. Dave reported seeing at least 7 of these LCV's, from various trucking companies in a 60 mile stretch alone, coming out of Regina, headed east.
These trucks should have been held in Regina due to the lousy weather, but they were out in full force on the road. The trucks weren't parked on the side of the road or moving slowly. They were at full highway speed, none of them pulling straight, due to the heavy cross winds. Any cars beside them would be in a potentially dangerous situation.
We had another trucker report to us, passing one of these trucks in heavy fog conditions on the Cob Pass in Nova Scotia. Another potentially dangerous situation.
Restrictions on Long Combination Vehicles
There are some restrictions mandated on these configurations.
i) Speed – These vehicles are to maintain a speed of not more than 90 k/hr.
ii) Passing Lane – They are not to be in the left lane.
iii) Trailer Weight – The first lead trailer is to be heavier than the last rear trailer.
iv) Exemption From Scale Reporting – They are exempt from reporting to scales. Utterly ridiculous if these things are to be regulated.
v) No Testing for Driver Competency – Carriers are given the authority to choose drivers for their abilities to drive LCV's. So what if the carrier makes a poor choice of driver?
These are the rules these huge vehicles are to abide by, but it is evident that these rules are not being enforced. The above 2 sightings by Canadian truckers, are just 2 that we know of.
In fact, readers may find it interesting to know that the highway police force in one of our eastern provinces, do not know what a long combination vehicle is, nor do they know there are rules by which they must abide. We discovered this when a trucker quizzed them about the LCV's. THAT worries me.
So, here we have provincial governments mandating safety rules, but not following through and enforcing the rules?
Will YOU feel safe knowing these massive trucks are not being patrolled in the manner in which the safety regulations are outlined, when driving your Prius on the highway, while you travel alongside an LCV?
It's Easy to Find Drivers
It further amazes me that the trucking companies can find drivers for these things so easily, for a mere few pennies a mile more than the rate of pay for driving a regular truck. The driver at least doubles their personal risk and liability, all for a few lousy cents per mile.
As P.T. Barnum said, 'There's one born every minute'.
Only Experienced Drivers?
The restrictions also state that 'only the most experienced of drivers are allowed to drive a Long Combination Vehicle'. Take a look in the cab of any TransX Long Combination Vehicle and you'll readily find out that this may not be the case.
Unplanned Stops
Anyone who has driven professionally knows that there are times when it's necessary to get off the road for an unplanned stop during a trip. It's just unavoidable sometimes… maybe for illness, bathroom break, bad weather or whatever.
These vehicles CAN'T get off the road in most places because there just simply isn't enough room for them. They have to either hope the shoulder of the road is solid or they need to stop on the road itself. How can that be safe?
Stop Trying to Convince Us They Are Safe!
It's an insult to our intelligence to state that these vehicles are safe, and yet a tiny air leak is not safe.
The people making these decisions need practical experience behind the wheel of a tractor trailer, not experience behind a desk.
Truckers don't pretend to know their job. They shouldn't pretend to know the job of a trucker.
The lack of enforcement of Long Combination Vehicle regulations, which I see as a rather MAJOR flaw in the system, has been brought to the attention of the provincial authorities and we are awaiting a response.
We'll keep you informed of updates we receive on this serious matter.
Related Articles