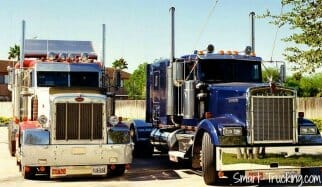 Need to spec a truck? If you're in the market for a new truck, you'll be faced with the critically important chore of choosing the right specifications for your new rig.
The process of spec'ing a big rig is a difficult task. For the most part, it's beyond the capability of most truck owners.
After all, truckers are trained to be professional drivers. It takes a different kind of professional to spec a truck for specific applications.
As a trucker, choosing the right professional to consult for deciding on the design and functional elements of your rig is critical. The truck you build will largely determine your success as an owner operator.
Choosing a good consultant is so important as it can make or break you as an independent owner operator, more so than a fleet. You'll be faced with decisions that are difficult to make…. decisions that are best left up to someone who knows what they are doing.
It's tough to predict what the future will bring for you….. you may end up taking work that you hadn't counted on, when you originally spec'ed your truck.
The number one function of your truck is to work. Trucks are designed to work. That's what they do. Getting the right truck for the job is very important. Not just any truck will do for the job.
An under spec'ed rig can lead to very serious issues….for eg. engine under powered for pay load: engine will overwork and burn out prematurely. Don't cheap out on the right specifications for your truck. Saving money on the initial purchase, will just end up costing you money in the long run.
An over spec'ed truck …..no real downside to an over spec'ed rig mechanically speaking, other than you'll spend more money than necessary at purchase time. Who nowadays needs bigger truck payments?
Take the time to spec your truck for the work you'll be doing. It'll maximize your productivity, and maximize your bottom line….. THAT'S what it's all about in the trucking industry as an owner operator.
Spec a truck correctly. Get the right truck.
10 Tips to Spec a Truck
Here's some good tips to keep in mind when spec'ing a big truck.
1. Go With the Best Professional/Consultant You Can Find. Ask around and get referrals from other truckers you know. Ask lots of questions to find out if the individual has the knowledge required to design and build a truck……be sure they aren't just out to sell you a truck. If they aren't the right person, keep looking. Don't settle on the first sales person you trip across. Don't try to spec your equipment if you don't have a clue what you're doing.
2. Provide as Much Information as Possible. Provide your sales rep with as much information as you're able, about the type of work you'll be doing.
Kind of freight
Palletized freight? Floor loaded?
Maximum load weight required

Where you'll travel: flat terrain, steep grades
Weather: Extreme temperatures
The sales rep will use the information to determine the engine size and type, transmission, suspension, tire size, various ratios and countless other truck spec's needed for your particular type of work.
3. Reliable Dealership. Be sure there's a good, reliable dealer/repair shop where you live, for warranty work, maintenance and other repairs on the brand of truck you're going to buy. (For eg., if you're buying a Freightliner and there's no dealer near by, you may want to rethink the whole thing.)
4. Order, Don't Buy Off the Lot. Don't buy a truck off the dealer lot, if you can help it. This isn't always possible, but a custom ordered truck is usually your best bet. Try to plan ahead and order when possible.
Buying a lot truck, you can end up paying for the wrong spec's, if you don't know what you're doing and also you'll be paying for features that you'll never need.
5. Spec For Versatility & Resale Value. Spec a truck with resale in mind. This was once a common practice among experienced truckers, however, many owner operators have strayed from this strategy, when ordering and spec'ing a truck.
Resale values are important. One of the smartest moves an owner operator can make, is to spec their new rig with resale value in mind.
Sometimes, a trucking company will require an owner operator to have particular spec's which are quite specific for the work required.
It's tough to predict what the future will bring….. you may end up taking work that you hadn't counted on, when you originally spec'ed your truck.
No matter how good your present deal is with a trucking company you're leased on to, or the work is good for a present customer if you're an independent operator, that good deal MAY NOT last forever and you may need to change companies or find other customers.
A versatile set of spec's also presents more options if the trucker finds it's time to look for new job prospects. A rig needs more well-rounded specs to accomplish this.
Therefore, it's wise to spec with versatility in mind.
If the truck has been spec'ed for a very specific type of trucking, when the trucker is ready to sell, it will appeal to a much smaller segment of the used truck market. This is a mistake.
The owner ideally wants their used vehicle to be attractive to the biggest used truck market possible.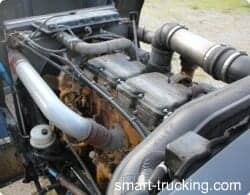 6. Diesel Engine Spec's: What Horsepower Spec to Choose. If in doubt of what you'll need under the hood for power, the best general advice…… don't spec the highest or the lowest horsepower when ordering new. Discuss with your rep your best options.
It's true a bigger, stronger engine won't need to work as hard. But, you may not need the biggest motor on the market, either.
For resale, a potential buyer will usually settle for something in the middle for horsepower, but often won't be interested in the diesel engine spec's if they feel it is either underpowered or overpowered.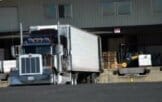 7. Tried and True Drive Line – Transmission. Choose a rear end ratio and transmission combination that have a history of standing up well, provides good fuel economy and working power, without breaking down and increasing unnecessary costs.
Don't be fooled by the latest and the greatest drive line combo. Wait until the records show in years to come, that the new findings for a drive line combo are REALLY viable. If you do spec a combo that proves to be a bomb, selling your unit may turn out to be a problem.
8. The Long Hood Classic Models. Lately, the trucking industry has tried to downplay the purchase of long hood models, due to the push for eco-friendly engines. I say, if you're a conscientious owner operator, don't shy away from a long hood truck. One of the biggest factors that determines fuel mileage, is how the rig is driven.
The good looks of a classic model of rig still commands decent money when trading, despite criticism that their fuel mileage is poor.
At today's current average traveling speeds, the long hood truck can still be competitive with the more slippery-looking trucks, and in the end, have much better trade and resale value.
We've always been able to get good trade and market values when selling our long hood classic models, flat-top and high bunk Peterbilt 379 and Kenworth W900 models. The trucks were well-spec'ed, well maintained and brought in great value on the used truck market for us.
I've known many owner operators who are pretty disappointed with the very low values their Freightliners and Volvos bring in when it's time to trade up.
9. Colour. Yes, even factors such as colour, have an influence on equipment resale value. Some colours are just more appealing to buyers than others. A simple fact, but the simple truth. Blue is the most popular colour for big rigs.
The 'hot colour of the month' may not be so hot, when trading. That lime green colour you think looks so cool, may not appeal to potential buyers.
Since a paint job for a rig can be around $20,000, it is an important part of the spec….you'll be sorry if it's necessary to paint it because the present colour is too gawdy to interest buyers.
10. Maintain & Care For Your Well Spec'ed Rig. For owner operators, another basic simple fact still holds true. Rigs which have been well-maintained and cared for, have a much bigger used market and command a higher price tag, than one that hasn't been cared for and shows obvious signs of abuse. Potential buyers can quickly spot vehicles that have been abused.
This can rapidly place a well spec'ed unit with good potential value, into a much lower value category……a real shame and completely unnecessary.
Remember that many experienced, long time truckers rely on the resale value of their rig, to help offset the value of their next truck. It helps not only to keep their truck lease or purchase payments lower, but some of the cash will help to finance their retirement. Should you plan to make trucking your career, someday, this may be your situation, so keep these things in mind.
A great tool to help get the best price possible for a truck, is to keep an organized file of service records. It is an excellent way, by providing documentation, to prove the vehicle has been maintained as per the manufacturer's specifications. Keep a binder with copies of the truck's maintenance, service and repair records, to show potential buyers.
Spec your truck wisely and maintain it, to get the best bang for your buck…and ultimately the best resale value.

More Articles You Might Like
Return to Owner Operator Guide