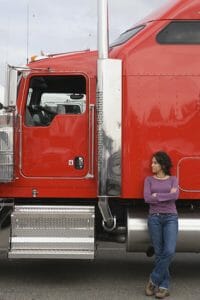 There are a variety of institutions offering CDL schools in Maine, offering comprehensive professional driver programs.  The average tuition in these institutions is $3408 though the fees may be higher or lower depending on the institution. In addition, some truck driving schools in Maine offer scholarship awards to needy students. It is necessary to inquire if the institution offers this service before enrolling.
It is also important to review whether the cost of training matches the quality of training offered. For instance, a trainee should review the state of the equipment, the number of instructors, the class sizes and availability of trucks for hands-on training.
The cost of applying for a CDL driving license in Maine is $10 dollars plus other additional fees such as endorsement fees which could average more than $10.
Maine has a total of 14 truck driving schools with an average of 14 students per class the average acceptance rate is 55% while the average scholarship offered to the learners is $744. Currently, over 8670 truck drivers are employed in the public and private sectors.
While some institutions offer employment to the drivers, others do not. Therefore, it is important to review if an institution offers employment or whether it links the learners to the employers. Nevertheless, most truck driving schools in Maine have partnered with freight companies to boost the employability of their students.
---
CDL Schools in Maine – Institution Listings
Northeast Technical Institute
51 U.S. Route 1, Suite K
Scarborough, ME 04074
800-447-1151
Driving School
363 ME-3, South China, ME 04358
207-445-3748
Mid-Coast School of Technology
1 Main St. Rockland, ME 04841.
207-594-2161
Roys Driving Academy
14 Maine St. Brunswick, ME 04011
207-784-6245
Mullen's Driving School
210 Court St. Auburn, ME 04210
207-892-8851
Adult Education
1 S Main St. Rockland, ME 04841
207-596-7752
Driving School
126 Main St. Topsham, ME 04086
207-373-1391
Northeast Technical Institute
20 East Ave, Lewiston, ME 04240
207-883-5130
Pro Drive
136 Rt. 1 Scarborough, ME 04074
866-243-1370
Region 9 Professional Truck Driver Training
377 River Road, ME 04257
207-369-9058
Skowhegan Driving School
206 Water St # 2
Skowhegan, ME 04976
207-474-8524
Westbrook Regional Vocational Center
125 Stroudwater St.
Westbrook, ME 04092
207-854-0820
Smart Trucking Home | CDL Training Schools