There's a wide range of CDL truck driving schools and other commercial driver training options to choose from. In fact, it can be down-right confusing when looking for a driving school.
If you're in search of a truck driving school, you've already made the most important decision of your trucking career….to become a professional truck driver.
The second most important choice you'll need to make, is choosing a driver training school to suit your needs.
This will give you the chance to browse through what's available, contact the schools which interest you and make an informed choice.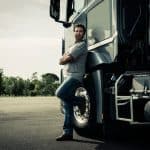 Professional Driver Training Options
Each of the CDL truck driving schools, colleges and programs for driver training for commercial vehicles has something different to offer the individual. They are NOT all created equal.
Company Sponsored CDL Training – More commonly known as free CDL training. For little or no money, or a financed tuition plan, trucking companies will train individuals and grant them a CDL in exchange for working for the company for a period of time, after the training. A popular choice due to the low start up costs. Learn more about training period wages.
Independent/Private CDL Training Schools – Private schools specializing in commercial driver training, independent companies not affiliated with any state, province, college or carrier.
Community College CDL Driving Schools – Programs offered at community colleges, not all are 'accredited' programs.
CDL Online Programs – Independent study courses. These home study programs provide all of the written information and study materials required. After completing the independent study, the individual makes arrangements to be tested for their CDL. Although this can be a less expensive option, some commercial truck insurance companies refuse coverage to someone who has obtained their CDL in this manner. These programs are usually relatively inexpensive. Everything can be done by the individual on their own, without being affiliated or enrolling in any course, program or driver training school. Simply get the CDL book/manual from the DMV, study the manual, and be tested for your commercial license.  This method is also a bit risky, as some trucking companies may refuse to hire truckers that have not completed a more 'official method' of training, such as at a community college or a truck driving school.
Truck Driver Training Schools Directory
Find listings of truck driver training schools/programs available in the US, options for CDL schools and programs listed by state.