This post may contain affiliate links. You can read the full disclosure policy, which is pretty dull, but
here it is.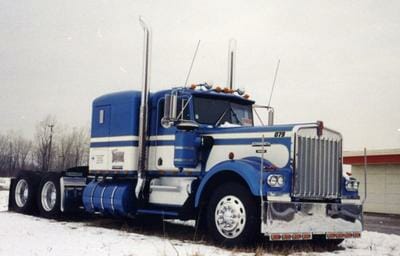 I realized my dream and am now in a brotherhood (and sisters too no offense meant at all ladies) of OTR warriors. I went from Calgary Alberta Canada to LA and back on my first trip and added Yuma AZ as a stop on my second. It was a wicked ride for those two trips and I thought I would share thoughts and observations from the driver's seat.
I know some of the veterans out there probably laugh at me yet I am the kid in the candy store!
Why don't more of you wave? I know there is lots going on and it's the season of holidays yet really? A simple wave to say 'hey your not alone and I got your back?' I was raised on tales of the camaraderie of the road it seems to be dying.
I heard on the CB one night the exact same complaint from a 30 year vet. He speculated it was a language thing. I think it's simply too many drivers are burned out. A wave is universal and I have noticed it's more the Caucasian drivers that don't wave.
Another observation the gentleman made was that you never used to see a truck by itself overnight on the road and now its common place. Nobody runs together anymore was his remark. Afterwards there was a lot of be safe and merry Christmas exchanged and I wonder if the brotherhood will come back.
I admit I still go really slow and sometimes take two attempts when I back in. I expected some derision yet it seems a lot of guys are willing to help out. Again it was the older white guys who scoffed and grumbled. I have to say thank you to a couple guys who jumped out and helped me. They just knew it was difficult. It was dark and the guy at the end bay had his lights on. The guys jumped out and I had one on either side guiding me back. I docked said thanks and offered to get them a beverage they looked stunned that I thanked them let alone offered to extended some gratitude.
Maybe I am out of touch, I mean I still stand for a lady when she enters a room. I hold open doors. Sir and Ma'am are part of my vocabulary. I may not like them yet am always polite to D.O.T. officers and the police. They are just doing their jobs.
In many ways, I have noticed that when I first arrived, the lumpers, the security guards and the shippers all treated me rather poorly. I did not change. I may not like the attitude, yet I will continue to be polite and respectful. I noticed that the attitudes around me changed too.
I even had one person ask what spec does an owner operator look for in a truck when pulling two 53′ trlrs in prairies? I could see he was frustrated so I went in and asked the supervisor if his guys could finish up and I would buy coffee at break for them all. He nodded and the load got finished. I gave the super 30$ and he looked shocked I followed through. The guy pulled out and grumbled the whole time. It's no wonder he was treated the way he was.
I know if we are not making miles, we are not making money, yet these people can make or break us. It's not about giving in or playing a game…. it's about being polite and courteous and professional. Just some random thoughts there.
I notice that the lady truckers are still treated with disdain by some out there and it shocks me. Anybody who has the fortitude to get behind the wheel and be away from home gets my respect and a wave, man or woman regardless of ethnicity.
We need to watch out for each other out there… it's not a competition. To the unknown gal who warned me of the four wheelers racing up my right side, thank you.
Whether it's waiting to load or at a truck stop, I am always chatting and I chuckle at the looks when I say 'hi'. I hope that my idle chit chat maybe eases a bit of stress and helps someone get down the road safer. I am always glad to talk to another driver….it eases the wait, drops the stress and just makes the community a little more solid.
Maybe it's because I am new to the industry, yet I am sure I will still be smiling and the same, 20 years from now. I am doing what I love it is a dream job for me. Sure it's only 46 cents a mile, sure I miss my loved ones while I am away. My time with them is way better then it was working 9-5 and home every night…..I was miserable.
There are trade-offs no matter what we choose to do in life. I honestly think that some of the folks out there need to step away and try something else, not because they are not good at the job rather because they are miserable.
I have rambled on and on and haven't even really talked trucking, yet these were the predominant thoughts from those two trips. Most of the mundane day in and day out of OTR happened.
LA traffic was bad, yet I managed to navigate it. Vegas drivers, the minds anyways, still seem to be in the casino. Salt Lake City traffic was a shock. All in all, I got down the road and home 2 trips 10 000 kilometers and am ready to go again.
Yes I will still be waving and smiling and chatting to folks. I think I am headed to Laredo this next trip. If all goes well I will be out of the rental and into my(company owned but still assigned to me) Kenworth.
If you see me at a stop, say howdy let me buy you a coffee and lets chat about all things trucking.
S.T.G. Comments: Joe… some great points you make. You are obviously a gentleman and a scholar…. you'd be polite and courteous, whether driving a truck or any other job. The gestures you make to other drivers, are a sign of good manners and friendliness, nothing to be ashamed of……. and don't stop waving, by the way… maybe others will catch on.
by Joe Mcdonald
(Calgary, AB, Canada)