Big trucks…..big bucks.
Dressed up custom semi trucks are eye candy. Seeing a tricked out rig strollin' down the highway, in all it's splendor and glory, is an awesome sight to see.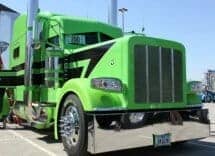 Polished, sparkling chrome, a custom paint job, tall, gleaming big stacks, large chrome bumpers, low visors….. these are just a few of the marks of a cool looking rig.
At Smart Trucking, we especially love those trucks  with that awesome 'old school' look. We like our big rig trucks low and the hoods long.
As we travel around to the truck shows and show shines, we're amazed at the number of these high dollar custom show trucks out there, that are strictly built for show.
It's All About the Look
It's not about practicality, or functionality…. Truckers customize their semi trucks for The look….it's ALL about the look. Long, low and cool.
Big semi truck owners who customize their ride, take tremendous pride in their rigs, and are proud to be part of the trucking industry.
They are truly ambassadors for an industry that too frequently suffers from much undeserved criticism.
Originally, the customization of these rigs was intended to improve the design of the vehicle. It was only later on, that the custom truck process grew into a high dollar industry and the ever-popular show circuit as we know it today.
In spite of the weak economy, there are still lots and lots of some awesome, custom semi rigs out there, with lots of bucks into them.
Custom Semi Truck Galleries
Click on the photos for larger views.
Each of the links below will take you to more custom big rig trucks galleries.
Just can't put a price on looking cool!
Custom -3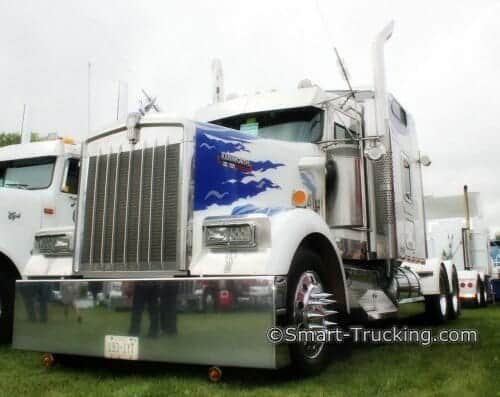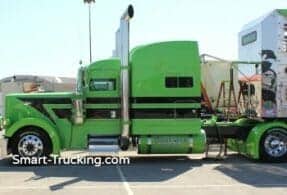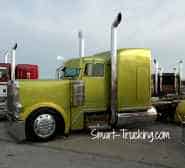 ---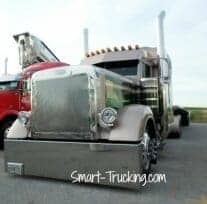 Small Custom Changes: Great Custom Look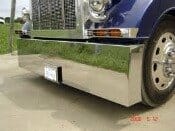 For the most part, truck owners today, don't generate enough revenue to support extensive customization. The trucking industry profit margin is just too tight.
The select truckers that do custom their rides, often have a pretty sweet deal and are making good money in trucking, although some dig into their personal savings to customize.
However, it doesn't always take lots of bucks, to bring together a really great look. Some well chosen modifications and alterations within a budget, can really make a difference to the overall look of a semi.
A little customization can really make a rig stand out from the others. Sometimes, it's just as simple as adding a stainless sun visor or some extra lights. Others, go for the gusto and do a radical rebuild and build the 'large car of their dreams'!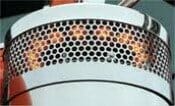 Some of the operators with custom semi trucks put their rigs to work, too, so they need to maintain the practicality and dependability.
The majority of customization nowadays, is done by fleet owners. They use these 'dream trucks' as recruiting tools at various and truck events.
Some of the custom semi trucks are sponsored and financed by chrome shops and body shops. These trucks are designed with the purpose in mind, to attract business to the sponsors.
The dealerships, Kenworth and Peterbilt, have recognized the popular customization trend and the parts are available through their dealer networks…. a great  perk. Custom Petes and Kenworths, can still be functional working trucks, as well as show rigs.
More Articles About Big Rigs