A truck driver's DAC report is an important document for every American trucker. Most trucking companies at an interview for a driving job, are very interested in reviewing the information contained in this comprehensive document.
Since the report contains a lot of critical and sensitive data, and the submission of this data that makes up the report, isn't well patrolled, the DAC system suffers from abuse by some companies. In turn, a bad DAC for a trucker can have devastating effects on his career.
There has been much controversy over the use of the DAC report within the trucking industry. It is often misused by American carriers as a means of revenge on a former employee or owner operator.
The following includes information to help the trucker understand the basics behind the DAC, how to obtain a report, and most importantly how to keep a DAC in good order.
What is a DAC Report?
The DAC (Drive-A-Check), is essentially a comprehensive document with a great deal of detail about the truck driver. It is a record of the commercial driver and his/her history, loaded with personal information and data relating to their track record driving commercial vehicles, since first being licensed with a CDL.
The report gives important data that is useful to trucking companies, especially prospective employers, to help them assess whether or not the driver would be a suitable fit for employment at their company. Reviewing a driver's work habits and employment history can be very helpful, when hiring someone to drive an 80,000 lb truck and trailer.
Why Do I Need a DAC?
The DAC report is the gold standard of the U.S. trucking industry, used to verify sensitive information and records on commercial drivers, to determine their suitability for hire and retaining their employment with a company.
Not every trucking company utilizes the DAC, but most do.
Where Can I Get My DAC Report?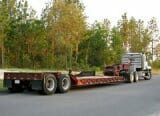 HireRight will provide you with a no charge copy of your personal report, on an annual basis. Along with the report you can also find out who has most recently received copies of your personal data.
If you'd rather make your request by phone, or have any further specific questions, call 1-800-381-0645.
HireRight is a private business. They actually pay carriers for information on their drivers. Some believe that this practice is highly unfair and needs serious revamping, due to the large number of false data submitted to them. However, until such time as the standards change, this is the way it is done.
Remember: HireRight pays the carrier for the information, so their obligation is to the carrier, not the truck driver. Just something to keep in mind.
What Information Appears on the DAC Report?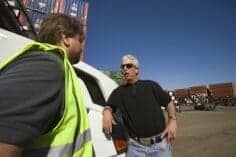 Sensitive Identification – Social security id #, driver's license #, birth date, etc.
2 Sections on the DAC Report
1. Driving Record (from the driver's home state) – Will show any incidents, accidents, tickets, violations. Anything reported in this section, usually stays there: not much hope for removal due to expensive legal costs.
2. Trucker's Work History – Will show preventable and non-preventable accidents and incidents and anything else pertaining to the operation of a commercial vehicle.
Kind of trucking: flatbed, temperature-control, van, drop-deck, tanker
Training, certification
Detail about work habits, promptness and a lot more!
Company Orientation History – The report can show if a driver attended a pre-hire program for training and then quit, for whatever reason. A few of these on a DAT could indicate to an employer, that they too would be wasting training money on the driver, and could decide not to hire the driver.
Leaving a Job – Employers will note load abandonment and any other details pertaining to leaving the company. There will be reasons noted for being let go or leaving a driving position.
Criminal Record Data – Charges, convictions and history.
Drug and Alcohol Testing History –Lists test results of negative or positive, as well as refusal to be tested.
How Often Should I Request a DAC?
Even if you're confident your file is correct or there's no reason to be concerned about derogatory information on your report, be sure to request the report annually anyway, just to be sure. Many truckers are surprised by what actually appears on their report when they receive it.
How to Handle Incorrect Information on Your DAC Report: Disputes
Inaccurate or completely false information can appear on a driver's record, conveying the wrong message to a potential employer. It's then up to the trucker, to dispute the incorrect data, and have it removed from the report. Not an easy task.
Be certain to send to get your letter certified, when disputing a claim.
WHEN YOU SEE INCORRECT DATA ON YOUR DAC, FILE YOUR CLAIM NOW.
DO NOT DELAY.
Steps to File a Claim for False/Wrong Information on Your DAC Report
1. Click on the link above to file a dispute claim.
2. Then click on the gray link on the landing page to to file a dispute.
3. Read through the steps and click, 'I agree and wish to continue'.
4. On the next screen, complete the personal information.
5. Then you'll go on to complete the details of your claim. Follow the prompts to give HIreRight all the information needed to process the disputed data.
Will I Ever Get Another Job With a Bad DAC Report?
If your DAC file is scarred, you may have trouble finding a job. My best advice is not to sit back and give up, if
Go to local trucking companies in your area, as well as smaller companies, and be up front with them. No point in trying to beat around the bush, or lie to them.
Explain your situation in a professional manner, and ask to complete an application. Tell them you'd be willing to start at the 'bottom' (because basically, this will be like starting all over again as a new driver), and you'd like a second chance. Sometimes at the smaller carriers, the owner has a hand's on policy, where he interviews drivers himself, and if he likes you, he may decide to hire you for some local work or shunt work, that could progress to something more to your liking.
Sitting back and moaning and groaning goes no where. Send out as many applications as you're able. Companies won't be pounding at YOUR door to hire you…. you need to chase them down. Be prepared to knock on a lot of doors.
TRUCKER LEGAL HELP WITH DAC – Q&A
Trucker legal help with DAC issues concerning false DAC claims (which unfortunately seem common) and questions about driver liability.
Joe Fried, Atlanta trucking attorney, gives some straight advice and answers to trucker legal problems
Driver Claims False Claim on DAC Report
QUESTION: I was hired to work for GD Leasing of Indiana, after completing four weeks of training. After training I went to work for about five & half (5 1/2) months.
One day while backing into a dock, someone in the factory told the supervisor I hit a truck. I was questioned by the supervisor the same day. I informed him I did not hit any truck and to please look at the truck for damages.
The next day I was fired. So, while off of work, I applied for another trucking job, and was turned down, and another, and another, and same result. No job.
Finally, a company told me that GDL of Indiana, 4944 Belmont Ave., Youngstown, OH. 44505, had put 4 non-DOT accidents on my DAC. This is false.
What can I do to get this off of my DAC REPORT?
No company will hire me. Please help me.
ANSWER: This is a very difficult situation.
You will likely need a lawyer to write a letter for you and if necessary file a libel suit on your behalf. I am not an expert on how to clear a DAC report, but you should contact them and see if you can file a grievance.
Anthony, Warren, MI, US
Driver Claims Wrongful Liability and Scar on DAC
QUESTION: I work for Canadian American Trucking located out of Charlotte NC. I had an accident in El Paso TX on Feb 2014. The state ruled this accident a no fault accident .The company put on my DAC a preventable roll over which I wasn't involved in.
It was raining, temperature was in the mid 30's, the time was around 3am. I slowed the truck down to 30 mph . When I slowed to go into the check point on I-35, the truck hydroplaned and went into the ditch.
The company used tracking devices to say I was speeding into the check point. These tracking devices in other cases been proven not to be accurate.
I talk to Sheldon a young kid who they hired to be safety director. From what I was told, he has no CDL and has never been inside of a truck until he was hired here.
He told me the accident in his view was preventable. He didn't care what Texas said. He was willing to change the DAC to a preventable accident.
Can any lawyer help me sue this company? I want to sue this company for two years of back pay. These trucking companies have no right to hire non drivers make them head of safety.
A lot of big trucking companies are hiring these kids because they know their brain washed thinking everything is the driver's fault.
I want this law suit to be an example, to stop these companies from hiring no experience kids and making them safety supervisors.
This false reporting of my DAC caused me two jobs so far.
ANSWER: I hear your passion over this situation and I have to tell you that I agree with you that many companies hire safety directors who have no clue about how things happen in the real world.
I deposed a safety director recently who had a background as a hair stylist and was hired by the trucking company as a receptionist. On the other hand, there are many companies who hire and have very sophisticated safety professionals and take safety very seriously.
I don't have anything to go on in your case, so I cannot comment on your company at all.
Now on to your situation. Unfortunately I don't think you are going to like my answer. The police determination is not the same thing as a preventability determination. There are many situations where the police do not cite, but the company determines preventable. The standards are totally different.
If you look at the Preventability standards (there are 3 sources – American Trucking Association, National Safety Council, and Federal Highway Authority) all three are likely to call your wreck preventable.
Basically, when if you have a wreck in bad weather that could have been prevented if you were going slower, you don't need much more to call it preventable.
Based on the above, I don't think you are likely to succeed in a lawsuit. Other lawyers may disagree. If you want to look into this further, I recommend that you find a defamation lawyer in your hometown. I think that kind of lawyer would be best to assess this situation and give you advice on whether you can succeed and if so what your damages could be.
Kenneth, Charlestown, WV
Other Articles You May Like: