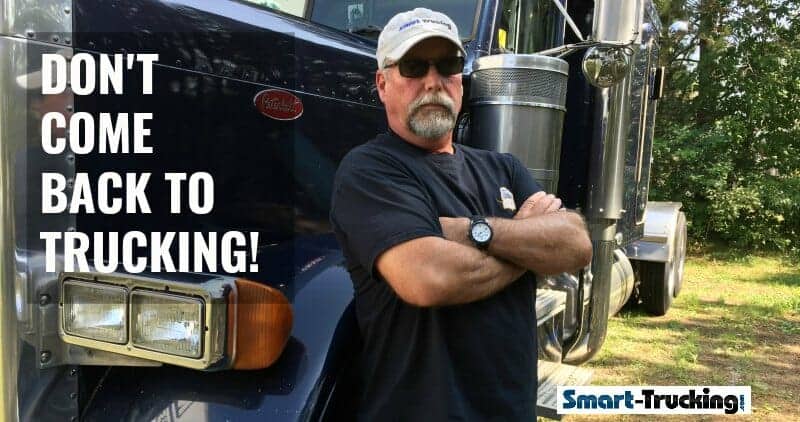 I was shooting the breeze with a friend the other day, who had given up trucking about 10 years ago, and went to work in construction. A very smart guy!
He drives a rig hauling around construction equipment on a float, repositioning the heavy equipment from job site to job site.
He is now bored with the work and really hates his job… says the boss man calls him about every half hour all day, every day…. enough is enough and he's ready to bail.
However, he wants to come back to trucking, even though his present job pays $35/hour and he doesn't have a dime invested!
I asked him straight out…"Are you out of your mind?"
So many owner operators would disagree with this move, as they sit with their life savings invested in a truck and a driving career.
I have tried to tell him he's crazy to even think about quitting his job, no matter how bored he is!
Why leave a job that pays so well and has a decent working schedule to go back to driving? "Don't come back to trucking!" were my words to him without hesitation.
How Did the Trucking Industry Get This Way?
How did our trucking industry get this way? What's wrong with this industry?
Truckers have become SO accustomed to doing work for less or for free, that' it's just become the norm. A really sad state of affairs.
But think about it. The longer an action continues, the more acceptable it is. It's a matter of psychology.
Because it has sort of become the 'industry norm' (an expression I've grown to hate), NO wonder many drivers are 'near starving'. As I've said many times before, no wonder there's a shortage of truck drivers.
The trucking industry has a very difficult time attracting new blood to a professional driving career.
How Did the Issue Get So Out of Control?
Part of the blame lies with the truckers.
Drivers have continued to agree to pull bigger and bigger trailers for the same money or a measly few cents more per mile.
They've allowed themselves to sit for free at loading docks.
They've continued to agree to pay more and more for fuel and insurance, parts and labour, when they should have banded together and parked the trucks and held out for better money and more control over industry rates.
But they didn't because it would have been impossible to get everyone to agree to park. This is part of the reason why we are where we are today.
But that's easier said than done.
Another Kick in the Pocket Book
US regulators have decided to chop the allowed driving time every day and the truckers now will just have to 'suck it up' one more time. Lost hours of pay and unable to do anything about it. After all, who would want to pay us more for working less?
The safety advocates know more about safe driving than the truckers. Just ask them.
I agree, safety is a very important issue. No doubt about it. But how is it possible to encourage intelligent, safe drivers to come work or stay in an industry that will pay less and less every year, as the cost of living continues to rise?
At fault truck accidents represent less than 7% of all accidents and yet we're being called unsafe by members of the 93% that DOT cause accidents.
It's unbelievable. And government is listening to them, which is even more unbelievable.
Is a Truck Driving Career For You?
So how to know if a truck driving career is for you?
If you don't mind making poor wages, working twice as many hours as the average guy and enjoy abuse from the driving public and DOT, this is the job for you.
If not, choose a construction job. It might be boring, but certainly  it has better working conditions, the workers get more respect and the pay is certainly better, than a trucking job.
Although some trucking companies have started to sweeten the pot (because they've HAD to, to get and keep drivers), it's often not enough.
Maybe a construction job, may be your best bet.
More Articles You May Like