This post may contain affiliate links. You can read the full disclosure policy, which is pretty dull, but
here it is.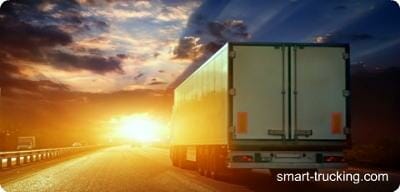 It's interesting to note one of the latest trends in the trucking industry and not just with the few owner operators that remain, but with fleets of trucks as well.
As fuel prices climb, and maintenance costs increase in the industry, and let's face it, both will continue to climb in the long term, truckers struggle to remain in the black because the freight rates continue to be dismal.
One way to help offset these costs, is to increase fuel mileage and reliability in the trucks, by removing the emissions equipment installed at the factory and re-program engine settings to function with more fuel efficiency. Many truckers are saying 'to hell with emissions'!
For today's truck driver, it's a fight for economic survival and they just can't afford to loose this battle.
ECM tuning and re-programming is becoming increasingly popular and with good reason. It produces the desired results.
As far as meeting emission requirements for California, most 'out of state' trucks can't afford to run there now anyway, as the freight doesn't pay enough as California and C.A.R.B. continue to mandate changes to equipment with no way for the trucks to cover that cost, more and more trucks will begin avoiding California.
It's still all back to profitability. If your Bullydog shows good return on your investment and apparently from most reports they do, then why not? No one else is offering to money back in the pockets of truckers?
Governments are famous for mandating laws introduced by zealous politicians who nave no experience in the field. They are mandating and no research is put into the long term repercussions and effects of these laws.
Goal #1 is to survive and pay the bills! Lobbying for change is essential, too. Support for groups like the O.O.I.D.A. is the way to go, but at the end of the day, when the emissions crisis is corrected, we all have to still be standing and in business, to realize the benefit of the change.