This post may contain affiliate links. You can read the full disclosure policy, which is pretty dull, but
here it is.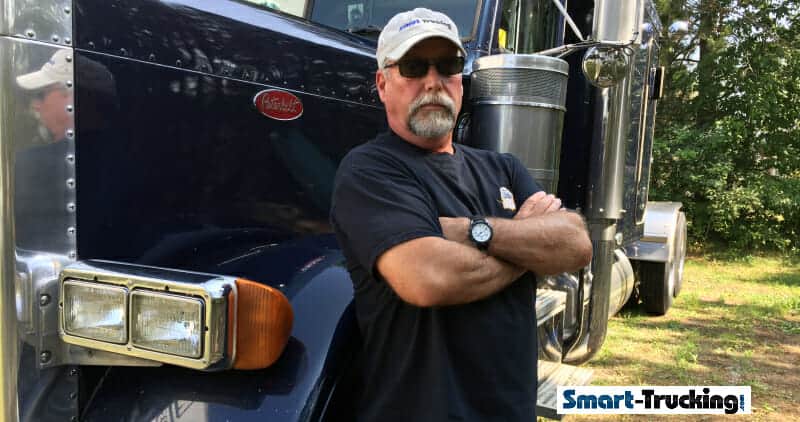 When I think about the future of trucking, it's not hard to see the direction the trucking industry is headed if you've spent any time looking around a truck stop lately.
When I look around and note the changes I see, I don't like what I see. I fear our industry is headed in the wrong direction.
Industry Changes Noted at the 'Truck Stop'
Look around any truck stop in North America. Here's a few of the things that I've observed at the truck stops……changes which are not signs of a prospering, stable industry.
Fewer New Trucks – One notable change is the lack of new trucks you'll see in the parking lots. There are some new rigs, but not many. Most of what you'll see, will be company trucks, not owner operators or independents.
The days of the long hood, dressed up trucks of the independents and owner operators are slowly sinking into the horizon. For the most part, the cost of nice new trucks isn't worth the return on investment these days. Rising fuel prices and low freight rates have wiped that out.
Most seasoned drivers who are left in the trucking industry, opt to drive company trucks, to avoid the expense of running their own, given the high operating costs. There's certainly fewer headaches driving a company truck.
The Wagons–  Look at the trailers. They're virtually all 53′ now. The promise of getting more money on a bigger wagon, turned out to be a short lived solution, gone bad. Rates for 53's are lower now than they were for 42′ trailers in the '80's.
Truck Stop Food – Look at the food. There's lots of fast food available today, at most truck stops because no one can afford to eat in their sit down restaurants every night any more…. costs are too high for the average trucker to afford. The trend is grab a 'slide burger' and back in the truck and go.
Unskilled Drivers – Look at the drivers. Once upon a time, our truck stops were filled with competent skilled drivers. That is no longer the case. We're seeing more and more drivers without the training needed to be a safe driver…… many truck drivers have a general lack of driving ability. Drivers are being produced in an assembly line to combat the shortage of drivers. This isn't our only driver problem, but it's definitely a significant one. At a truck stop, it's not unusual to see some drivers up in 6th or 7th gear, before they even get out of the parking lot.
We're an Industry in Trouble
All things change, I know. It's just a fact of life. But, I see the new face of today's trucking industry, and I am worried about what I see. I worry about the future of trucking.
If the scene today at any North American truck stop gives us an indication of what's to come for the trucking industry, we're in for a grim ride.
More Articles You May Find Interesting….