The highest paying trucking jobs are what every driver in the trucking industry wants.
Usually, the highest paying truck driver jobs are in what's called a 'niche market'. Very specialized trucking is a bit out of the ordinary, and there's not a huge demand for it. But, what minimal demand there is, often requires expensive, specialized equipment and skilled, experienced drivers.
However, what some truck drivers don't take into consideration when in pursuit of the highest paying trucking jobs, is that these jobs come with risks of varying degrees.



Many truck drivers aren't suited to many of these jobs, nor do they have the experience necessary or the skill set needed to perform the job.
Often the highest paying trucking jobs in these specialized areas of trucking, are driving jobs that not many truckers are attracted to for various reasons.
Remote areas. Some truck driving employment demands working in a remote or sparsely populated area.
The cost of living for truckers in such an area, could be considerably higher, too, if the work requires that the driver live in the area where the job is.
Experience. Special skills and lots of incident free experience is required for the big rig driving job.
High Risk.There are many job challenges and dangers involved in the job, such as extreme temperatures and excessive winter storms, as well as poor road conditions
Some of the Highest Paying Trucking Jobs
Liquid hauling/ tanker trucks. Hauling gasoline, chemicals, and hazardous goods (hazmat), usually has good compensation for the work.
An
accident free driving record is usually mandatory. Some companies will
train, but most prefer 'previous experience' with tankers.
Oversized Loads. There are some companies that also do over-sized truck load hauls and some that actually specialize in this type of work.
Ice Road Trucking. Truck driving jobs in the Canada's remote northern areas, have become more popular since the tv show Ice Road Truckers aired, a few years ago. Driver turnover however is high, as many drivers find out it's not as 'glorious' as it is on the tv show! Ice road trucking jobs can earn drivers anywhere from $20,000 – $75,000 for a few months work. Also since the tv show has 'glorified' these jobs, it's become increasing difficult to secure one.
Specialty Car Haulers. There are a few carriers that are experts at hauling very expensive and vintage cars.
Dump trucks in the mining industry. Some mining companies that work those 'behemoth dump trucks', offer good wages to their drivers. Some mines in Australia for example, employ truckers who bring in $100,000 + in wages annually.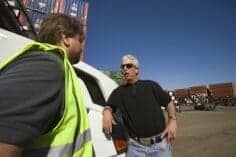 Team Driving. Some teams do very well, financially. It's often thought that driving as a team is the fast and easy way to be a rich truck driver and one of the highest paying trucking jobs. For some  they may make a few thousand or so more than a hard working trucker, but teams don't always make the big $$. One of the problems with teams, is that the drivers often suffer from burn-out and although the schedule is technically legal, the drivers are unable to keep up the hectic, stressful schedule for extended periods of time.The rate of pay and number of miles presented by the carrier always sounds appealing. However, loading delays and bad weather cut down on the miles for teams, therefore the pay isn't as great as the driver recruiter had promised.
Tips For Nailing the Highest Paying Trucking Jobs
Here are some things to look for in a company pay package, when shopping for that big money position!
The highest paying trucking jobs aren't necessarily the best driving jobs out there. Money isn't always the answer to compensate a driver for excess risk, inconvenience and time away from home. Look for a driving job where you'll be HAPPY…. strike a happy medium between good pay and what YOU want from the job.
Be skeptical when offered a position where the pay is very high. If the offer sounds too good to be true, chances are it could be a scam and you could end up working a week or two and not get paid.
 Recruiters are paid to hire truckers for carriers. Sometimes, not always, the truth can be stretched and the job isn't what you've been told.
When looking for trucking jobs, here's a few things to look for in the pay package. The highest paying trucking jobs pay a trucker for his time and labour: demurage, border crossings, extra pick-ups and drops, layovers, safety bonuses, productivity bonuses, , eg. idling times, truck care (for company drivers).  Also expenses such as road tolls, bridge crossing, scale tickets etc., ought to be reimbursed to the owner operator.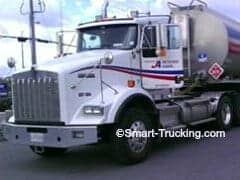 Owner operators should be paid a fuel surcharge. Nowadays, an owner operator doesn't have much of a chance of turning a profit, without this surcharge, due to the high fuel costs.
If you're an owner operator, do NOT go for a pay package where you get paid a lower rate for empty miles. This is a NASTY trucking industry trick that has been around for years and years. It's not YOUR fault there's empty miles. It's an old 'Future FastFreight' trick….. first 200 miles their trips, were 'free'. Yes, that's right, free. They are no longer in business.
Some companies will pay a higher mileage rate for shorter runs, for example, under 500 miles. Some will also pay a greater mileage rate for traveling through high volume traffic areas, such as New York and New Jersey.
When considering changing your trucking job, first go through the pay package carefully and do the math. See if the deal works on paper. Ask lots and lots of questions. Ask other truckers what they know about the company. Ask drivers who are presently employed by the company about their experiences with the carrier.
There are some good trucking jobs out there to be had. But, shop around, do your homework and find something that will meet your needs. You can earn a good living from the right truck driving job.
Related Articles: