This post may contain affiliate links. You can read the full disclosure policy, which is pretty dull, but
here it is.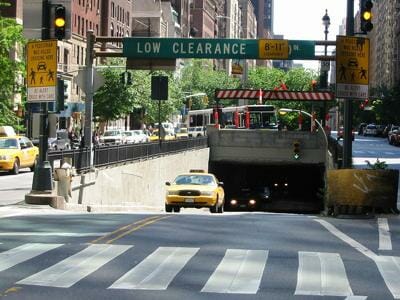 This incident happened in 1973. Three of us truckers had loads going to JFK Airport on Rag-top trailers. We needed to stop in New Jersey to get a trip to deliver in New York, so we all stopped at the big '76 truck stop' exit in New Jersey, to fuel up.
Two of us fueled at the cut rate across the street and one guy had to use the 76. We finished up, and we didn't see him so we went on to the company we were to trip lease from, and waited a bit for him to show up. Time was running close and we needed to leave, in order to make the delivery on time.
We made our deliveries and were headed out of the city around 5:00 PM. Now, this was my 'rookie year' and I did not know that New York state measures their bridge heights from the curb up. As I was coming back out on the BQE, I saw several signs warning truckers that anything over 12'8″, would need to exit at a certain exit.
Not knowing any different and realizing that with the bows all the way out on the rag top, we were at least 13'6″. Off the exit I went. Now remember this is around 5:00 PM in New York City and I am a rookie. Next thing I know, bells are going off because we are at a tunnel and too high to enter it. Again, TOO DUMB to get out and lower the bows on the rag top that would have taken down 6″.
It took one hour and 4 stops to ask cops how to get back on the BQE! Later, we were back on the New Jersey Turnpike at a rest area.
Keep in mind, that we NEVER did see our buddy, until he was banging on our doors the next morning! He had not stopped to get the trip lease and went straight into JFK and made his delivery.
Fast forward two years. A group of us were sitting in the driver's room one day and I finally heard the "Paul Harvey" version of the JFK delivery. The other driver had done exactly what I did and got off at the same exit and wound up in the same predicament.
Here is how he got out of it when he too ended up at an over pass he couldn't get under. When he wasn't able to get the cars to stop so he could back up, he got out and called the cops and said, "There is a stupid truck driver down here blocking traffic. Can you get someone to help unblock the traffic?"
You know "THE REST OF THE STORY"!"
This is what his truck looked like only it was green.
By the way his name was Jimmy Blevins and we drove for Russell Transfer out of Roanoke,VA.
by Ed Martin
(Fletcher, NC)
Where Would You Like to Go Next?