This post may contain affiliate links. You can read the full disclosure policy, which is pretty dull, but
here it is.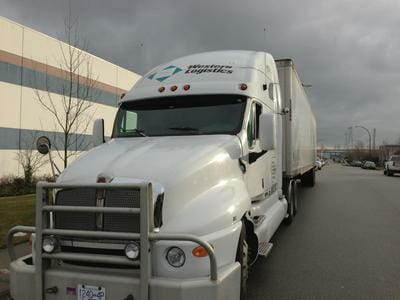 Well, it's been a few weeks and I have been up and down the roads a few times. The nice thing is, I am settling into a bit of a routine and getting to know where the good stops are. Still hear the grumbling on the CB. I still see guys not pulling forward in the fuel island, just going inside spending 45 minutes in there and then they gripe on the radio.
There are some drivers I am starting to recognize and certain rigs too. I am able to recognize and plan to move out of their way and let them by. I have a speed regulated truck and try to get out of the way of the guys who don't. It is always nice to hear 'thanks driver' as one goes past.
I like to think that my smiles and friendly attitude is paying off.
It's probably hubris on my part, yet I am noticing more guys waving out there….. more acknowledging the brethren on the road. It's probably simply more of ok he is regular out there now, sort of a rookie initiation of sorts …seeing if i could cut it.
As I headed out last week, I loaded up and made my way to the first terminal. Guys were sharing road info as usual and it sure did help. Got out to Winnipeg.. no real hassles. Coming back west, the weather decided to start. It was if mother nature was saying winter is not over yet. I slowed down watching the road for signs of icing.
Two tips I received from veterans,if you have spray and it's not icing up and the second was if its snowy and you get fog, it's a good way to get black ice. Relaxed and yet aware, I continued making my way to Calgary. Drop and hook and on to Vancouver.
Remember my hubris, well as I hit the terminal and change trailers I was thinking, ok this is not so bad… my first winter season in the mountains and no chaining… this is awesome. I get back on the road and get to Kamloops, shutting down for the night.
After my shower in the morning, I do my pre-trip and off I go. Looking forward to my weekend off maybe a chance to get out and let Kya go for a swim if the weather holds. All of a sudden, I get to Three Valley Gap and it's like a completely different area. The weather has changed that fast.
Not to worry, I slow down, start watching for signs on the road for serious ice and listen to the CB for any indications of bad roads. In Revelstoke, I grab a Timmies and then it's time to climb to the top of Rogers. Not so fast cowboy, says mother nature.
All of a sudden there is a line of trucks and four wheelers. What's going on? Nobody is answering on the radio. Then I see drivers climbing down and getting out the iron.
Well crap, ok I gotta do this. So out it comes. It's brand spanking new and I start to put it on.
I am fortunate that as I struggle, the driver behind me comes up and offers to help. I thank him as I mention it's my very first time chaining up. He looks at what I have done and smiles 'not bad, rookie' he says kindly. He points out a few places I could do it a little differently and then comments how 16 ply tires and chains are never an easy mix.
We both struggle to get the right side snugged up. He shows me three or four tricks and yet still with the newness of the chains, it just wont snug up in the center. DOT and parks stop by the DOT officer takes a quick peak and says its fine.. just stop at the turn around and check it.
So off I go. The first passing lane and whamoo the four wheelers start to fly by. At the chain up area, one truck load jump out and start to relieve themselves all proud as if to say see us mighty four wheelers, we are great. I shake my head as I drive by.
About a mile and a half from the top, at the end of the passing lane those meat heads rip by me into oncoming traffic . The driver coming says 'I got my side, you ok driver' as I pull to the right. I am now stuck in a snow bank. I am asked if I am ok . I am and as I call my dispatch to get a wrecker out, I climb down and check for damage. I have a number of drivers offer to share info should my company want a statement along with some praise for the quick thinking and curses of the idiot four wheelers.
As I sit, my company is thankful I was not hurt and have a wrecker on the way, I watch a plow driver stop …he climbs up onto the side board and asks if I have an ETA because they are shutting the road down for avalanche control. My wrecker gets turned around and I am now thinking great… 8 – 10 hours in a snow bank….The dispatcher asks me if I could put my chains on to get out. 'Chains ?? you want me to what?
This is trucking… not some deviant thing!' I reply, struggling to keep my voice from cracking and straight faced.
What gives me away is the Parks Canada supervisor who had stopped to give me a coffee and make sure I am all right, laughing at my comments. As I get off the phone, she chuckles and says I should be nice to dispatch as she hands me a coffee. She says one of her trucks will be by in about 20 to pull me out. They get me out, and I give the driver a small tip for the coffee fund. He says thanks for not getting into a wreck….. apparently the four wheeler was written up in Golden for wreckless driving.
I got to the summit and as I pulled in, three drivers jumped down to help me get my chains off and packed up, all of them asking if I was ok.
There is still camaraderie out there. All guys and gals on the road, remember that trucker on the side could be you someday. I always ask when I go by if a driver is ok or if he needs anything. I am fortunate that drivers had my back out there.
by Joe McDonald
Calgary, AB)