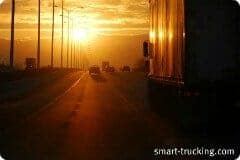 Yes, more California emissions regs in the works. I see you roll your eyes.
There's no shortage of 'hype', regarding new emission regulations for big rigs and reefer trailers, that haul in and out of the state of California.
I read an article recently, on the concerns that reefer fleets are having with meeting the upcoming 'Tier Four' emissions regulations for this state.
Don't be too concerned just yet
However, the concern may be unjustified. Anyone who runs I-10, I-15 or I-80 in or around CA, can testify to the fact that some of the oldest, rattiest and most pollution belching trucks on those roads, are sporting 'California license plates'.
Is this state ABLE to implement such a plan?
California, due to the sheer numbers of their own home state trucks being emissions offenders, may not be able to control and police their own back yard, let alone enforce their position on others.
Here is a state that's already broke… a state that relies heavily on importation of a variety of commodities and the exportation of a vast amount of their own goods, trying to find the funding to implement and police these lofty emissions standards.
How on earth are they going to justify to their residents, the budget for thousands of emissions police, vehicles and equipment, while the entire state infrastructure is falling apart and state and local employees are being laid off, by the thousands?
Clean up your own 'door step' first
This is typical California style. Remember their last emissions debacle? Emissions snap tests on big trucks that scared everyone in our industry with its disproportionate fines, until it was taken to court and thrown out!
This state needs to clean up it's own house first, before it should even 'think about' dictating policy to everyone else.