Continued…….
Minimizing Accidents
One of your most important goals is to minimize the chances of having an accident.  Accidents are very common in that first year as a professional truck driver. In that first year, there's also the challenge of getting used to the truck.
Do your very best to avoid accidents. They will show up on your driving record (DAC report, CVOR). Many incidents are preventable and unnecessary. They are also embarrassing for you. Not only can they hurt your pride and shake your self-confidence, they can be expensive. The really stupid and expensive incidents, could end up costing you your driving job. And no one wants that.
---
Being Away From Home
Nowadays, it's a fact of life for new professional drivers, to be on the road for several weeks or more at a time. Be prepared for that. It's not as easy as you may think.
If you are married or in a relationship, that's a factor you must be prepared to deal with as well. Your family needs to know what to expect as well, and be prepared. It's simply part of the lifestyle of a trucker.
Being alone for long periods of time can be tough emotionally on some people. Loneliness, depression and anxiety are not uncommon issues truck drivers face. A trucking career can take it's toll on the both the physical and mental health of a trucker.
---
Keep Focused on Your Goals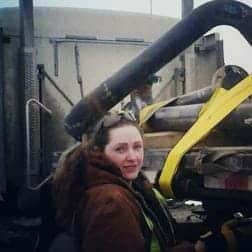 I'm not going to lie to you. That first year as a new truck driver can be rough. But, it's important not to get discouraged and overwhelmed.  The ultimate goal is to accumulate seat time and rack up experience. It's part of the learning process, in making truck driving a career.  The more experience you have, the more impressive it will look on your resume, should you decide to change driving jobs.
Always do a good job and keep yourself safe while doing it. Aim to do your best and avoid  damage to the vehicle. Practice makes perfect they say, but as a truck driver, let me tell you it's NEVER perfect. But, with practice and experience under your belt, your skills and abilities, just get better and better.
---
It All Boils Down To 'Survival of the Fittest'
Perhaps trucking companies want to see if you can survive the tough stuff. If you can survive the toughest stuff they throw your way, chances are you're able to survive anything that comes your way.
Think about it. The carrier REALLY doesn't know you at all. If they've got an ugly load, they've got to get rid and chances are, they'll assign the load to the new guy, rather than give it to someone that they consider a friend, co-worker or a valuable experienced driver.
Yes, you'll get some ugly work. But, don't worry, that will improve with time….keep in mind the end goal.
Yes, it will be tough at times. But, you will accumulate the driving experience and the seat time. THAT'S the long term plan to reach your goal.
Yes, it will get easier and better as time goes on.
  Miss the first part of the article? Here's PART 1.
---
More Articles for the New Truck Driver