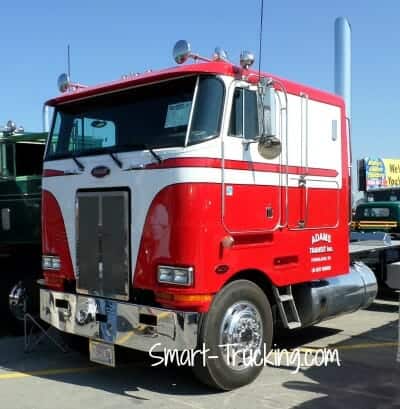 Many memories are attached  to the old cabover trucks models.
Many truckers and retired truck drivers alike, lament about the classic cabover truck models, that once ruled the highways of North America.
The cabover truck is an icon.  It represents the days of trucking we all long for, in today's world of trucking, that is so muddled up and complex with it's mounds of unnecessary rules, regs and guidelines.
These old school cabover trucks, whether Kenworth, Peterbilt, Freightliner, White, GMC, Ford, Diamond Reo or old Crackerbox………. meant freedom, simplicity, open roads, good memories and yes, some back aches.
They bring back good memories from the past….from the days when the industry paid truckers what they were worth. The job wasn't any easier then, but at least the pay was decent and the trucking industry wasn't regulated to death.



Here are some comments from truckers, both active drivers and those who have 'hung up the keys for good'……. a few words about their connection with the cabover truck.
Trucker Comments – Old Cabover Trucks
– Bring back the cabover!
– I learned to drive in a cabover.
– My Dad drove so many of  these, his knees still rattle and shake!
–  Oh man, how I love those old cabover trucks and the other rigs, especially the Petes… even the old freight shaker cabovers! When I was a kid, my parents would drive me to the nearest truck stop, so I could take pictures of the big rigs, and talk to the truck drivers. Most kids wanted to go to the beach, but my favorite thing was to head for a truck stop! (Jimmy Royster)
– Those old White Freightliners would just rattle all the time…. never tripped across one that didn't rattle! No wonder they were called 'Freightshakers'!
– I love the old Freightliner cabovers.
– Bring back these old trucks!
– Could lie across the doghouse in one.
– As a mechanic, I spent a lot of time working on this style of truck.
– Just love the old school rigs.
– Drove these trucks for years, but no more please, too uncomfortable.
– The first 1,000,000 miles of my driving, was in trucks like these.
– I grew up in a cabover.
– Loved it when trucks had 'real character'.
– These rigs are 'true classics' for sure…. it's too bad they don't make them like that any more.
– My first truck was a 1981 COE.
– I drove one in '71 for two years, with a V12 Detroit engine…. great truck.
 – These gems were a challenge to drive without power steering.
– When I was bob tailing, and would hit a bump, I'd have a new dent in the headliner… truck had more than a few dents!
– Especially love the old Kenworth K100E Aerodyne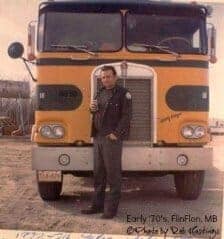 – They have that special look.
– My Grandpa and my Dad owned several of them…. the best trucks ever.
– Man, those old cabover trucks were 'backbusters'.
– I drove a COE for the first ten years or so of my driving career….. great for maneuvering in tight spots, but not so great to live in for long time periods for over the road trucking. It was hell. It was pretty tiring crawling in and out of it and having to lie down to get dressed! Super trucks for local work, but not well suited for long haul trucking.
– I first learned to drive in a cabover.
– Aahhhh yes, I spent many a day in these….Heck, it reminds me of the good old days… way less laws and regs.
– Cabovers weren't necessary dangerously….. that was all there was to drive at one time. They were legal and they got the job done. They were quite safe if they were driven with respect. Drivers didn't worry about 'head on' collisions.
– I love them and drove them for a long time.
– Drove them back in 88′ when I started driving with Schneider National.
– I love the old KW100E…. give anything to have one now.
– Just love the classics!
Where Would You Like to Visit Next?