What exactly is an old school trucker? What does it mean to be old school?
The saying old school refers to the drivers with trucking in their blood. Chances are, they've been in trucking their entire lives. It's who they are, not just what they do.
Many were just thrown the keys at a very early age, many not even legal driving age, by a father, an uncle or a grandfather in the passenger's seat, and told to start it up and drive. Some learned to drive solo.
They learned to drive by doing. They didn't learn overnight, either. There were bumpers scratched and loads driven off the road. These dedicated drivers learned the skills needed to be a trucker over time. They learned from the pros.
Over the years, these drivers continued to learn and develop the skills and confidence
that it took to be a good driver.
And, in turn, most of all, they gained the respect they deserved.
Back in the day, these truckers were what trucking was all about. They were a breed of drivers with a deep connection to the industry. They took pride in their job and pride in their ride, too. They laid down the foundations of trucking. These are the old school truckers.
Old School Truckers Built This Industry
It was this attitude and way of thinking that really developed trucking. These were the boys that made the trucking industry. This is what old school is all about.
Grinding out technically 'qualified drivers' from a truck driving training school is pretty easy to do. Yes, for the most part the graduates have all the basic skills they'll need to do what the job requires.
But, it takes a lot more than just a Class A license to be a trucker. If it only took a Class A to be a skilled driver, this industry wouldn't have as many problems as it does.
---
11 Important Changes in the Trucking Industry
Trucking sure has changed. Most say it's changed and not for the better.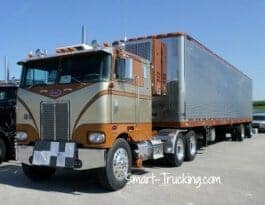 There was a time not so long ago, when the price of fuel was more reasonable and an

owner operator

didn't need to work a couple of days, just to pay for one tank of fuel. Some remember being mad when the price of

fuel

shot up to over $1/gallon. Many knew then, the writing was on the wall of what was yet to come.
With the exception of the '76 Truck Stop chain, most truck stops were mom and pop establishments with decent home-style food. No fast food then.
The trucks were mechanical and reliable for the most part. They could mostly be fixed on the side of the road, if they couldn't be limped home…. which meant maintenance costs were a hell of a lot lower because most things

could be fixed by the trucker.

The

freight rates

were better. The cost of living was lower. If a driver ran hard, he could make some seriously good money.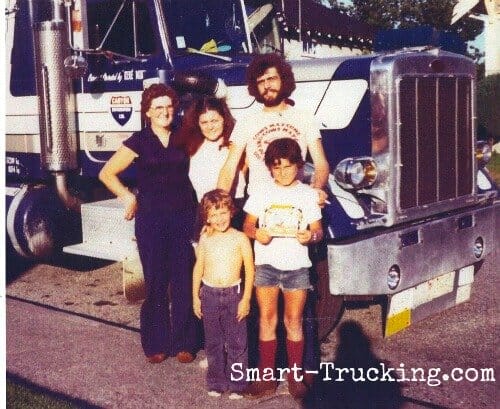 There were no electronic logs. Hell, if you go back far enough, there were no paper logs. When tired, a driver could sleep without fear of a dispatcher buzzing on the Qualcom. A driver could run until they were tired, instead of running till Congress dictated they had to stop and sleep… tired or not.
There were no cell phones or satellite tracking. A dispatcher who'd never driven a truck in his life, couldn't call and ask the driver what was taking so long to get to where he was going.
All truckers all used the CB. It was a great tool to get help or help a fellow trucker, or just 'chew the fat' and have a friendly conversation with another driver. It's funny that drivers then never found CB's to be a dangerous distraction…..never heard of anyone back then so focused on his hand held device, the microphone, that he drove off the road.
The trailers were shorter and much more maneuverable. It wasn't necessary to block three lanes of traffic, just to turn a corner.
There were great looking trucks back then too… lots of them…. especially cabovers.
There was no element of the trucker population washing their feet in the sinks at the truck stops.
There was a sense of banding together by all who drove a truck for a living. Camaraderie. A brotherhood. THAT was old school.
---
Trucking as a profession has changed for drivers. Truly, not for the better. Most of all what is missing today is respect for truckers. There's a lack of respect from the D.O.T., to the shippers and receivers, to the big trucking companies, to the driving public.
Truckers now are paid and are treated like third class citizens. They have every right to resent this treatment.
---
What Old School Means to Me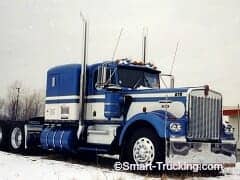 I guess that's why it's kind of cool to see older restored trucks in pristine condition. To me, it shows there's an element of truckers out there who still consider trucking an honorable profession.
They are the ones who recognize and aspire to belong to an old school trucker group with a set of core values. These are the loyal, dedicated truckers who work hard, take pride in their job and their equipment.
Trucking as a career may have changed over the years. But, it's good to know there are truckers out there who still uphold those old school ways.
Laws and regulations rule this industry and control it. But, let us not loose sight of these important core values that built the trucking industry.
We need to uphold these old school core values….. the roots and foundation of this industry.
---
The Future of Trucking
Sadly though, the breed of old school trucker, is slowly dying out.
We have a lot to learn from these old school truck drivers. They laid the foundation for the industry. I firmly believe THEIR WAYS, are the answer to the future of trucking.
Bring back the pride and the brotherhood to our trucking
industry. May that old school trucker attitude, live on.
---
More Articles You Might Like…….
Return to Trucker Culture and Professionalism