This post may contain affiliate links. You can read the full disclosure policy, which is pretty dull, but
here it is.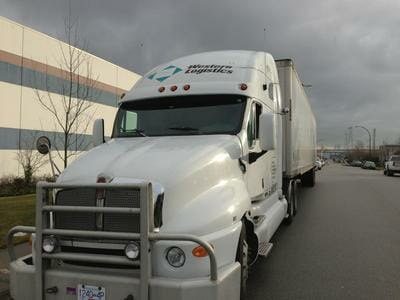 It was about 18:30 and I pulled out of the Field BC rest stop. There was light snow falling and a mix of nervous anticipation and excitement.
I had done this drive many many times on a bike and in a car, but this was my first time in a big rig! I had talked to the veterans in my company and every driver who had a minute along the way….. asking for advice,tips and to share their experience.
It was almost universally the same……go slow, respect the road and the hills and you will be fine. The other advice I got was, don`t just pull the spike and go pee at the brake checks…. they are there for a reason. Sound advice, I thought.
The snow really started to fall and I remembered the first advice,…in good weather, the rock cuts outside of Golden B.C., don't exceed 40 kph. Well, this was not good weather and I had slowed to 30 and had the four ways on. Two turns down and thinking ok, this is not so bad… I can handle this… just go slowly and respect the road.
Next thing I know, some yahoo on the CB complaining about rookies always taking these corners slowly. I shook my head because even on a sport bike on a sunny day I never would wind it up,…. those curves are sharp unforgiving and leave absolutely no room for error. I get through the cuts into Golden and the impatient rig sails on by.
The next challenge is the Summit of Rogers Pass…. a fairly decent climb and decent that goes by uneventful other then the snow fall (by the time I hit the summit, a good 4 inch accumulation.) So far I am wondering if I will be able to continue barefoot or if the iron is coming out.
I pause at the summit to clean the headlights and mirrors get rid of a little ice build up on the windshield and talk to a couple of drivers about chaining. They both agreed that it was not time as the snow was accumulating but there was no freeze and no ice on the road yet. The one fellow said, 'don't always go by other drivers… if in doubt, chain up… DOT doesn't cite you and nobody died from unnecessary chaining up.' Again great advice from a veteran driver.
So I climb back up and hit the road. Soon it's down to 20 clicks as the snow is intense and hard to see four ways on. One guy let's me know he is coming around has his four ways on but going a bit faster. I let him know he is clear. He cuts back in and thanks me and wishes me a safe trip.
Soon I am descending into Revelstoke, BC and I see a rig tipped over some (remember the impatient fellow?) I ask on the CB if he is ok.
He snarls 'yes' and says a wrecker is on the way…..understandable that he is irritated.
As I continue on, I get to Three Valley Gap and as I notice the curves. I ponder….. there are a few spots where I think this is not a good place (my next trip a week later, there is a rig over the wall on its side in the river being fished out by the wreckers, foreshadowing perhaps). The road to Kamloops is pretty much climb some round a curve or three and descend…. and repeat. Snow lightens off and the road is not too bad all things considered.
I make way way…. not letting guys push my throttle for me….. at times, on come the four ways and I take it slow. I get to Kamloops and grab a coffee, take a few minutes break. In the driver's lounge, I talk to a couple guys… one says thanks for having your four ways on, let's me know you're going slow, not a bad thing just let's me plan a bit. Never really thought about it that way but yes makes sense.
Got to talking a bit and he related how he might go a bit faster than me because he knows the road(he has driven a Calgary/Vancouver rounder for 30 years now. He still at times slows right down. He was stooped for the night but said the Coq shouldn't be too bad no worse then Rogers weather wise. I figure ok so I dig out the warm gloves and put them by the door, just in case.
Off I go and next thing I know it's the 10 mile hill brake check I pull in and watch as guys go by grabbing the spike and off they go. I am walking the truck checking every thing out and just getting into the zone, I watch a rig go by not even stopping wondering why.
In a few moments, off I drive and it's more descend on comes the jake (thank you Clessy Cummings for that invention.) I am geared down and hit the four ways. I hear an angry exchange on the CB and wonder what's going on, but don't think too much of it…. it's climb and descend for a bit till I get to the Smasher break check.
As I climb down I hear a couple guys talking…. I think I recognize one of the voices from the CB earlier, so I sorta listen while I inspect the rig. The voice is a flat-deck driver with a load of pipe on and as he checks his straps, I hear he mutter about idiots always in a hurry. I nod to him as I clean my headlights yet again I watch as a rig comes through does a spike check and rolls off.
The driver of the flat-deck shakes his head. I ponder and go recheck my truck as I smell that all too familiar smell of asbestos and now I am wondering if I was on my brakes too much. I walk the rig and yet I don't sense anything. I even reach in and feel the drums… not hot. So I am a tad confused.
I get back to the front and I see the fella cleaning his lights. He says 'wasn't you… it was the idiot with the spike…. probably used his driver's all the way down… 'he is about to learn all about brake fade'. I ask him about chaining ….. he says 'nah, by the time we get down, the weather will be fine.'
With that, he wishes me a safe trip and heads out. I climb in and off I go. The second runaway lane has a truck in it, and I hear my flat-deck friend on the radio 'That's why we use the brake check lane.' 'Do you need me to call a wrecker …you ok driver?' He gets a surly 'I'm fine' in reply I continue on uneventful.
The weather lets off and I breathe a small sigh of relief. I understand why The Coq is called the highway of hell. Definitely a road that can cause problems! The Calgary to Vancouver run has some awesome scenery and some very treacherous roads. I am waiting for a show about the veterans that run those stretches.
Sure the ice roads hold dangers and some of the roads in South America and Europe are narrow and winding as all get out. Yet there is a reason that the Coq is so bad, as is Donner's Pass.
Respect the road be aware of mother nature and wave to my fellow drivers. That's what I think as I roll down the highway.
If you see me (White T2000 Kenworth, Western Logistics on the door) say' i let me buy you a cup and let's chat'.
by Joe Mcdonald
(Calgary, AB, Canada)