It's one thing to be an owner operator truck driver. It's quite another thing to turn a profit and have a successful, satisfying career as a truck owner.
Being an owner operator is much more complex than most people realize.  It takes money, planning and constant attention to your business to make it work, and that's just the tip of the iceberg.
If you're a new truck owner or thinking about becoming an owner operator, there's a lot of things you'll need to know, if you're just getting into the business.
It can also be frustrating when you're looking for reliable advice and answers to issues you encounter as a self-employed truck owner in business. You need honest answers and information to keep you on the road to making money.
There are lots of perks and a great deal of pride that comes with owning your own truck: controlling your schedule, choosing the freight you haul and making a decent profit. But it can be a long, tough road ahead, if you loose sight of your goals.
Making an Owner Operator Career Work
Being an owner operator truck driver, has it's challenges, trials and tribulations….. it can be a huge juggling act.
And that's where we come in. We'll pass on what we've learned from 30+ years experience in the trucking industry.
No matter if you're a first time owner operator or an experienced trucker,if you have bad credit, are looking for a good company to work for, or wondering what make of truck to buy, we've got your back.
We'll provide as much information as we're able, in order that you can make good sound business decisions, that will work for you.
We'll help guide you in the right direction and shed some light on the issues you're dealing with.
Owner Operator Truck Driver Tips, Info & Advice
Before Taking the BIG PLUNGE
Questions to ask yourself to be sure you're making the right choice
Company Driver vs Owner Operator— Many truck drivers struggle with whether they should remain a company driver or take the big plunge and buy their own truck. We'll highlight some of the ups and downs of each of these trucking careers, so you can decide which will suit you best.
What Kind of Trucking?– Get familiar with the various types of trucking jobs available. There will be some tasks required as part of the jobs, that you will NOT want to do. Know your likes and dislikes.
Choosing a Carrier — Some tips for picking a decent trucking company to work for…. a critical decision, not to be taken lightly.
Owner Operator Pay — The all important critical question… how much money does an owner make.
Your Truck: The Focal Point of Your Business
Spec'ing a Truck— The most exciting part of being an independent trucker, as an owner operator, is buying a truck that suits your needs and tastes.  Learn how to spec a truck to get what you need.
Resale Value of Your Rig— A vital spec to consider when buying a truck, is the projected resale value, when it's time to trade up or sell…..some advice for getting decent resale on your investment. Maintaining your investment.
The Restoration/Rebuilding Trend — More and more operators are keeping their trucks, rather than buying new.
Financing Your Truck — There's different options available when it comes time to buy your equipment.  One of the main decisions you'll need to make is whether to do an outright purchase or a lease. We'll walk you through the differences, so you'll have a better idea of what's good for you.
Buy New or Used? — Some truckers prefer always buying a new truck while others carry on their entire career with used truck purchases. We'll pass on some great tips for buying used big rigs and new trucks, and rebuilding.
Lease Operator Programs: The Never Never Plan — There's an option some trucking companies offer their brokers, where the broker gets a job with the company and signs an agreement to purchase a truck: a lease operator…..if you haven't already guessed why I call it the NEVER NEVER plan, you definitely need to read further to find out why this isn't something I'd personally recommend.
Make of Truck — Many new operators wonder what type of truck they should buy. There's no right or wrong answer to this. Mostly, it boils down to personal preference. However, there's a few things to keep in mind when it comes to choosing what make of truck will suit the work you'll be doing.
Truck Repairs — If you're going to be an independent operator, you'll need to know how to do as many repairs to the truck as you're able, or get out your cheque book. We provide some troubleshooting tips for truck owners.
Protect Your Truck — Tips for avoiding unnecessary damage at truck stops.
Gallery of Owner Operator Rigs — Check out our collections of O/O rigs. Gallery #1  Gallery#2
Your Owner Operator Business
Budgeting— A vital skill to be utilized by the savvy o/o, used to make changes in the business, project profit and losses, decision making for truck purchasing, deciding on a carrier to work for etc.
Record keeping — An essential skill for the owner operator, is tracking virtually everything pertaining to your truck: driving records, repair records, expenses, trip reports etc. as well as every move you make as a truck driver.
Money — Yes, make no mistake…..you'll need money and lots of it. You'll need money to start out as a new operator, and may also need a fistful of cash when unexpected repair bill comes in a lot higher than you expected. We'll give you some tips to help you manage your money wisely. Some facts on factoring: is it right for your business?
Income Tax Return — An important part of being in business. It's vital to get it done right, so the tax man isn't breathing down your neck.
Trucker Expenses — Know the operating expenses and costs you are responsible for, when you own your own truck. It's vital to do the calculations to know what your bottom line is.
Calculating Operating Costs — MAKING MONEY: The #1 goal of the owner operator. Learn how to calculate the cost of operating your business on a per mileage basis. Easy to follow steps along with a video presentation.
Sole Proprietorship vs Corporation — Know which business structure will best suit your situation. Partnership structure? NO WAY and here's why!
Legal Issues  — We offer this free service for owner operators to get professional advice from a top American trucking attorney. Send in your question for guidance on any trucking specific legal issues you may be facing…. a rare opportunity.
Your Life
Health–First and foremost, your health should be a top priority to you as a trucker, whether an owner operator or a company driver. If your health is poor, you may find yourself without a job, and struggling to pay for that high dollar truck you've financed.
Family/Relationship— A significant contributor to the success of a trucker's career, is having family/support on your side…. a family/partner who supports your career choice. We'll pass some tips your way on blending a family life with a trucking career.
Hanging Up the Keys — When it's time to retire from trucking.
Independent Operators
Independent Trucker –Becoming an independent broker is an even bigger step to take, as a truck owner. There's more costs and a lot more risk involved for the independent trucker, such as insurance, licensing etc. but it can be lucrative, if you land a sweet deal.
We offer independent truckers some advice and things to watch out for, too.
Owner Operator Resources and Support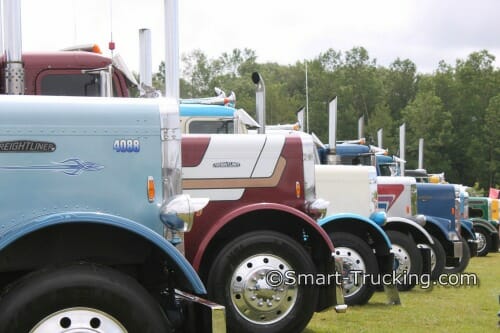 Legal Advice  — Answers to legal issues for truckers. Find out what where you stand on difficult issues and what you can do.
O.O.I.D.A. — Support group for all truckers, owner operators, company drivers in U.S. and Canada. This organization supports American and Canadian owner operator truckers. They help, advise and assist their trucker membership with numerous issues which affect them, such as safety, business and legal matters.
How to Become a Successful Owner Operator: Our 10 Best Tips–  Some tips and advice on being successful in your career as an owner operator.
A Word to the Wise– It's no secret that the trucking industry can be a cold, cut-throat business. There's a few common mistakes to be aware of, made by trucker owner operators.

More Owner Operator Articles You May Like