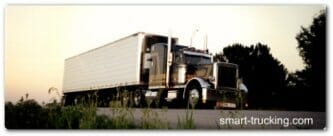 You've landed in the right place to find loads of Peterbilt truck pictures. Truckers who are 'Pete fans', love to 'gaze' at pictures of these classic, sleek, big rigs. There's just no such thing as too many Peterbilt photos.
A Peterbilt truck has a very distinct look, among big rig trucks……they're classic, well-defined profile and big on good looks.
Affectionately known as 'PeterCars', these awesome machines are certainly in a class of their own.
Although I may be a little biased when it comes to big rig truck models, it cannot be argued that these trucks have a great classic look that have stood the test of time.
Even used Peterbilts, 10-20 years old, still have that awesome silhouette, that Pete lovers long for.
These rigs are known for their clean, slick, long lean appearance……..a quality many truckers long for when purchasing a truck, particularly the owner-operator crowd.

Petes have always been a top choice by long haul truck drivers, owner operators….particularly the 379 model. They have a history of being comfortable, reliable and excellent choices for over-the-road trucking (when the truck is well spec'ed.)
Petes do make great long haul trucks, as I speak from personal experience. They are still popular at truck shows too, especially the older models.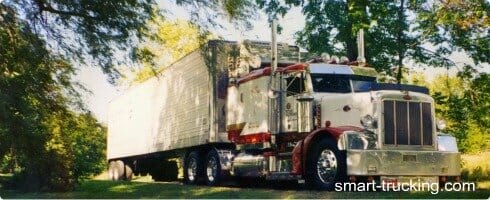 This collection of Pete pictures is a little different than most that
you'll see.
These are all working class rigs.
Yep, the trucks that are out there getting dirty and making money.
These are the guys and girls, busting their 'butts' to get in the miles while abiding my the endless list of rules and regs, putting in those long hours to meet their truck payment,  keep their rig in good condition and also have a life outside of trucking (if that's possible).
It's a chance for truckers who have pride in their ride, and the few owner operators, left in the trucking industry, to show what a 'real' truck is.
Our hats off to you guys…. you done good.
Keep on truckin'.
Here are pictures of Peterbilts, along with the specs for some, that we've collected from truckers, both owner-operators and company drivers. 
Peterbilt Gallery
Click on the links and photos below, for more info on the truck and/or a larger picture.
| | | | |
| --- | --- | --- | --- |
| 1999 | | | |
When looking at photos of Peterbilts, it's sometimes tough to tell a used older truck from a newer one….. especially one that has been completely restored. This is but one of the many appealing features of this breed of semi truck. Not a great deal changes on these classic style rigs, especially on the much sought after long hood models of Peterbilts.