This post may contain affiliate links. You can read the full disclosure policy, which is pretty dull, but
here it is.
*** I'm wondering if it is profitable to be an owner operator, these days? I'm a Canadian trucker and have been a company driver for 6 years. I'd really like to own my own truck, but am hesitant to go ahead with it. I have a good down payment set aside, which should help to keep the truck payments reasonable. Anyone have any input or advice?
YOUTUBE Video: Should I Become an Owner Operator?
** By Steve Wells.
It depends mostly on
what money you'll be working for.
Of course, you might have extra responsibilities, but that's why you need to do the math.
I would say it's better to keep a good company driving job than to be a low rate owner operator.
If you like challenges and you would still like to be an independent operator, start with a trucking company who would give you a dedicated run. Then it's much easier to do the math.
** By Road Wolf. If you want to be an owner operator, go for it. I've been an owner operator for 25+ years and would never drive somebody's else's truck. Here's 6 pieces of advice I can give you.
First, you are a BUSINESS MAN running a business, not just some cowboy with a shiny truck. This means…. a business plan, accounting set-up, tracking expenses, keeping ORDERLY receipts (not a show box full), and focusing on what you can save, not solely on what you can earn.Profitability is what it's all about.
Do your research. Find a GOOD trucking company that pays decent (the top line does not matter, it is the bottom line that counts), allows you decent home time, and provides lanes of travel and a freight lane that is appealing to you.
Read the contract thoroughly. If there is something that you do not understand, ask a legal expert.
In these times, be certain there is a fuel subsidy paid or fixed pricing on fuel.
Comparison shop insurance rates, plates provided or not, WSIB, … shop rates, layover pay, waiting time pay etc.
My rule of thumb is this: if you cannot make money on 1 mile, you cannot make money on 1,000 miles either.
**By Jim Black. NO!!! DO NOT GO FOR BEING AN OWNER OPERATOR!!!! Between low freight rates, HIGH fuel costs and maintenance costs, and also the high cost of equipment, the work just doesn't pay enough.
In December of 1985, I sold my 5 rigs. At the time, I had paid $64,500 for a Peterbilt, double bunk cabover with ALL the bells and whistles. A cheap, stripped down model now, will cost $100,000 to $120,000!
Back then, I paid $120 dollars for a top of the line tire. Now, $200 to $250 is the going rate for a top of the line tire.
Shop time was $50 per hour back then…. now? $100 to $150 per hour.
Fuel was $1.20 per gallon… now it's $3.75/gallon, on average.
In 1985, .75 cents per mile was the rate and the carrier paid fuel taxes and highway taxes. Now, the carrier offers .95 per mile with fuel surcharge and they pay nothing else.
Also, be sure to check out the price for a base plate and insurance. Now is NOT the time to buy a truck… it certainly is not profitable to be an owner operator in my opinion.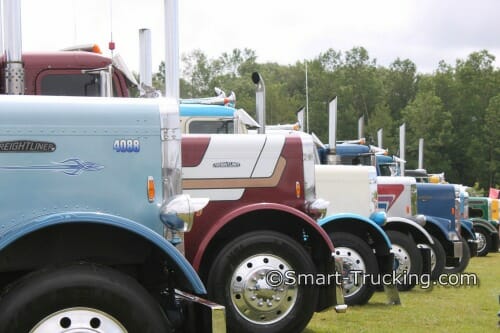 **By Travis Purdy. No, I would say not. I looked at becoming an owner operator, when I was still driving as a company truck driver. My father was willing to help me get a loan on my own car hauler a few years back.
I drove for the same company for a number of years and had spoken to the trucking company about running as an owner operator with them. They were all for it!
I was one of their top grossing company drivers. We were paid commission. I sat down with my dad and his accountant to crunch the numbers.
I ran from the idea when I discovered that at 85% commission as an owner operator, I would make 10-15% less to my pocket, after all expenses were paid.
At the time, I made 30% commission as a company driver! Also another benefit to being a company driver, is when the truck breaks down, you look at your boss and say, 'fix it please' and just walk away.
As an owner operator, you are stressed out trying to find a decent priced good mechanic to fix it without ripping you off!
My advice? Stay the course as a company driver and save yourself a ton of stress!
** By Wayne.  At this time and the way things are in the trucking industry? NO, it's not profitable to be an owner operator.  I was an owner operator for years. I sold my rig 16 years ago. I'm in my 60's now, still driving, but as a company driver.
Life is better with less worry. All expenses are too high to make a good living, even the price of the trucks. At first you may find everything appealing and looks good…. until you loose everything.
More Articles of Interest…..