This post may contain affiliate links. You can read the full disclosure policy, which is pretty dull, but
here it is.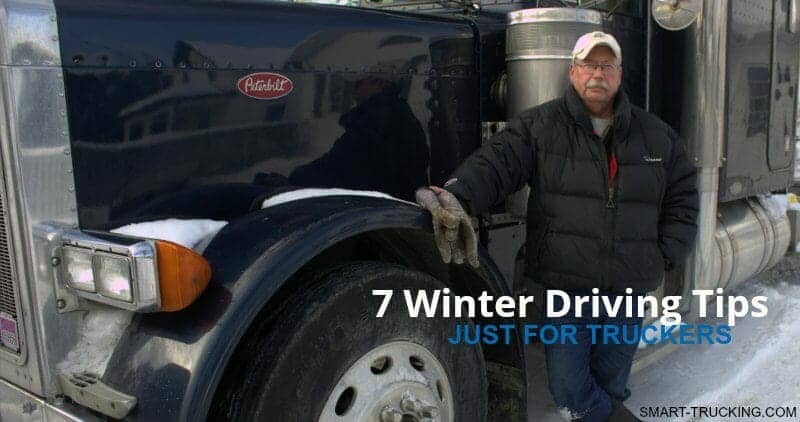 Knowing some safe winter driving tips and tricks can be invaluable to the truck driver. Driving in snow and foul weather is always a challenge, even for the most experienced truckers.
Some of the handy little safety tips and tricks of the trade can save you time and help 'ease the stress level', when on the road.
A good rule of thumb for driving in winter conditions. Always be prepared.
Know YOUR limits. Everyone has them. Don't be over confident or cocky. You are not invincible.
7 Tips for Winter Driving For Truckers
Here's a few tips for truckers to stay safe, sent in by 'DAVE BIRCH', an Ontario truck driver, for driving a big rig in the winter months:
Never push beyond the limits of your equipment. Knowing what your equipment can handle is very important. It's one of the best ways to stay safe.
Stay parked. If you're nervous about driving in bad weather,  stay parked. Call your dispatch. Have your delivery appointment rescheduled. A nervous truck driver can be just as dangerous as a careless driver.
Carry a bag of kitty litter under your bunk. Warm tires can turn that snow you parked on into a patch of ice in a short time. Throwing kitty litter under your tires is a good and environmentally safe way to get that little bit of extra traction needed to get you going.
Warm up the windshield. What to do on those really cold days when your windshield is dirty and needs cleaning? Turn your defroster on high for a minute to help warm the glass. I know it says on the jug it's good to 40 below temperatures. But that only applies when its still in the bottle and lines. The alcohol evaporates faster than the fluid and the fluid can freeze on the window. I like to put a few ounces of brake line antifreeze in with my washer fluid to help prevent this.
Carry a hammer & putty knife. Air tanks can freeze up pretty quick. I carry a hammer and putty knife with me. If I've been driving in excessive amounts of snow, I'll get under the truck and make sure there's no snow or ice packed up on my air tanks. Don't think that the heat from your motor or the air in your tanks will melt the snow.  Compressed air is cooler. Any snow that does melt is going to turn to ice from the cold metal beneath it.
Keep an eye on your trailer tires. Watch your trailer tires often especially when you've just hooked to a
trailer. When the last driver dropped that trailer the brakes were warm. Make sure the wheels are turning. If the brakes are frozen, there's 2 things it could be. A) a frozen valve or  B) the shoes are frozen to the drums. If its a frozen valve, pour some methyl hydrate through the system to melt it. If it's a shoe frozen to the drum, go under with your hammer and gently tap the drum with your red button pushed IN. It's easy to diagnose this problem. Did your trailer air up? One or two wheels not turning?
Check tail-lights. Every time you stop after driving in snow, look at your taillights and license plate. Keep them clean. Even a tail wind or draft will cause them to be covered in snow. Being highly visible is one of the most important safe winter driving tips.
More Safe Winter Driving Tips – On the Road Supplies
WATCH THIS VIDEO FOR MORE GREAT WINTER DRIVING TIPS!
ESSENTIAL ON THE ROAD SUPPLIES TO CARRY IN THE WINTER
OF all the safe winter driving tips, abide by this rule. 
Better to have it and not need it,
than to need it and not have it, is the most important.
plenty of extra warm clothing
insulated socks and top quality boots
extra blankets or sleeping bag
food (dried foods/water supply)
propane heater and lighter
lug tires/ top quality tires

fuel conditioner
methyl hydrate (for fuel & air lines)
extra fuel filters and wrench
windshield washer fluid
chains (can get stuck in parking lots)
cell phone (keep charged up )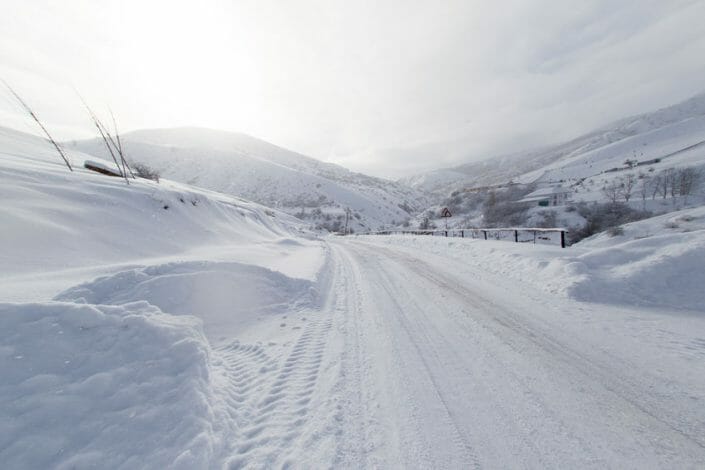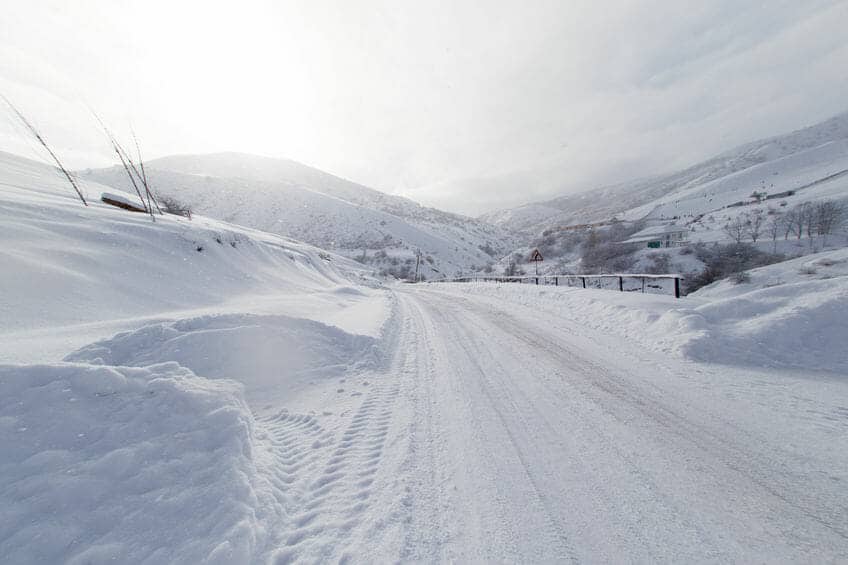 More Articles You May Like: