This post may contain affiliate links. You can read the full disclosure policy, which is pretty dull, but
here it is.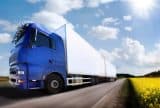 Driving a truck demands impeccable concentration.
The trucker not only drives a huge, heavy vehicle with often dangerous content. He also competes with other drivers on the road, unpredictable wild animals, inclement weather, and even tiredness.
One mistake can cost a lot. So trucking is not for the faint-hearted, for sure.
It isn't for unskilled drivers.  But even for professional truckers, safety, not the destination, must come first.
Here are a few tips to help avoid hazardous situations and reach your destination, safe and sound.
Check your tires before hitting the road – Among all parts of your rig, tires are probably the most important ones in terms of safety. Taking into account the huge weight of the truck, the value of its content and the fact that tires are the only points of contact with the road, you realize that tires are who actually do the main job. That's why it's so crucial to maintain them in a perfect condition.
Inspect tires visually before starting your operation and assess the tread depth. Always have an accurate tire pressure gauge with you and maintain the tire pressure recommended by the truck manufacturer. Avoid pairing unmatched tires, for example, tires with different tread depths or a radial tire with a bias-ply one. Besides tires, check other critical parts of the rig before setting off, such as wheel fastening, brakes, cooling system etc.
Steer wisely – Keep your hands on the wheel in the '9 and 3 o'clock' position. Such position is perfect for easy steering in both directions without re-positioning hands. If you keep the wheel this way, you get the maximum control of your truck.
The rule of seven seconds – In perfect conditions, you need to maintain the following distance of at least 7 seconds. In bad weather or when the road is too crowded, keep a longer distance. Remember that the bigger your rig is, the longer it takes it to stop after you apply brakes.
Keep your lights on – Your clearance and headlights must always be turned on and maintained in a clean condition. As you are driving a huge vehicle, this measure helps you stay safe while driving in the dark. When your lights are on, fellow drivers have more time to assess your vehicle's dimensions, notice your equipment and get ready to adjust when they approach you.
Avoid changing lanes – Every time you change the lane, you expose yourself to a risk because of the many blind spots your truck has. You should check side mirrors as often as every ten seconds.
Take measures in bad weather – When it snows or rains, maintain longer following distance with the cars in front of you. Drive slower than the posted speed limit allows. If you are going to cruise across the mountainous area in winter, prepare your tire chains beforehand. We recommend keeping the fuel tank full all the time at cold temperatures; this measure protects fuel lines from the build-up of water condensation.
Load and unload safely – Always make sure that freight and transport are secured during loading/unloading. Apply parking brakes on both the tractor and the trailer and ensure you stalled the tractor's engine. Leave the loading dock only after checking that the dock plate is removed and nobody is working inside the trailer.
Don't rely on the cruise control – Cruise control is a great invention that simplifies long trips as it can be tiring to keep the gas pedal in the same position all the time. But beware using cruise control when driving on slippery roads or when frequent speed corrections are needed (for example, when the traffic is heavy or when you drive in the city or on a winding road).
This post is Sponsored by 'Car-Parts', the tire experts.
Related Articles