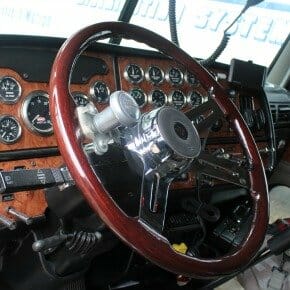 Speed control in big rigs is a problem. Statistics reveal that in over 50% of large truck accidents, excessive speed was a contributing factor and in many cases the cause of the accident.
Big trucks do not stop as quickly as cars and require a lot more room to do so. If you combine the greater stopping distance required by a big rig and mix it in with other factors such as hitting a patch of ice or being cut off by a car, you've got instant disaster.
When you're driving a big truck, things are going to happen around you, which are beyond your control, such as weather or crazy 4 wheelers.
The best way to combat these problems and reduce your odds of being involved in an accident is by controlling your speed. Traveling too fast never helps when things start to go wrong in front of you.
Traveling at slower more controlled speeds with lots of room around your truck, will most often save the day.
---
Controlling Speed With Cruise Control
One of the best ways to control your speed on dry roads while interstate driving, is by using the cruise control.
Set the cruise at a comfortable safe speed and let the limiter keep you from losing track of how fast you're moving.
---
Speed Control in Big Rigs: Tips For Using Cruise Control
I like to set my cruise slightly below the posted speed limit, partially because that usually creates a big gap in front of my truck with no traffic, due to the fact that four wheelers  are always in such a hurry and travel at a much higher speed.  If you are involved in an accident, you can download your recorded speed from the ECM at the time of the accident as proof you weren't speeding.
When the weather or road conditions suddenly turn bad in front of you and this can happen often, it's much easier to control the truck if you're not traveling too fast in the first place.
At the very moment the road surface changes from dry to something else, I turn off the cruise right away by flipping the switch, not by tapping the brake pedal.
Running the cruise on slippery road is never a good idea. Some trucking companies will have strict policies on this. Some carriers will fire a driver if they are involved in a bad weather accident and the ECM shows the driver had the cruise engaged at the time of the accident.
With traffic flow patterns today and the pressure from dispatch to hurry, don't allow yourself to be duped into traveling too fast.
You'll be the one to pay the price should something go wrong. Remember, you're the one responsible for being in control of the vehicle.
In over 3 million miles in my driving career, driving too fast never helped me in any way.
However, traveling a little more slowly than the flow of traffic, has saved me from being involved in accidents, thousands of times over.
 Related Pages You May Like
Smart Trucking > Truck Driver Skills