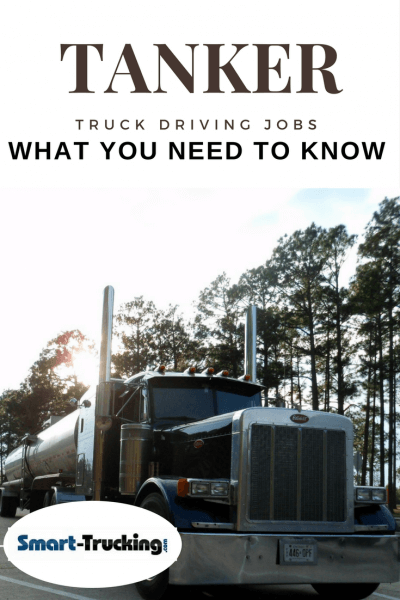 Tanker truck driving jobs are a specialized type of trucking. This type of truck driving job requires highly skilled and attentive truck drivers.
Drivers in this field of trucking are experienced drivers. There's much more work and skill involved in this specialized niche within the trucking industry.
Hauling tankers is not work for the average driver with minimal driving experience. There's no room for error in this type of driving job.
Many truck drivers aren't paid as well as they should be. However, this specialized niche in the trucking industry is one which keeps up with the cost of living. Company drivers and owner operators are fairly paid for their work.
Pay packages for company drivers and owner operators are quite competitive.
There are some definite advantages to pursuing work hauling tanker trailers, if you're a truck driver. Tanker work is not for everyone. But, if you're a seasoned driver with a steady hand, the pay can be pretty healthy, especially for an owner operator.
A truck driver who is willing to put in the time and endure the sacrifices of a driving career, may as well get the best pay possible for your time and efforts. Tanker work certainly offers higher compensation than most other niches in trucking.
Tanker Companies
In the U.S., some of the larger tanker companies are Groendyke, Miller, Enterprise, Actom, Schneider National, Indian River and Quality Distribution.
In Canada, the large tanker companies are Trimac, Seaboard Harmac, Gorski Bulk, Jade and TD Smith.
Job Search by

Tanker Truck Driving Jobs – Rate of Pay
Because of the special skill set required by the truck driver, the specialized trailers required, the dangers of handling and delivering the product, tanker trucking companies command a high price from their customers.
Company drivers and owner operators hauling these specialized tanker trailers, are paid a  higher rate than dry van delivery work. Driver pay for pulling tanker trailers is higher because the risks are so much greater.
This is also one of the few segments of trucking which pays it's drivers demurrage pay. They are paid for loading, unloading and waiting time. That's what sets this work apart from most other niches in trucking.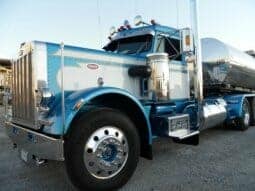 Owner Operator Pay – Tanker/Liquid & Dry Bulk
Most tanker truck driving jobs pay a mileage rate. However there are a few companies which offer the owner operator a percentage pay system.
Most tanker companies offer their owner operators packages which include the following mileage rate plus fuel subsidy, hourly waiting time pay, loading and  unloading rate (pays more to use owner operator equipment), safety bonus/incentive.
Owner Operator Rate of Pay
$1.27-$1.30 mile + Fuel Subsidy For Liquid Chemical Tankers (pay range approx, depending on experience and trucking company), for trips over 500 miles. Triaxle, quad empty and loaded are at different rates. Under 500 miles $1.32-$1.35 approx. + Fuel Subsidy. City deliveries or regular runs can be flat rated.
$40/hr demurrage pay
Layover pay $ 380 (approx) depending on unload time & driver reset
Pay for utilizing o/o equipment: pump, compressor, air, in-transit heat etc.
Other perks sometimes offered in pay package: Safety incentives, tank wash pay, etc.
Pulling tanker trailers, due to their round, stream-lined shape, owner operators will get some nice fuel mileage savings.
Also tanker/liquid/dry bulk work because of it's specialized nature, involves empty miles. Sometimes, empty miles are substantial. Picking up at refineries often means lots of empty miles to a port location.
Extra Costs For the Owner Operator – Tanker Truck Driving Jobs
Some companies have paint code requirements. Some offer assistance with the cost if the truck needs to be painted.
Beware of the pump equipment required by these companies. Many insist that the owner operator provide the pump equipment at their own cost. The pump is a finicky and cumbersome piece of equipment. It needs constant care and maintenance.  I'm not convinced that the pay for using your own pump offsets the cost and maintenance required. Be sure to negotiate this factor if you're looking for work doing tanker work.
Company Driver Pay
 .45/mile minimum, $30 hour waiting, $30 pickup & deliver. Drivers are normally kept busy with lots of miles.
Related Articles
Smart Trucking Home > Trucking Jobs