This post may contain affiliate links. You can read the full disclosure policy, which is pretty dull, but
here it is.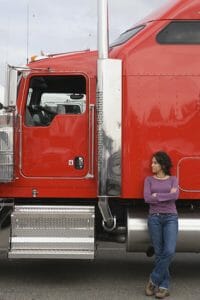 Question:Without truck driving experience, I've been having a rough time finding a job. I am a 24 year old female. I just got my Class AZ licence early last year and still have not been able to secure employment driving a big truck.
Instead, I sit in a factory for 12 hours and manufacture pharmaseuticals. It's a good job, but I love the open road!
Everywhere I apply, they say they want truckers with experience. Obviously, I have none. How do these trucking companies expect us to get driving experience?
Being a small built female, I have heard it all from…. we are not currently hiring dispatchers, do you see any women here, hahaha you want to haul steel??
Just because I do my hair nice everyday and wear make-up, doesn't mean I can't sling a tarp or handle a load bar!
I graduated from Northstar Truck Driving School's AZ program with flatbed practical and theory. I attended and passed the skid course in Marshall, Michigan, too. I also have college. It makes me wonder, if I was male, would this be this be so difficult?

Any one else have these problems?
by Ashley-Anne
(Windsor, ON Canada)
Answer:By: Erv Regelin — I grew up in the trucking business and was trained by my dad. I ran with my brother AND STILL had to work for crap companies until I had enough VERIFIABLE truck driving experience.
My buddy went to a driving school that was affiliated with Stevens out of Dallas, Texas. They do take driving school applications. Otherwise, try Roehl in Wisconsin, Schneider, Swift, or CRST.
Sorry to say, but you must tolerate the cruddy trucking jobs until you get at least 2-3 years of verifiable experience.
** By L'il Ruby — Well, young lady … been years since I've had to worry about getting experience and even back then, it was a family member that helped me get driving experience and taught me to drive a truck.
The best piece of advice I can give you…… find a broker who is willing to give you a shot, for at least 3 months. If that isn't an option for you, then you should look into apprenticeship programs through various companies to get experience.
Granted, you'll have to get the experience with other types of trailers and flat deck may not be an option, but that will come after you get 3 months under your belt. If I knew what province you were in, I could give you some names of companies hiring for their apprenticeship programs. I do the training of female drivers for the company I work for in Ontario.
There are options out there…. so don't be discouraged and keep looking girl!!!
*** Persistence pays: By David — Ashley-Anne, don't get too down about the old wall of having no experience. Sooner or later you, will get hired. I had the exact same problem when I was trying to get into trucking and no family in the industry to get me that leg up either.
You may have to take a driving job you don't really want, in order to get the experience quota to be hired into the job you do want.
I had to drive straight truck for a few years and wait for a change in industry attitude, before I could get into driving a semi truck. You do have a couple of options… the first is Northstar should be willing and able to help you get placement as they will have industry contacts, as they are a reputable school.
The other is that many larger companies such as Arnold Brothers and Bison have their own finishing schools, where they send new truck drivers to learn their way of driving.
Look for a company that has this, and see if you can't get on with them. Sure you may have to pull a box behind you and likely have a more rigid schedule than decking, but after a few years, you have the experience you need to get the job you want.
Good luck in your search. Remember, you are not alone.
***Practice, Practice, Practice! By: Jen: I was worried about the same thing! But I wouldn't go for the big stuff(steel,etc) right away.
I would try and find a large company (I hate to say it) like Schneiders, to get some experience behind the wheel.  Large companies usually have a high turnover rate, so they're always looking for drivers. Schneiders have a pretty intensive training course themselves and other companies know that. Hence, another company wont have to train you.
BUT…what school and companies teach in class is nothing like being out on the road. Stuff happens that they don't tell you about and what not. It's all a learning curve. I've been at this for 10 yrs now and I don't know everything. Always learning something new everyday.
I was actually very fortunate to be hired this past winter to come up and work the ice roads up in the Territories. And I'm loving every minute of it. My boss now wants to teach me winching so I can haul rigs for next season.
My only big advice is if you don't know, ask questions. When I started out I never really did. Guess I didn't wanna come off as the 'dumb blonde' stereotype. But I look back now and think that WAS the 'dumb blonde' stereotype thing.
Anyhow…have patience. We all have to start somewhere.
***Produce Trucking Job By: Matt– I currently work for a company that hires new truck drivers, as well women. We had a small framed woman driving for the company for awhile. She's quit her job now, but I imagine they'd hire another woman again, if presented the opportunity.
Smart Trucking Home > Trucking Jobs