Looking for truck driving school information? You've landed in the right place. If you're thinking about getting into a truck driving career or have already decided that you want to be a truck driver, this is the first step.
---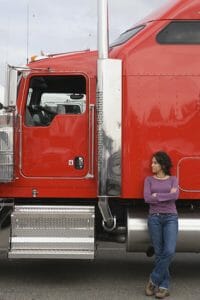 Knowledge is empowering.
Check out your options.
Don't settle for the first school you find.
Don't settle for the school with the cheapest program fees. Research as many CDL driving schools as you're able.
Then sit down with the information you've gathered and organize your findings. The mounds of information can be overwhelming.
Some Tips For Choosing a Truck Driving School
The school should be an accredited institution with proper licensing to operate. After all, you want to be properly licensed and receive the right training, in order that your license is recognized by all trucking companies.
Are you looking for a local school, or are you able to travel to your choice of school?
Look for a school that's been around for awhile, not one that just popped up last week. They should have a good reputation, too.
What is the 'pass rate' of the program? If the school has a reputation for being difficult to complete the program successfully, that should be a warning sign. Programs should be set up for success.
What is the cost of the training program? Cost shouldn't be the sole factor in deciding on a school, but it will certainly have a bearing on your decision. Shop around to many different schools. Sometimes it's the old cliche… you get what you pay for. Note the features of the program offered for the price, then compare.
Find out the student:trainer ratio. The fewer students assigned to a trainer at one time, the more one on one attention you'll receive.
It's beneficial if the school provides assistance or placement. It's huge to have help maneuvering the job search process, as it can be very daunting and overwhelming. Help getting your foot in the door with a carrier is a great asset.
Look for a CDL school which offers some sort of a guarantee that you will indeed pass their training program. A school which offers such a promise, feels confident their program is well designed for success. Some schools offer tuition reimbursement, should you not pass the course the first time or they allow you to redo the course for no charge.
What is the duration of the program?
Check out the qualifications of the instructors. New CDL drivers are not the top choice for driver trainers! Former truckers with years of driving experience are often the best trainers. Beware of schools with driver trainers, who don't have a CDL…. they are out there!
Gather as much truck driving school information as you're able. Don't be in a rush to choose a school, before becoming well informed about your options. Be diligent and make a good choice. This is can be one of the most important decisions you'll make in your truck driving career.
Smart Trucking Home | Truck Driving Schools