This post may contain affiliate links. You can read the full disclosure policy, which is pretty dull, but
here it is.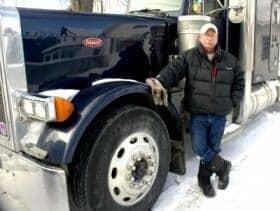 Over the last year or so, I've started to think about hanging up the keys. I've been doing long haul driving for more than 35 years now. I've even lost track of how many miles I've logged. More often than not, I'm starting to feel like I'd rather be sitting by the lake in a lawn chair and a beer, than in this truck.
Don't get me wrong….I've always loved driving a truck…still do after all these years. But sooner or later they tell me, the time comes when it's time to hang up the keys.
Don't Sell the Truck Right Away
I was talking to a trucker in Baytown, TX the other day,…63 yr old. He said, "when you feel like it's time to retire, park the truck for 6 months before selling it. After 6 months is up, and you still want out, then sell it." Good advice, I thought.
He went on to explain that most people still need to keep busy and do something when they retire and the extra money is always nice. So many of his friends had sold their trucks and then regretted it. They wished they'd kept their rigs to pull the occasional load for the extra money or just for something to do with their spare time, rather than being bored out of their minds with nothing more productive to do, than mow the lawn.
I get bored easily and would want to be working at something…. maybe hobby trucking might be ok.
Save the Marriage
Keeping the truck for a little fun trucking might be a good way to save your marriage too. After all, the wife has become accustomed to your absence, and being underfoot 24/7, may be enough to push her over the edge.
Being At Home at Night
On the other hand, it sure might be nice to be home every night and maybe only work 8 hours/day being the greeter at the local Walmart.
When to Retire?
When can you actually afford to quit your trucking job for good and still have enough money to live on?
If and when I retire, I want to be able to live well, not just survive. Not saying I need steak every night, but on the other hand, I don't want to live on oatmeal either.
Some drivers may never retire. They don't feel they can afford to.
At the end of the day, whether it's your body or your mind that can no longer put up with the long days on the road, I guess drivers know when the time is right for them.
Personally, I'm not there just yet.
However, if I won the lottery tomorrow, my first phone call would be to dispatch…. and it wouldn't be to tell them to get me another load.