Scanning and searching trucking jobs is quite a chore. There's lots to consider when seeking out a job as a newly licensed CDL driver or a driver with plenty of experience, looking for a better deal.
Which carrier to work for? Short haul, long haul or a local truck driving jobs?
Interested in being a produce hauler or pulling dry vans? Hazmat or not?
Company driver or owner operator? Team driving or single?
Now that you're a qualified professional truck driver, with your commercial driver's license, you'll need to make several decisions regarding your trucking career.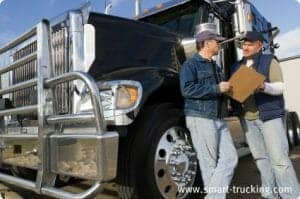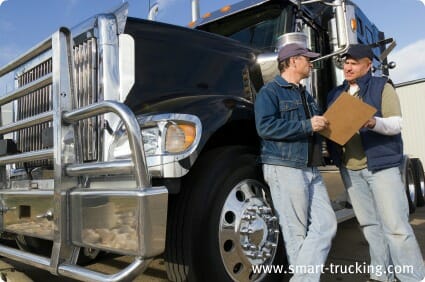 Do some careful thinking and research before accepting just any driving job….especially in this market. Remember, there's a SHORTAGE of drivers, and the market is YOURS. There's lots of jobs out there. But, be certain that the job you accept, is suited to your likes and dislikes.
It costs money to leave one job and start another. It's also a waste of time and energy. It can also affect your driving record adversely, so be sure to 'look before you leap'.
Common Questions About CDL Jobs
What rate of pay can I expect as a company driver?
Rate of pay for CDL driving jobs varies. There's as many different pay packages for trucking jobs as there are carriers. Some niches in the trucking industry pay better than others.
Some carriers pay as a driver service, most pay with legit deductions for employees, some don't take any deductions whatsoever.
If you're a company driver, you should expect income tax and payroll deductions. If there are no deductions, this could mean trouble, for both you and your employer.
Be careful that the tax man doesn't catch up with you, when it comes to taxes owing, whether you're company driver or an owner operator. It can be a real mess!
Most trucking jobs in Canada and the U.S. are paid by the mile. It's become an industry standard and a fact of life. In addition to the base mileage rate, there's often pay for drops and pickups, border crossing pay, layovers and waiting time pay. If not, your choice might not be the best trucking company to work for.
In Canada, expect anywhere from .35/mile – .55 /mile for driving jobs.In the U.S., pay rates start around .25/ mile and up.
Paid mileage rate for trucking jobs often increases with experience and company loyalty. A trucker's salary starts around $32,000 annually and ranges up to $60,000+. On average, a trucker in North America makes about $35,000 to $45,000 per year, although this varies greatly, from state to state and province to province.
The rates mentioned are only approximate. Know what you're getting into when you accept a driving position. Find out the average number of miles you'll get per month and what you should expect to earn.
Do the math. Will you be paid well and fairly compensated for your work? Be clear about the pay package the company is offering.
Is it enough, considering what you will be doing and how long you'll be away from home? Remember to budget for your meals and other expenses while on the road.
How is an Owner Operator Paid?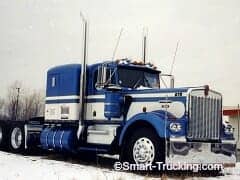 The rate of pay for owner operator trucking jobs, varies a great deal. Much depends on the commodity you're hauling and the contract the carrier offers.
Carriers normally offer mileage rates, with paid picks and drops, and various other perks. Some cover bridge and road tolls. Some don't. Some pay waiting time and layovers, others don't.
There's liability insurance, buy down deductible insurance and hold back costs to consider.
Shop around and sharpen your pencil. Be sure you're going to turn a profit. More tips for owner operators.
How can I find out what the best trucking jobs are?
Working for a good carrier is half the battle.
Go to the job interview armed with plenty of questions. This isn't a time to be shy. It's better you found out BEFORE signing on about company practices, rather than after.Although, beware of 'smooth talking job recruiters'.
The best way to find out the 'real deal' about a carrier, is to talk to a few of the drivers employed by the carrier you're considering driving for. They'll give you the scoop.
Ask if are senior drivers and if so, how many are there. Ask how many years the sr. drivers have been with the company. Chances are if there's a number of experienced drivers that have been with the carrier a long time, it's probably a good place to work.
I can't decide if I should drive a company truck or buy my own rig and start off being an owner operator?
There are ups and downs to being a company driver and an owner operator.
The Company Driver…..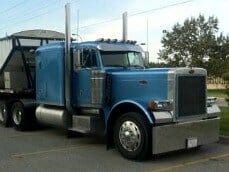 Some truckers are satisfied with company driving jobs for their entire career. Being a company driver doesn't come with the extra worries and stress, faced by the owner operator…..truck maintenance and repair, overweight issues, fines, truck payments etc., are the carrier's problems.
However, some truckers don't like driving company equipment, and would much rather be driving a rig, more to their liking.
Some are satisfied to drive whatever they're given. Many truckers who start out as a driver, try their hand at being an owner operator. Sadly, not all are successful.
The profit margin can be lucrative, if you manage your business wisely. If money management and truck worries aren't your thing, stick to being a driver, and leave the worries up to the carrier!
As a driver, the money you earn is yours and doesn't belong to the tax man or the bank!
Companies also have truck driving employment opportunities for jobs as team drivers, as well as solo drivers. Each has it's ups and downs.
The Owner Operator…..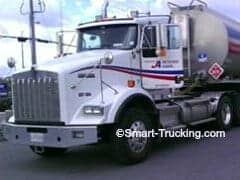 Most truckers dream about owning their own rig. There's loads of perks for owner operators if you manage your money 'smart'.
But, there's loads of responsibilities that go along with owning your own truck….. truck payments, fuel costs, replacing equipment, escalating truck expenses, insurance rates, maintenance(which takes money and time) and sometimes struggling to be paid by a carrier or a customer.
If you decide at some point that you're not satisfied with the deal you've made with a carrier, it's not just a simple matter of leaving a carrier you've leased on with, and signing on with another. Chances are you are under a stringent contractual agreement and the company has a hefty hold-back fund of yours.
It's expensive to jump from carrier to carrier as an owner operator.
Job Search Board – Truck Driving Jobs
Job Search by