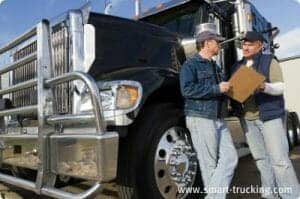 After 15 years of driving big rigs, I retired, about 5 years ago.
I did run double, and I liked it all right, but there sure were times that it was scary.
The best experience I had as a team driver, was with a guy that was very experienced behind the wheel, running a dedicated run from Edmonton Alberta, Canada to Whitehorse, Yukon.
We were hauling the Purolator Courier run. Although it was stressful work, especially during bad weather, as we were on a time sensitive run. Overall, the experience was quite positive.
My partner, was the owner of the truck teamed me, with was a very positive, fun loving guy. He always had a joke or a wisecrack, but was all business when it came to driving that truck.
I ran double a few times, had great partners and a real crappy one! The crappy one was the scariest guy I ever ran with…. great guy but just a really lousy truck driver! To give you an idea of just how bad a driver he was, I had to demand he pull over, after he hit a deer on the passenger side on the front of the truck. He would have killed us both! The front bumper bracket was bent in behind the steering tire, rubbing a nice gouge out of the side wall Had he kept going, we would have not made it another 30-40 miles!
I was paired with a new team driver, after I told the company I was quitting if I was forced to take another trip with him! That was only one of the many scary incidents I had with him.
We also took some pretty frightening trips through the BC Rockies!!!!!!!
I didn't much care for trucking, and that's why I retired from it. There was no money to be made from it anymore. I was sick of the guys out there that would do the same load as I was, for half the rate it should have been.
I do think teams are safe, but only IF both drivers are confident and experienced behind the wheel. They also MUST be comfortable with each other as well or there will be one driver sleeping and one not sleeping properly as he/she will be worried about the next corner or hill.
by Travis Purdy
(Edmonton, Alberta, Canada)
Where Would You Like to Go Next?
All About Semi Trucks
Girls and Their Big Rig Trucks
Peterbilt Working Trucks Gallery
Smart Trucking Home > Career in Trucking Guide