Realistic advice from experienced truckers.
Smart Trucking is a dependable, realistic, and honest resource for truckers in all corners of the industry.
Trucking is always evolving and Smart Trucking offers a consistent perspective from trucking experts who have seen the industry change and grow for more than 42 years.
 Setting the Standard for Truckers
We promote professionalism, respect & unity among truckers.
Smart Trucking provides semi-truck drivers with the knowledge they need to navigate the many options available to new and experienced truck drivers.
From driver training programs, picking the right company, spec'ing your truck, legal advice, driver skills, becoming an owner operator, and even navigating the difficulties of relationships on the road – Smart Trucking has experienced it, made mistakes through it, and offered up what they've learned along the way.
A driver needs to knows the ups and downs of the industry. Driving professionally for a living can have numerous rewards.
It's important to be able to reap those rewards by knowing as much as possible about how the industry operates.
 Who is Smart Trucking?
We are here to help you succeed in your trucking career.
Smart Trucking is a trucking career guide run by two veterans of the trucking industry.
Dave has been a company driver, owner operator, independent operator, and a successful small fleet owner.
Catherine started out as a dispatcher and then moved on to become an owner of an international produce hauling fleet.
Both have invaluable experience in the trucking business and started Smart Trucking as a way to share that experience with other truckers.
Read more to start growing your independent trucking business.
 Dave – Career Truck Driver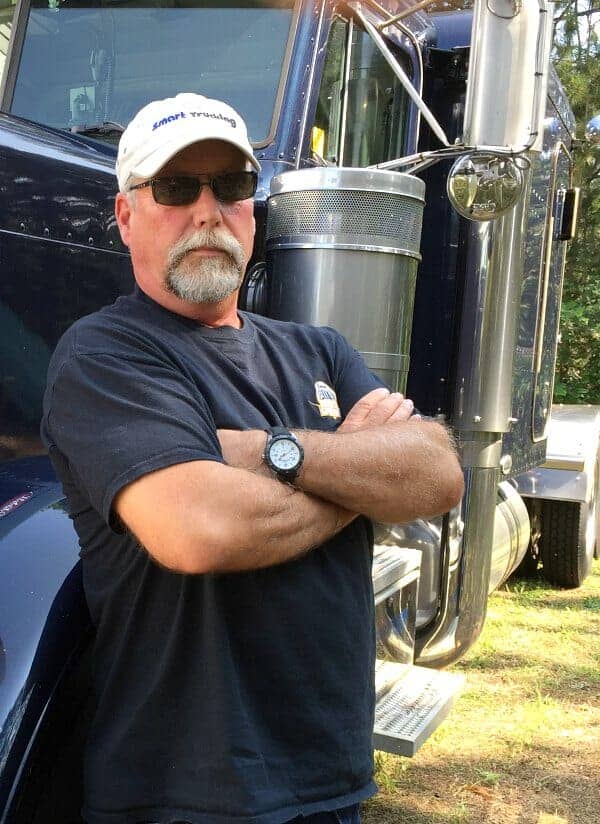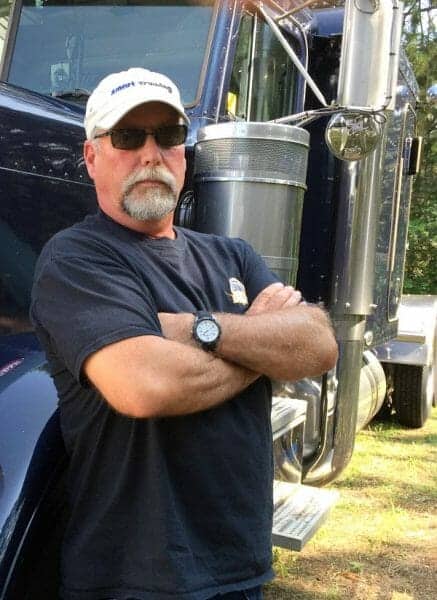 Dave is Smart Trucking's wellspring of information for both experienced and rookie truckers alike.
For over 45 years, Dave has been driving all styles of rigs, training new drivers, and watching the industry transform.
He has over 4 million + accident-free miles behind him.
He is a former driver trainer for a gas hauling company, TWIC and FAST approved.
He brings that knowledge to each and every blog and YouTube video that Smart Trucking creates.
His valuable insight has helped thousands of truckers improve their driving, negotiate better pay, jumpstart their careers, and learn respect for other truckers.
Humble Beginnings as a Company Driver
Dave started his trucking career in 1976 as a company driver, hauling gasoline in the Canadian Rockies.
Like many truckers, Dave had a long time passion for cars, motorcycles, trucks, and boats.
Most importantly, he loved to drive.
He remembers the first time he saw those cool tricked-out rigs, loaded with produce coming in from California.
This sparked a yearning in him to own his own truck. In 1984, he took the plunge and became an owner-operator.
Running a Truck Fleet as an Independent Trucker
In 1993, he became an independent. He landed a good deal hauling produce from California – a life-long dream.
Back in the '90s, trucking was still a lucrative profession. His one truck grew to a small fleet of 15 trucks running produce out of the Southwest U.S.
As deregulation started to further sink its teeth into trucking rates, and major operating costs of diesel and insurance rates soared upward, Dave saw the writing on the wall. It was coming time to sell the company and build a retirement fund.
Going back to being an independent from a busy fleet, was a breath of fresh air. From the pressures of battling cheap freight rates and being undercut by carriers willing to haul for rates under cost, Dave was glad for the change.
To ease back even more, Dave went back to the work he learned as a new driver: hauling tankers, which is still one of the higher paying niches in trucking.
Semi-Retirement But Going Strong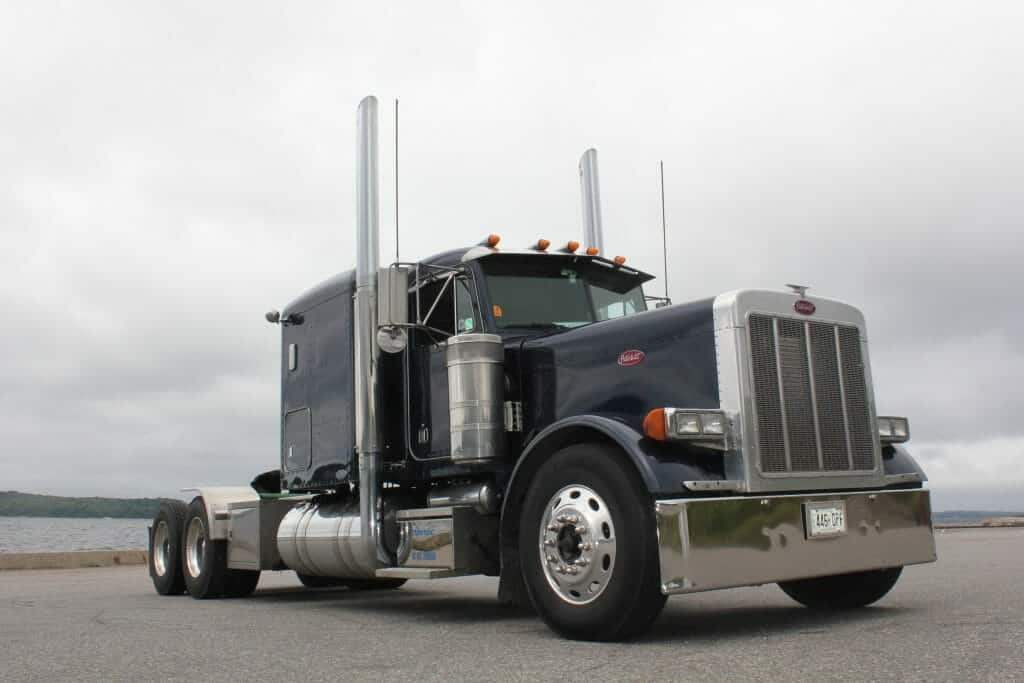 As of 2021, Dave is semi-retired but still driving locally. He still owns a 2004 Peterbilt and can't bring himself to let go of it.
 Catherine – Smart Trucking Editor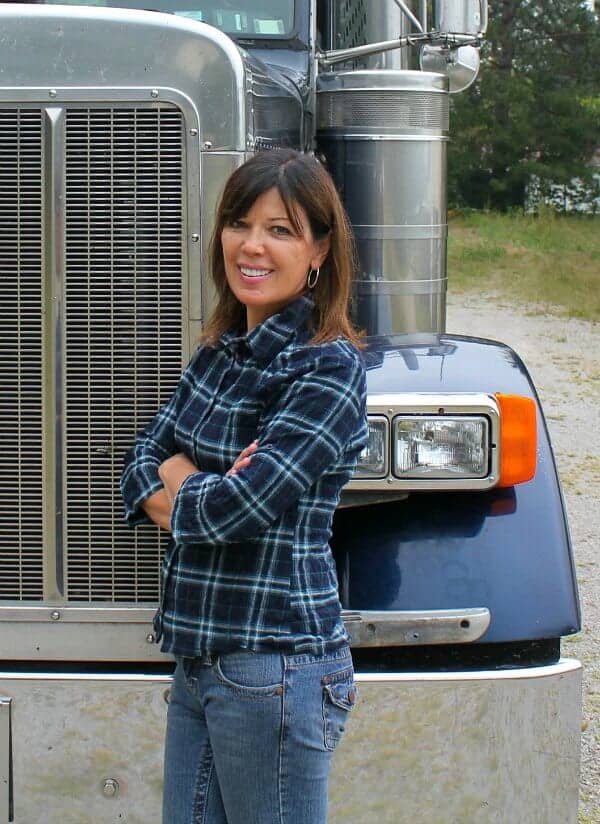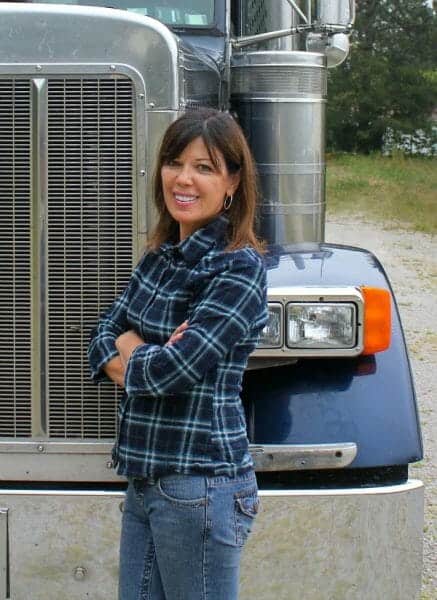 Catherine is the editor at Smart Trucking.
She's the main writer and does much of the technical work behind the scenes on the Smart Trucking website, blog, social media, and the well-known popular YouTube Channel.
Along with her part-time career as a teacher, Catherine has been part of the trucking industry for nearly 30 years.
Her strengths and focus lie in the business and financial aspects of trucking.
She holds two postgraduate university degrees.
And yes, she can drive a big rig!
 Why Start Smart Trucking?
Dave is a firm believer in the mentoring process. He learned much about the trade from his mentors who were old school veteran truckers as well as from his personal experiences over the past 42 years of driving professionally.
To this day, Dave remembers those old truckers and the valuable lessons of the trade he learned from them.
"Being a trucker is not just a matter of getting the license and hitting the road. The old-time truckers were my mentors, and I was so fortunate to have learned from them. I strongly believe that mentoring also encourages a bonding together…a brotherhood of truckers."
Unfortunately, a true mentoring system is something that is missing in the trucking industry today.
Mentoring helps develop the right attitude as well as the correct skills. Many rookie truckers would be hard pressed to find either from a driving school in a program lasting but a few weeks.
Pride in your ride and professionalism are not learned in an in-house training program.
"Our Smart Trucking community gives me the chance to share what I've learned over the years, with the new drivers…my knowledge, skills, and experience.
It's also great to be interacting with other professional drivers in our trucking industry."
Read more to thrive in the trucking industry as a new driver.
More about Dave & Catherine and Smart Trucking
Dave, Catherine, and Smart Trucking have been featured in articles across the web. Here are a few:
One of the Top 10 Trucker Influences of 2019, Top Trucking Blog of 2021 Smart Trucking makes the list.
 Featured on Business Insider  Truck Driver Salaries Are Experienced an Unprecedented Jump 
Smart Trucking was named the #1 Trucking Blog of 2018 and 2019 by Feedspot
Smart Trucking included in Top Online Trucking Resources!
Fleet Owner Magazine – Bus and Dump
Fleet Owner Magazine – Truck Driving Would Be a Great Job, IF You Got Paid! (May 22, 2015)
Fortune.com – Teenagers Might Get to Drive Big Rigs, But Is a Career in Trucking Worth It? (July 20, 2015)
Check out 'Women in Workboots Magazine', for a FEATURE ARTICLE about CATHERINE