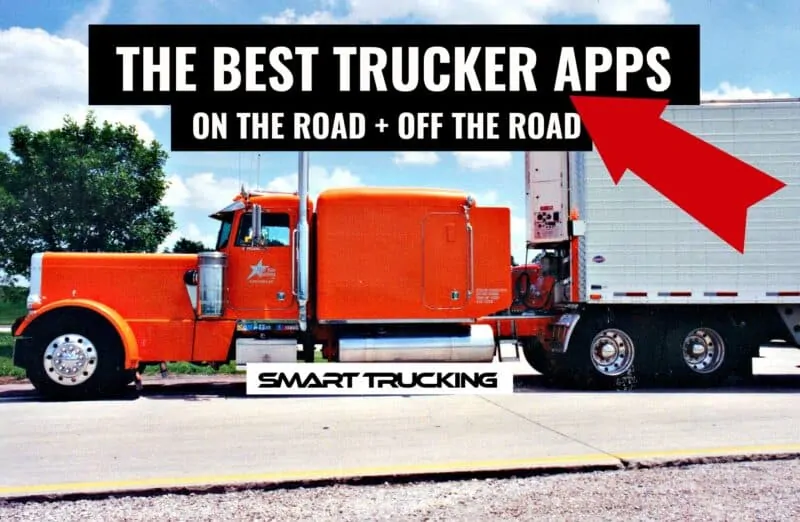 With so many trucker apps out there, it can be mind boggling to say the least.
Which ones are useful? Which ones do what they actually promise to?
In this post, we've done some of the heavy lifting for you and sorted through the apps for truckers (and more) and hand-picked some
we felt could be useful to you as a professional truck driver.
There are many reasons why you could use smartphone apps as a truck driver to make your life easier on the road.
Maybe you want to….
check the weather
track deliveries
search for a client
listen to music
find a truck repair service
or get the latest 411.
Whatever it is, there are plenty of apps you could download to your Android or iPhone device to be updated.
In fact, some trucking company fleet managers require their drivers to install specific trucker apps on their smartphones to smooth out the day to day operations.
On that note, we've reviewed some of the best trucker apps available on Play Store and App Store.
Our Selection Criteria
1. Ratings. All of the apps that we've picked have a rating of 4 (out of 5) and above on either Apple Store or Play Store. We also looked at the popularity of an app, but then again, some apps don't have millions of downloads yet they're really useful apps for truckers.
2. Relevant to truck drivers. Most of the apps on our trucker apps guide are designed to help truckers with their daily tasks. However, not all apps we've reviewed are specifically tailored for the truck driver.
3. First-hand experience. We took the time to install all the apps on Android and iPhone so we could have a first-hand user experience before writing the review. We acknowledge the apps could have a different interface depending on whether you're using the iPhone or Android version.
4. Support system. How effective is the customer care system? In case you experienced a bug or an error, we did our homework to make sure the apps we've reviewed have a fast and reliable support system.
The Best Apps For Truckers 2023
Best All In One Trucker App
Trucker Path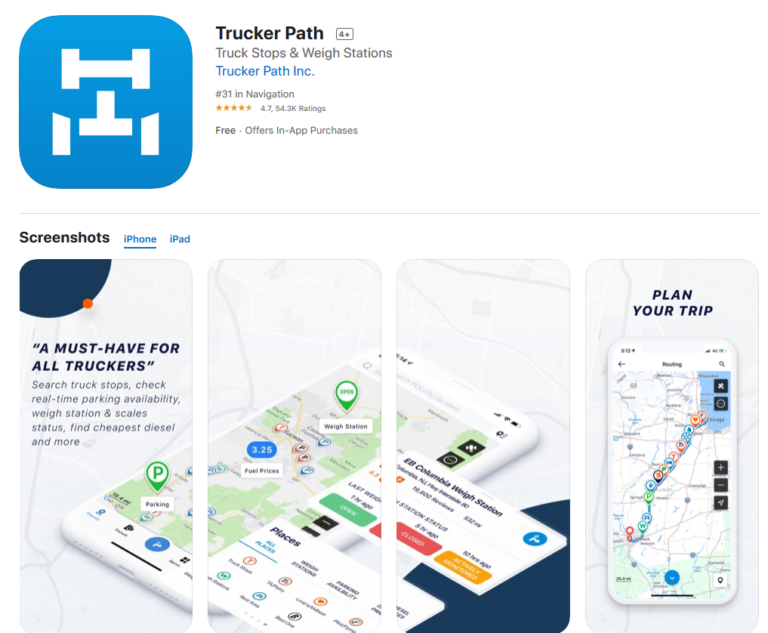 What We Like
Includes more than 7,000 truck stops in the United States and Canada
Updates on parking availability
Truck drivers' forum
Information on weigh station and scales
Trip planner option
Plenty of job listings
Find fuel stops with truck clearance
It saves your navigation history
It helps to find your next truck
Advanced address search
With more than a million downloads on Google's Play Store and Apple App Store, Trucker Path is the most popular truck driving app in North America.
But why is it so popular?
For starters, it has a user-friendly interface and it gives you all the relevant information you would expect in an all in one trucker app.
The app features more than 7,000 truck stops with reviews all across North America.
Moreover, the Trucker Path app comes with its unique mapping system that you can use to avoid low bridges and find the nearest fuel stops with truck clearance.
If you want, the app will even show the nearest parking locations including Walmart where you can park overnight.
It gets better, you can use the app to compare fuel prices and record hours of service.
Of course, you can also check on weigh stations and scales.
However, what makes Trucker Path different from most trucking apps is its huge community; it has more than 800,000 active users in North America. What's more, you can chat with other drivers on the truck forum, apply for truck driving jobs, and even search for trucks for sale.
Unfortunately, some reviews of truck stops on the app can be misleading.
Also, the navigation on Trucker Path is not that advanced compared to specialized GPS units.
Sure, the app can plan your routes and tell you where to find the cheapest fuel and good parking spots, but when it comes to serious and precise navigation, premium GPS units are more reliable.
Find our top picks of trucker GPS units!
Besides, you can't navigate on the app without an internet connection.
Best Trucker Fuel App
Gas Buddy
What We Like
Includes more than 150,000 gas stations in North America
It helps to find the cheapest fuel price
It offers fuel rewards
Access gas station and store reviews
It tells you when you're wasting fuel
Information on fuel stops with shower and food
Gas Buddy is a free app available on both Android and iPhone.
The app has a database of more than 150,000 fuel stations across North America that you can access to find the cheapest fuel prices.
Additionally, the app will tell you when the price of diesel is about to hike, so you can fill up your tank before it happens.
Similarly, it can monitor your driving habits and inform you when you're wasting gas and money.
Since GasBuddy has thousands of users, you can look up for fuel stations and convenience store reviews along your route.
If you're lucky, you may be rewarded with free gas coupons if you pay for items at Walmart, Amazon, Home Depot, or other major retailers using the GasBuddy app or card.
Although Gas Buddy is technically a fuel-saving app, it can inform you where to find fuel stops with food and shower.
Otherwise, that is just about it; don't expect it to tell you anything about weigh stations and low bridges.
Best Navigation App – Best Truck Routing App
Google Maps
What We Like
Panorama street view
Satellite view to check parking spots
Real-time traffic updates
Updates on businesses that are open and closed
Discover restaurants, fuel stations, and rest areas
It saves your search history
Voice assistance feature (important for truck drivers)
Google Maps is not really an exclusive trucker app, but the reason we've included it in our guide is mostly because of the satellite view and street view feature.
The satellite view allows you to see a property from an overhead position, which is very helpful if you want to see any obstructions, know the driveway to follow, and where to find the dock.
The best part? You can switch to street-view to get a 360-degree angle view of different locations on the map; it's like how you would see if you're driving on the road in your truck.
Basically, Google Maps makes it possible to see exactly how a place looks like before you arrive at the destination to avoid any surprises. And that is a super handy feature for the professional truck driver!
Other than that, you can use Google Maps to receive real-time traffic updates and discover points of interest.
In case you're wondering, you can activate voice assistance to give you directions while your eyes are focused on the road (where they belong!)
On the downside, Google Maps doesn't prioritize truck routes.
For that job, you have to invest in a trucker GPS. Even so, you can use them both simultaneously; Google Maps for street/satellite view and trucker GPS for designated truck routes.
Best Preclearance App
Drivewyze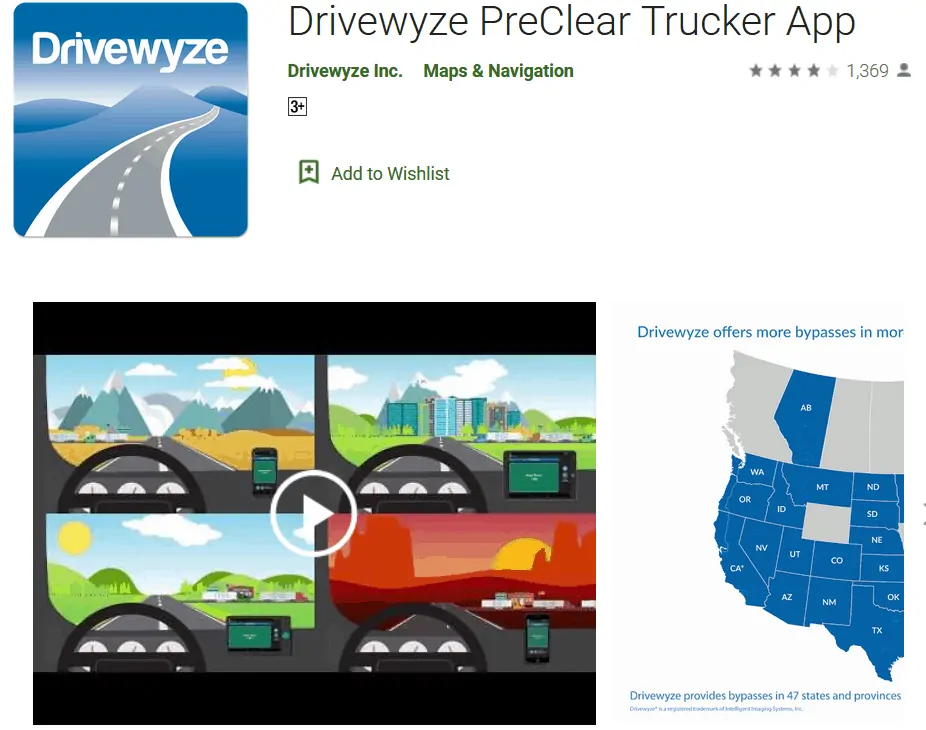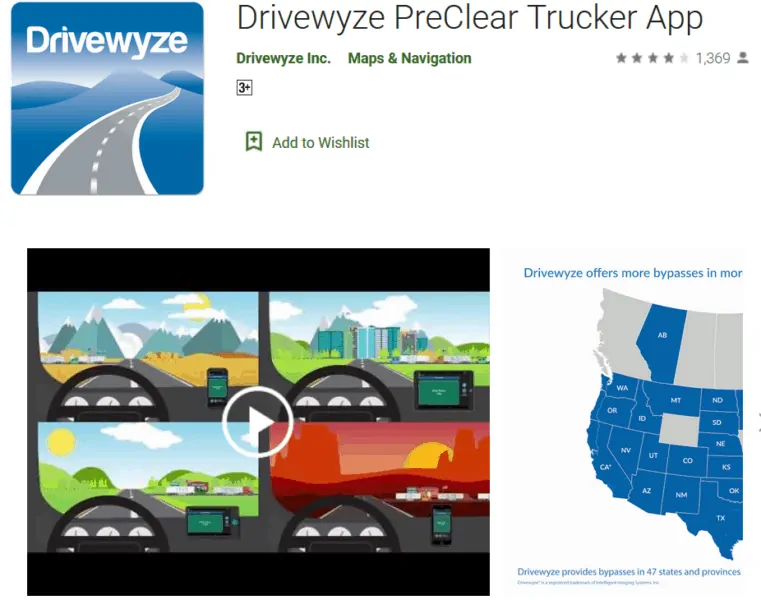 What We Like
It helps you to bypass weigh stations
Approved by over 40 states in the USA
30 days of free trial
Receive alerts when you're close to an inspection site or a weigh station
User-friendly interface
Think about this; how much time do you waste on an inspection site or a weigh station?
On average, you could waste 30 minutes to an hour on a single weigh station.
The Drivewyze app allows you to legally bypass weigh stations. The company behind it has a preclearance network that involves at least 700 sites across 44 states and provinces in the United States and Canada.
If you're using a transponder bypass system, you can integrate it with the app and you will receive alerts at least 2 miles away from inspection sites and weigh stations that have green-light both your transponder service and Drivewyze.
What's more, the app runs in the background and it doesn't require constant interaction; that means you can concentrate on the driving.
It seems the biggest issue with Drivewyze is that not all inspection sites and weigh stations are connected to its network.
Regardless, you will still receive an alert whenever you're nearby any inspection site or weigh station in the country.
Also, the Drivewyze monthly subscription fee is $17.99 but you can get a free trial for the first 30 days. Certainly worth a try to see if it makes your life easier as a truck driver.
PrePass MOTION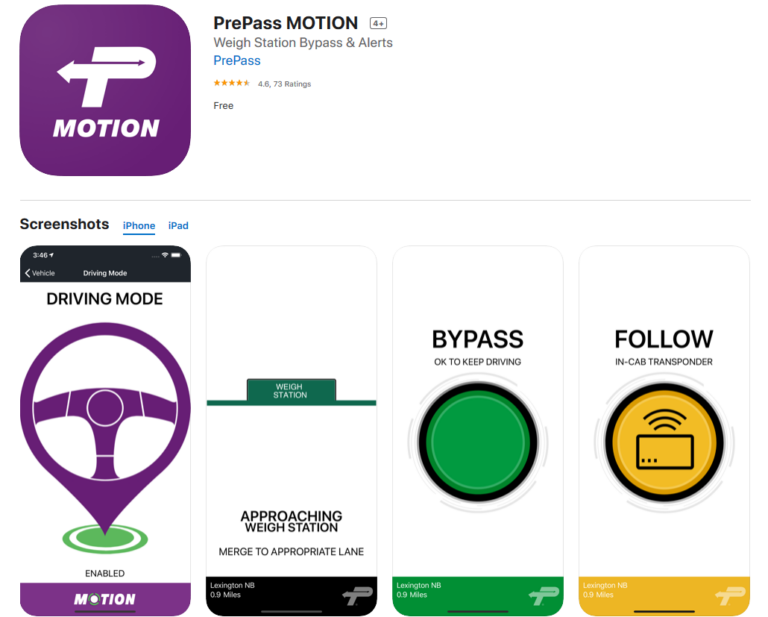 What We Like
Pre-clearance for weigh stations
It helps to save fuel and money
The app can be paired with a transponder
Wide network coverage
Fast customer care
The PrePass Motion is an alternative to Drivewyze; you can also use it for pre-clearance purposes.
According to PrePass Motion, the app integrates with the in-cab transponder and Advance Vehicle Identification (AVI) reader, so you can continue driving on the main road without stopping at a weigh scale.
If you come across a weigh station without transponder readers, the app uses motion mobile sensors to receive and send the signals.
PrePass MOTION pre-clearance network is available in 42 states across the USA; even in Alaska.
Additionally, in California, you can bypass 37 weigh stations and inspection sites using the app. How cool is that?
Don't forget, users enjoy a toll payment service in most states.
Just like its competitor, you won't get a pass in all weigh stations nationwide.
Besides that, it doesn't cover Canada which is a shame if you cross the border.
The cost? Well, it's free up to some point, but if you want to enjoy certain privileges, you have to pay subscription fees.
Best Mobile Scanning App
Transflo Mobile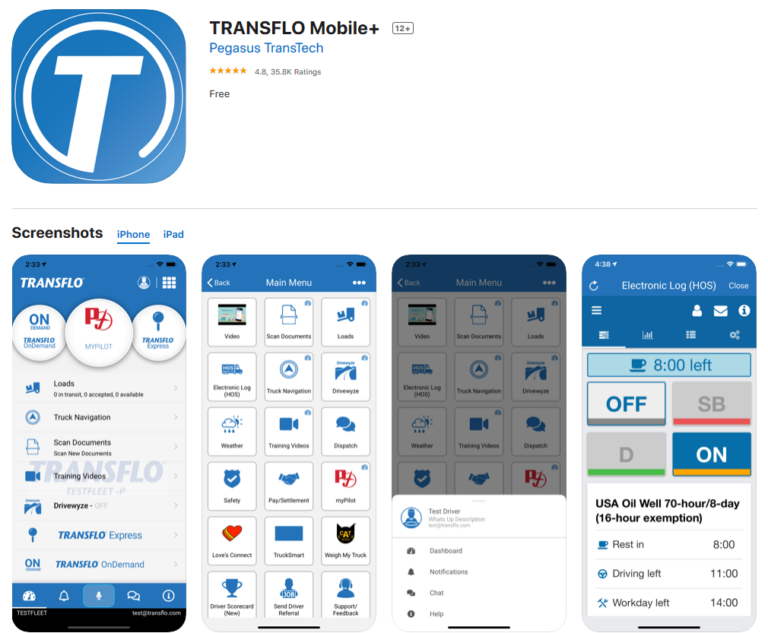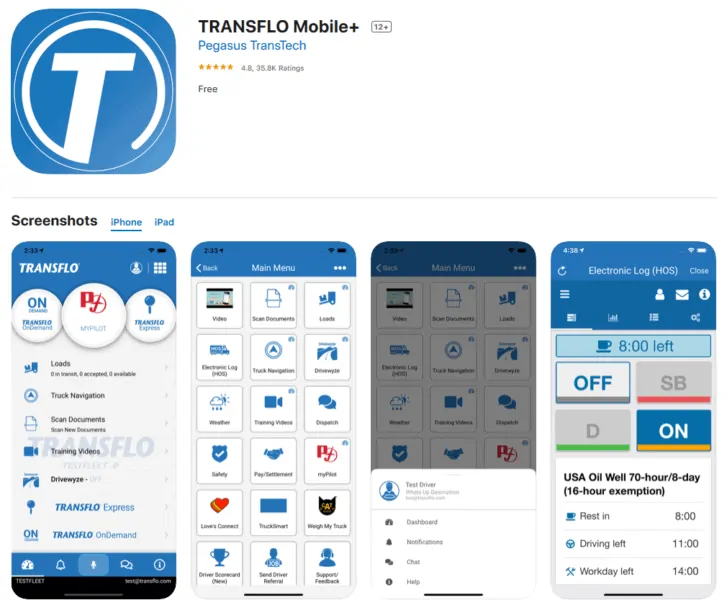 What We Like
You can chat with dispatch
Accept or decline loads
Find trailer location
It tells you weather conditions
It updates the fuel stops and rest areas along your route
Mobile scanning option
It alerts when you approach a weigh station
Supports hours of service
Notifies you after payment
Transflo Mobile is one of the best mobile scanning apps in the trucking industry; although technically, it does more than just scan, send, and receive documents.
To begin with, you can chat back and forth with your carrier, dispatcher, or broker on the app.
If you receive a load, you have an option to reject or accept it. Once you arrive at your destination, you can confirm pick up delivery via the app.
Fleet managers who have installed T-Series ELD devices on trucks and trailers can use the app to track their location on the map.
Moreover, the app has a way of knowing when the truck is moving so that it can automatically record the hours of service; although to do that, it still needs to be integrated with the T-Series ELD devices.
As soon as you finish a job, you can collect signatures, take a picture of the documents, and submit it for billing using the app.
Since you're sending the paperwork on your smartphone, you will be paid faster.
After the payment comes through, the Transflo Mobile app will notify you. Beyond that, you can send photos when reporting an accident or OS&D submission to carriers.
Needless to say, we acknowledge the app can alert you when approaching a weigh station and show you the fuel stops and rest areas along your route.
But c'mon, let's be honest.
It doesn't navigate better than a dedicated truck GPS. If you want to scan documents, it will do the job just fine, but if you want to navigate like a pro, it will have its shortcomings.
Best Trip Planning App
Pilot Flying J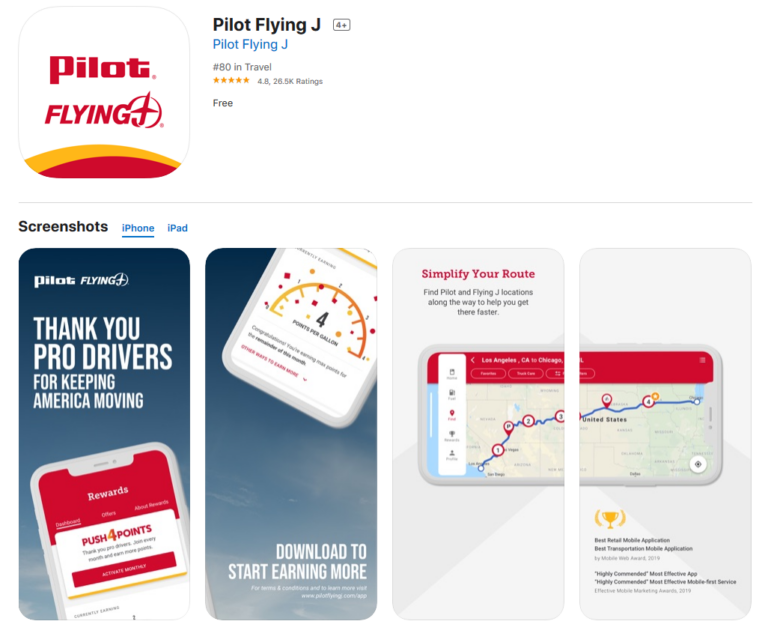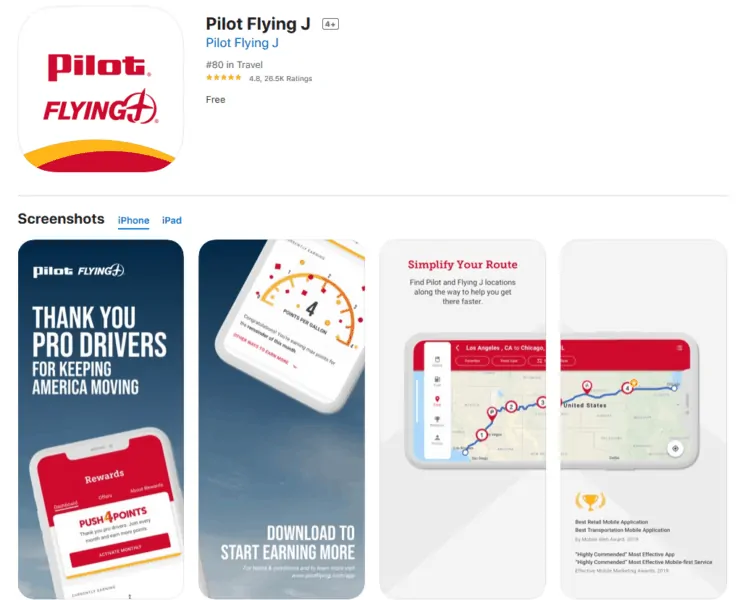 <
What We Like
Free shower rewards
Access to parking spaces
Reserve your shower spot at a location
Free meal on your birthday
Redeem your points for discounts
Free drink after signing up
Reserve a parking spot
The app saves digital receipts
Mobile fueling option
Information on available amenities
Before the Pilot Flying J app was launched, the team behind it did a survey and asked many professional truckers what they would like in an app that helps to plan a road trip.
Interestingly, most truckers said they would enjoy a free shower; and even if their shower credit expires, they shouldn't worry about it too much.
The outcome was a trip planning app that offers members free daily shower rewards after redeeming re-fueling points.
Otherwise, you can reserve your shower and parking spot using the app, so you could avoid wasting time if you're in a hurry (which is more likely than not for a truck driver!)
For what it's worth, most Pilot and Flying J locations have reasonably clean showers.
Even better, you will get offers and discounts every time you pass through their truck stops. You know, buy one, get one free type of deal or free coffee? Did I mention, you get a free meal on your birthday?
But that's not all; you can use the mobile fueling option to fill out the fuel pump prompts in advance. In addition to that, the app shares information about the amenities available at nearby locations.
For instance, it could tell what type of food is available, number of parking spots, number of showers, and truck assistance services in specified locations.
Its biggest strength is also a disadvantage.
Why? You can only access those free showers, parking spots, and special discounts in Pilot and Flying J locations.
But then again, they're almost everywhere considering the 750 Pilot Flying J locations across North America.
Love's Connect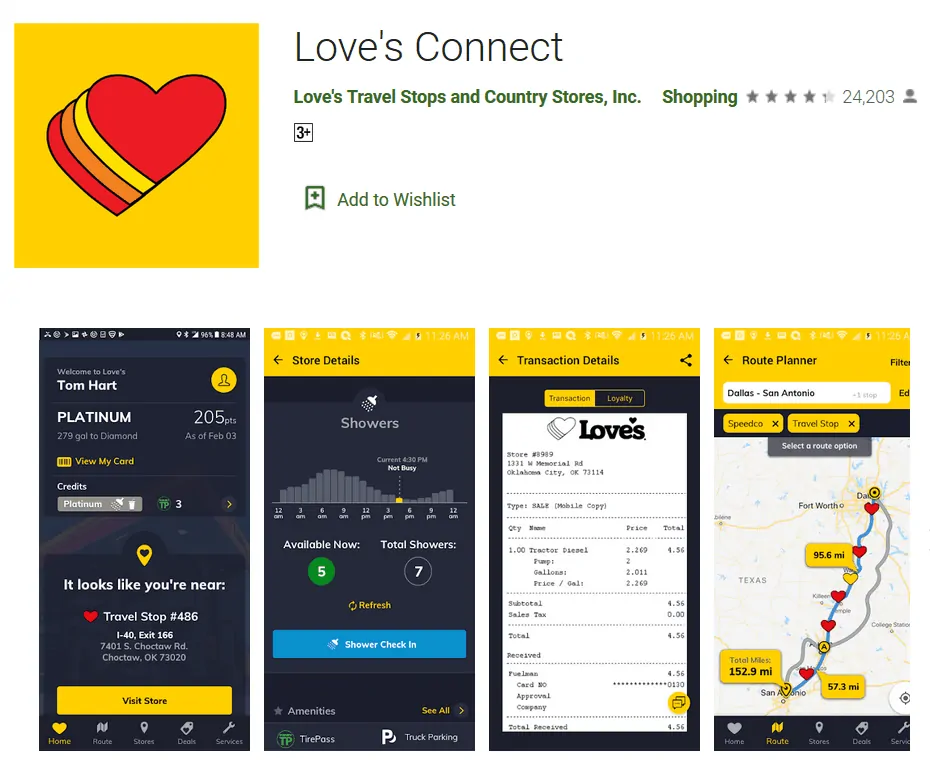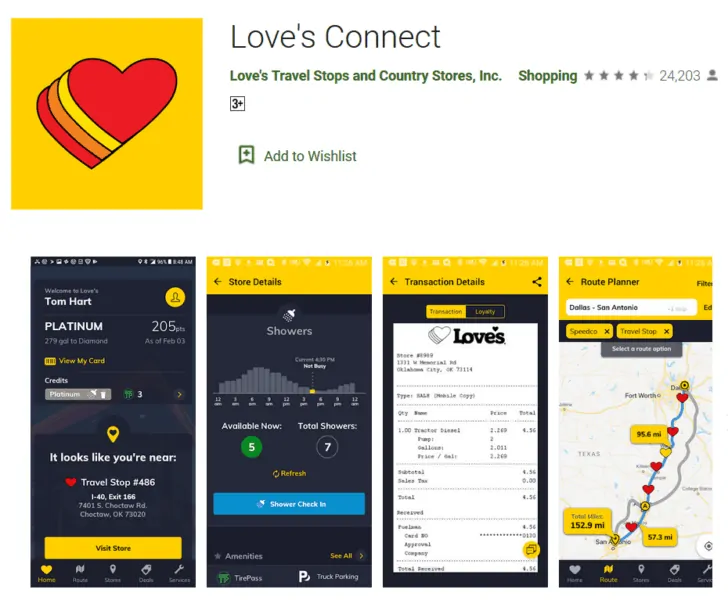 What We Like
It helps to locate the nearest truck stop
You can redeem points for rewards
It saves digital receipts
Check fuel prices along your route
Active the pump from your phone
Shower check-in feature
If you prefer a different trip planning app than Pilot Flying J, Love's Connect is a good alternative; maybe you can use both.
Anyway, you can use the app to get a location pin on the nearest Love's truck stops across the country.
Once you arrive at any Love's travel stop, you can book a shower slot using your smartphone.
Quite impressive, you will receive points after every refuel at Love's truck stops.
Afterward, you can redeem the points to shop for items or free showers. Keep in mind that if you reach Platinum status, your points will triple.
Another thing; you can check for competitive fuel prices along your route.
Even though Love's Connect ticks almost all the boxes to contend for the best trip planning app, the parking spaces can get filled up pretty fast.
On the bright side, the customer service will make you a priority if you use the app.
Best Weather App
My Radar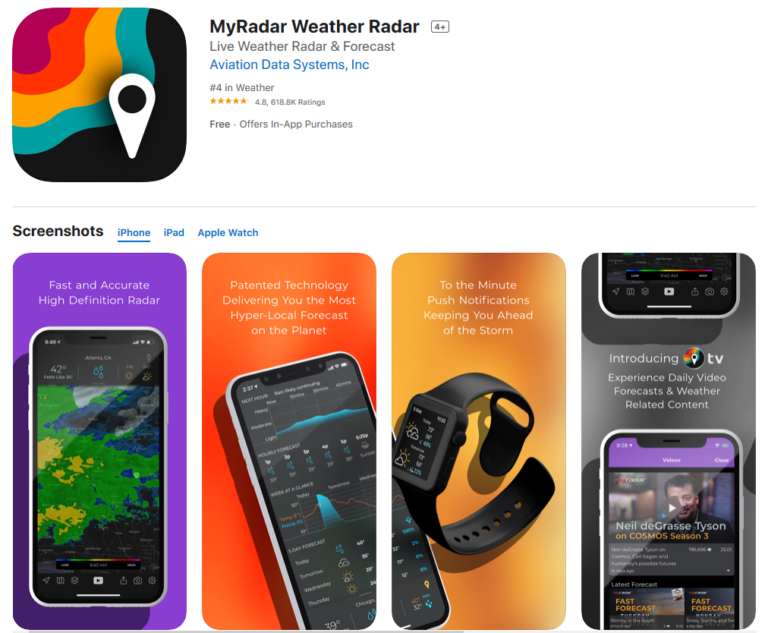 What We Like
Current weather reading in your location
Get alerts of expected weather
Animated live radar
Information on wind speed
Warning when there is expected storms or hurricanes
Includes My Radar TV for weather-related news
What makes My Radar a good weather app for truckers is that it can inform you when it's about to rain at least 2 hours in advance.
The rain forecast is usually very precise, and it will give you the data to the smallest details including the duration and intensity.
Of course, the app will warn you in case of a predicted storm or hurricane coming your way.
Most importantly, this app will provide information on wind speed; something that most apps neglect.
If you're a trucker, you know how wind speed can affect your driving.
Since you will probably be using the app when you're on the road, you can let the app run in the background while you concentrate on the drive. In case of anything, the app will send you a push notification.
The obvious limitation we've noticed when using My Radar is that it doesn't tell you which roads are closed due to bad weather conditions or constructions.
However, you can use a GPS unit or a navigation app for that.
Best Podcast App
Pocket Cast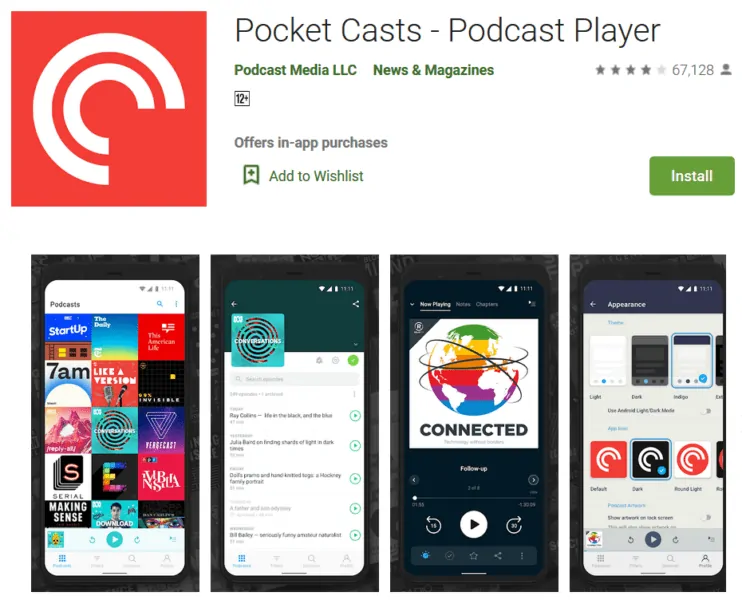 What We Like
Free membership
User-friendly interface
Access to thousands of podcasts
Download and listen to audio offline
Playback effect available
The Pocket Cast app is one of the best podcast apps out there; not just for truckers, but for anybody.
The best part is that it's free and you can download it on Android or iOS. The interface is very user-friendly and most likely, you won't get confused trying to find a podcast to listen. All podcast channels are in different categories and you can see the trending episodes in your country.
If you don't have consistent access to the internet, you can download episodes at a Wi-Fi hotspot and listen to them offline while you're on the road.
Of course, you can rewind, fast-forward, or skip an episode.
The coolest thing about the app is the volume boost feature that makes voices sound louder; you know how that is helpful when you're driving and the truck engine is making noise.
However, to get rid of the pop-up alerts when listening to the podcast, you ought to pay a small fee.
Best Audiobook App
Audible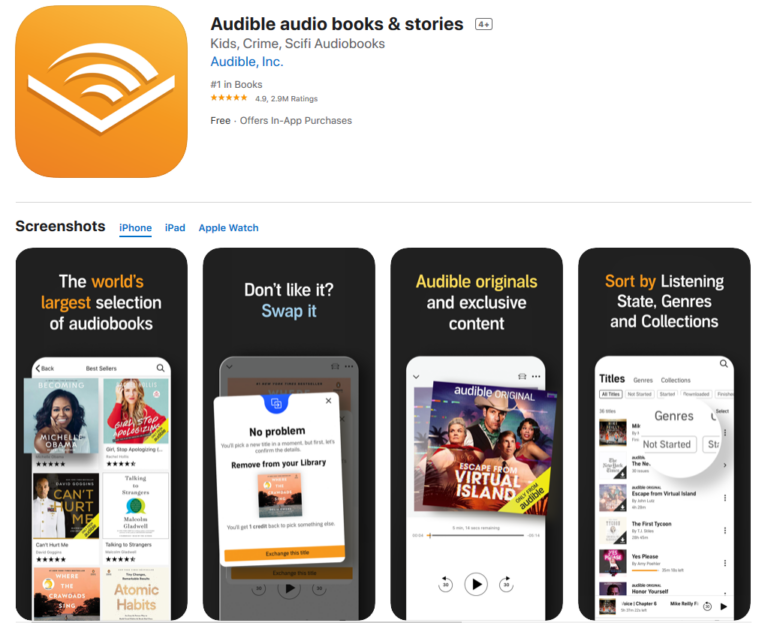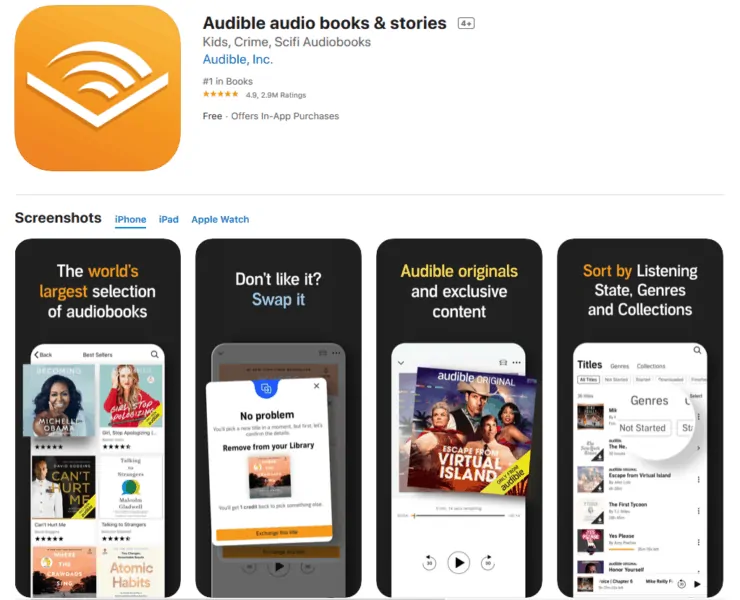 What We Like
Wide collection of audiobooks
Customize your library
Listen to audiobooks offline
Sign in with Amazon account
User-friendly interface
Free first-month trial
If you want to listen to audiobooks in your truck, Audible can give you access to thousands of audio books.
Users can sign in with their Amazon account, and if you're a new member, you get to enjoy a 30 days free trial.
After the free trial expires, you can start your subscription by paying $14.95 per month. However, if you're an Amazon Prime member, you will receive discounts and free Audible content.
For easy navigation, the content is categorized into different genres and collections; you can also check the 'bestseller' section.
Also, you can personalize your library and download the audiobooks to listen offline.
Well, you won't get a lot of free goodies past the first month, but considering Audible has the world's largest catalog of audiobooks, the subscription fees seem reasonable.
Best Music Streaming App
Spotify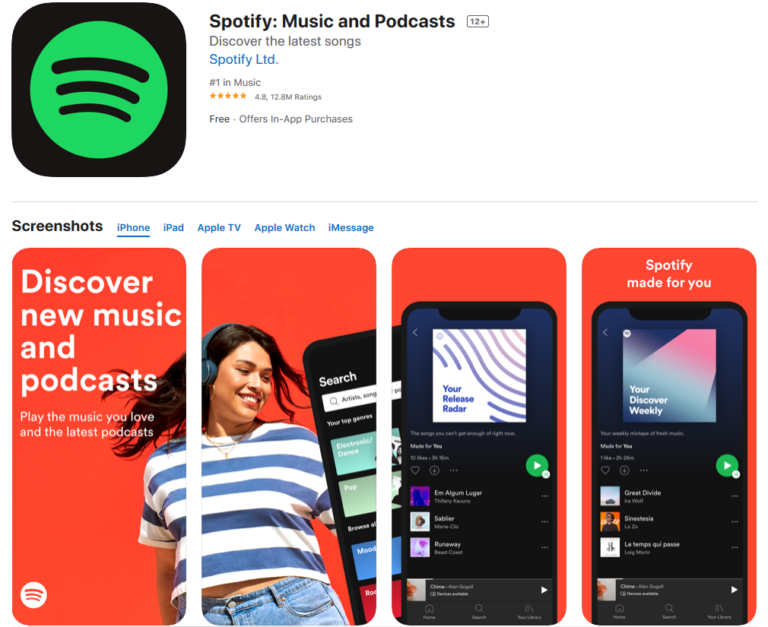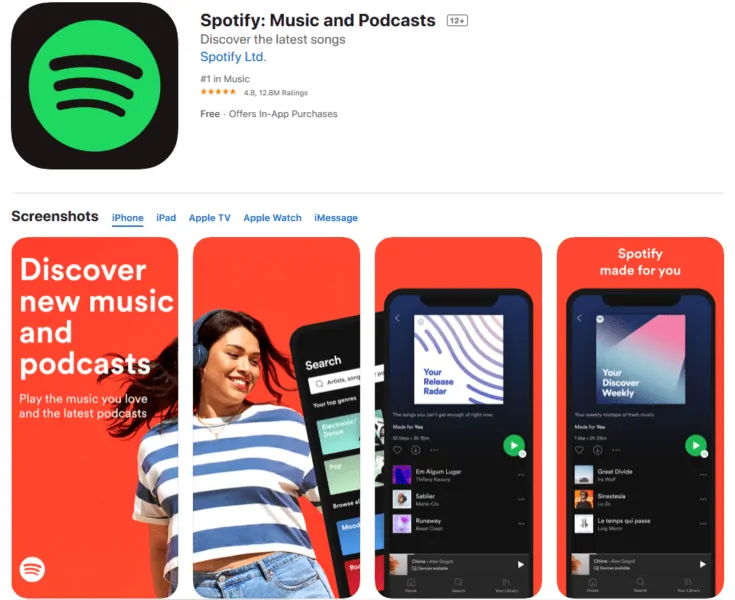 What We Like
Good audio quality
Create your playlist
Easy to search interface
Integrate with other devices
Free version available
Spotify is the biggest music streaming service at the moment with a catalog of more than 50 million songs and 700,000 podcasts. Its huge library makes it perfect to listen to music on the road without getting bored.
Users can choose the free version available with adverts or the premium version with no ads.
As expected, there is a 1-month free trial if you have never paid for premium.
Regardless of whether it's free or premium, you can access it on any device with Windows, Android, macOS, and iOS. Not to mention, you can create your unique playlist.
The biggest complaint so far about Spotify is that when your premium membership expires, you can't access the offline content that you previously downloaded.
Best App for Relaxation
Calm Radio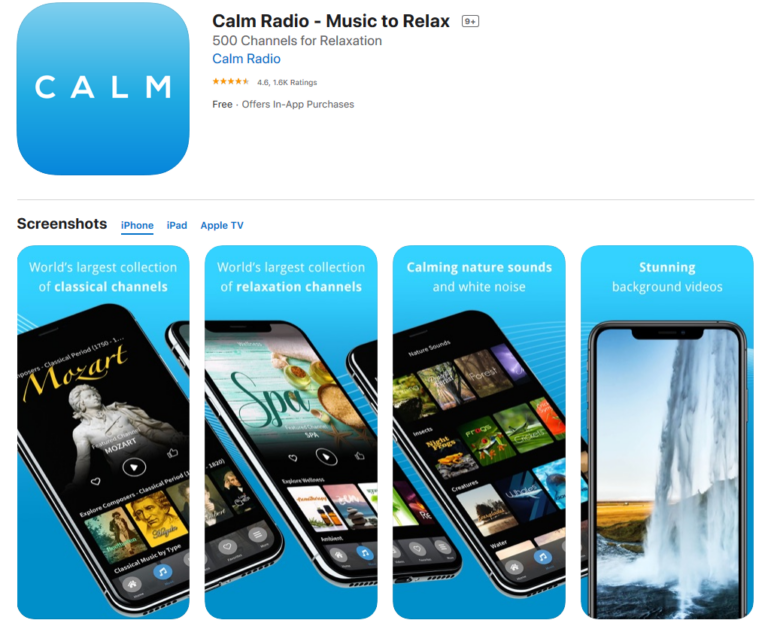 What We Like
Lots of music channels
Meditation music
Sleep timer
Equalizer tone controls
Nature sounds in the background
Unlimited listening
Free membership with ads
This app is convenient when you're on a break and you probably want to sleep or meditate. You know, recharge your batteries before the next trip?
The app comes with more than 500 HD audio channels to stream relaxation music. If you want a free membership, you can access the channels but with ads.
Besides listening to all types of relaxing genres like Jazz, classical music, country music, pop-rock, and adult contemporary, you can choose to play nature sounds in the background; it sounds almost like you're in a beach or forest. Better yet, you can listen to binaural beat therapy and set up a sleep timer.
On the flip side, the ads can interrupt your meditation music or nature sounds if you're using the free version; which can be annoying especially if you were asleep.
However, you can avoid that by subscribing to premium membership.
This is one of my favourite apps and is quite reasonably priced for the premium version if you watch for their occasional deals (I paid $70 CDN for an entire year). Excellent value.
Best Fitness App for Truckers
Rolling Strong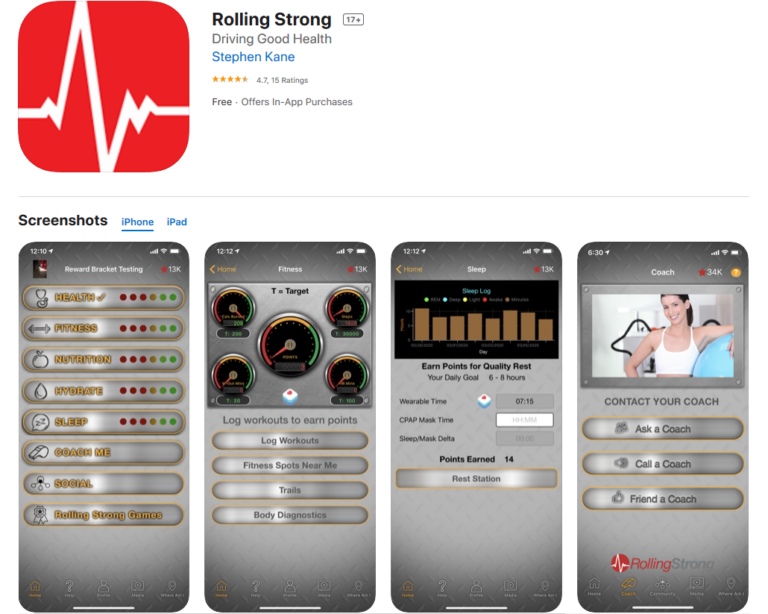 What We Like
It tells you nearest fitness spots
Monitors your sleeping pattern
It helps to track your calories
Redeem points for rewards
Online coaching to get fit
It reminds you to hydrate
Rolling Stone is not what we would call popular compared to other apps on our list, but it's a fitness app specifically designed for truck drivers.
Once you sign up to the app, its AI will guide you to create a diet and a workout plan to fit your goals.
Beyond that, the app will monitor your sleeping pattern and remind you when it's time to hydrate.
Since you will be on the road frequently, the app will show you the nearest fitness spots with truck parking spaces available based on your locations. Alternatively, you can watch exercise training videos and consult with fitness coaches through the app to help you work out if you can't find a gym.
To enjoy the full perks of the Rolling Strong app, you need to pay a monthly membership fee of $4.99. That's cheap for a fitness app with an assistant coach.
Summary
In a nutshell, all the apps on our list are ideal for truck drivers and compatible with Android and iPhones.
Of course, you don't need to clutter your smartphone with too many apps, but just settle for the ones you think you will benefit from.
Above everything else, keep your hands away from the phone when you're driving.
If you must engage an app when you're at the wheel, make sure your smartphone is mounted on the dashboard and you can activate voice assistance.
More Articles You May Like