Paid CDL training is an alternative to private truck driver training schools, for those of you who are thinking about getting your CDL license but are put off by the high cost of tuition at the private CDL schools.
After all, it always feels a little crazy to have to pay a boatload of money just to make money.
One method (and the least expensive route) to get your CDL license is to approach a big carrier and explain to them that you're looking to get into trucking.
Company paid CDL training programs are available with most of the big carriers. They even offer to pay you (although often a low wage) during the training period.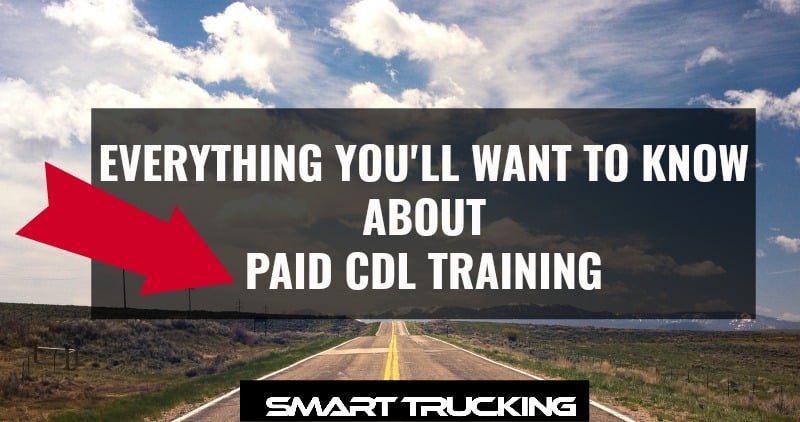 It may sound too good to be true. There are definitely advantages to getting company-sponsored CDL training and some potential disadvantages.
Overall, paid CDL training programs are a GREAT way to become a truck driver.
It's the best way to get a good deal for your CDL training and the most bang for your buck.
Taking advantage of one of these programs is a pretty smart way to get your CDL.
HOW DOES PAID CDL TRAINING WORK?
Paid CDL training or company sponsored CDL training is exactly what it sounds like.
You contact a carrier saying you want to learn to drive a truck and they agree to pay for your training on the condition that you work for them afterward.
Several of the large American trucking companies operate their own truck driver training schools.
They will teach candidates how to drive a big rig, get their CDL and then give the graduates of their training program a driving job.
It's like a 2-For-1 deal….. training AND a job.
Sounds pretty good, right? They can be, but you need to make sure your contract is very clear from the start.
ARE FREE TRUCK DRIVING SCHOOLS REALLY FREE?
That depends. Some programs do not have upfront fees. Others do.
Some trucking company-sponsored CDL training programs have a plan where the company deducts the training fee from their monthly pay and some will reimburse the training fee to the driver, should they stay with the company for an extended time period.
For most free truck driving schools, they really are free. In fact, you may receive paid training.
Free trucking school programs/company sponsored training are probably the most cost-effective way to get a CDL, with the least amount of money paid to the training school.
However, after factoring in the low wages during the first year or so as a driver, while fulfilling the contractual agreement for receiving the free training, a private training school option may be the better choice. (So in reality, it's really NOT free.)
It all depends on your personal situation.
It's really important to ask questions before signing on to make sure that you know full and well what you're getting yourself in to.
HOW TO QUALIFY FOR PAID CDL TRAINING
These programs just don't take anyone onboard.
Here's what is required to qualify for most of the company sponsored programs.
Good, squeaky clean driving record
Good squeaky clean criminal record
Able to pass the physical (required by D.O.T.)
Able to pass a drug screen test (required by D.O.T.)
21 years old +
Valid U.S. Driver's License
U.S. Citizen
Solid work history for at least the last 36 months (AND must be able to prove this work history is valid and true)
Commit to employment with the trucking company for 1 year (more or less, depending on the company)
If you are good for all of the above, keep reading!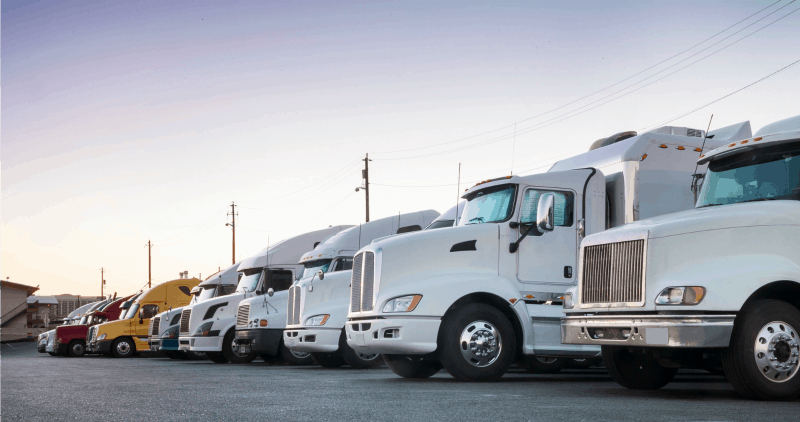 WHAT ARE THE ADVANTAGES OF FREE TRUCK DRIVING SCHOOLS?
Training programs vary from company to company.
AFFORDABLE COMMERCIAL DRIVER'S LICENSE TRAINING
There are a few distinct advantages in enrolling in one of these free truck driving schools.
Most of them do not require any money upfront, as compared to the private truck driving training schools which can be very expensive. We're talking thousands and thousands of dollars for private CDL school tuition.
Definitely, the price is right. It is low cost truck driver training.
GUARANTEED TRUCK DRIVING JOB
Another perk is the graduates are guaranteed a driving job at the trucking company. This is pretty important stuff, as graduates from some training schools may find it difficult to secure employment.
Many trucking companies prefer to hire drivers with experience. That's no surprise but it makes it a little bit of a challenge when you're a brand new driver out of school!
It can be very disheartening to pay all that money, get your CDL and then not be able to find a job.
The carriers have the benefit of hiring a new driver, so it's a win-win situation for both company and new driver.
A guaranteed trucking job at the end is something worth having.
LEARN ON COMPANY EQUIPMENT
It's also an advantage to learning on company equipment. Chances are, as a new driver, you're bound to have a few little bang-ups here and there as you learn to maneuver and navigate the truck in tight spaces.
So, it's best if you're going to ricochet off something, to do it in a truck belonging to a mega carrier.
These huge trucking companies are very accustomed to equipment damage, so it's more likely the penalties for the driver won't be so severe. Or maybe no penalties at all. But always good to learn on big company equipment first.
Another advantage of running for one of the big carriers is that they generally have the easiest equipment to drive.
Generally, they'll have drop nose trucks with great visibility and automatic transmissions. You will have enough to think about when you're learning so you don't want to be worried about whether you're hitting the right gear or not.
There is a distinct advantage to using automatic transmissions for a training period. It lets you concentrate more on where the vehicle is on the road rather than have to worry about where the stick should be. When you're learning, the easier the better.
MANY CARRIERS ARE LOOKING TO TRAIN NEW DRIVERS
Another perk is there are lots of these companies around the U.S. which have implemented this style of training. They ALL want you to come to their driving school and hire you!
Many of the mega carriers have branches in many different parts of the country, so you won't need to travel far to attend one of their schools.
EARN MONEY WHILE LEARNING
It won't be loads of money, but most company sponsored CDL schools offer trainees pay while learning the ropes.
Related > The Truck Driver Shortage – The Dirty Truth No One Talks About
ANY DOWNSIDES TO PAID CDL TRAINING?
ONLY LEARN ENOUGH TO GET A CDL — This type of training is what I like to call fast-track training. These are normally programs which teach the trainees only what they really need to know in order to pass the driving test.
They aren't always in-depth, comprehensive courses. After all, it would be nearly impossible to master all the skills required to be a top-notch driver in just a few weeks.
The really big kicker here is you may find future employers will look negatively on paid cdl training programs. Some employers feel the training is insufficient and doesn't meet their hiring standards.
However, not ALL company sponsored programs are like this. There are some reputable programs.
MAY NEED TO TRAVEL TO TRAINING SCHOOL — The trucking company's training program may be held far away from where you live. This can cause inconveniences to you and your family if you are not prepared for it.
EXPENSES WHILE AWAY AT CDL TRAINING — Some schools cover accommodation expenses/meals while at training. Some do not. Some schools provide accommodation (be sure to check into the accommodations provided to be sure they are up to 'your standards'. After all, you'll be there for awhile.)
TRAINING PERIOD IS SHORT + MOVES FAST! — Most company sponsored school training is short and moves along VERY FAST. The school days start early in the morning and run for long sessions. It is not unusual for the training days to run as long as 12 hours or more per day.
The trucking companies who train will train you just enough that you can successfully pass your CDL and their goal is to do it in as little time as possible.
COMMITMENT TO THE TRUCKING COMPANY — After training, as a new CDL driver, you will have a commitment to the trucking company, to stay and work for them for a period of time.
If the company isn't a good fit for you, you are stuck for the duration of the time (could be 6 months, 1 year or even 2 years).
If you leave the company, you will be legally obligated to pay back the trucking company for the driver training. They WILL collect from you.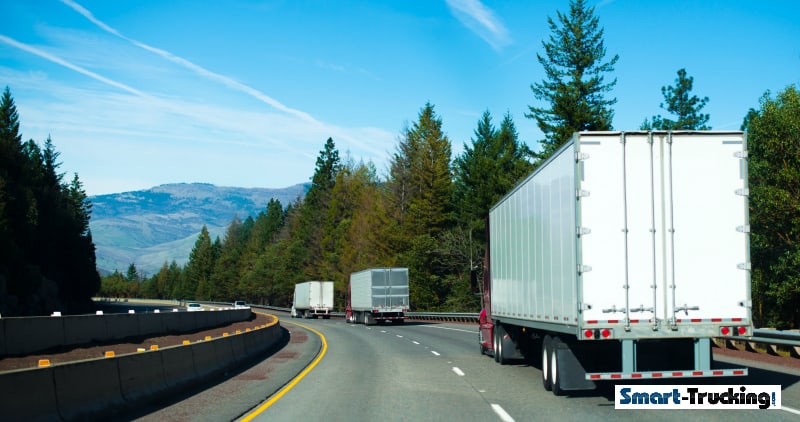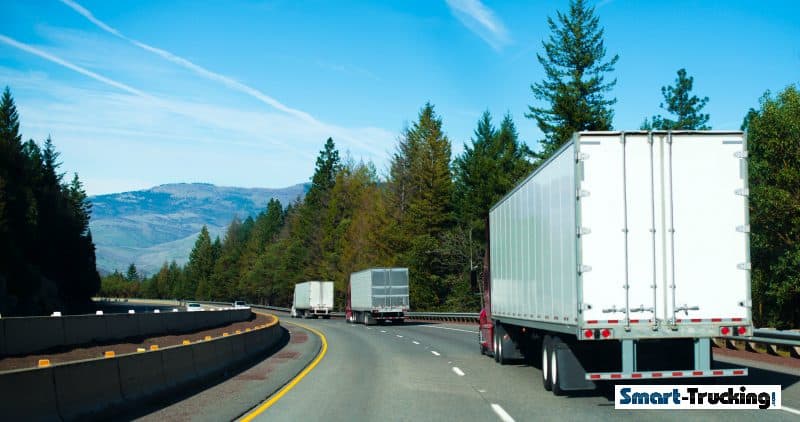 PRIVATE TRUCK DRIVING SCHOOLS VS. FREE SPONSORED CDL SCHOOLS
Although the private training schools offer government grants and various financial aid to help with the cost of driver training, not many people are eligible for the programs.
Make no mistake, paid CDL training with a trucking company is going to be less of a cash outlay upfront, but don't worry they'll get their pound of flesh worth out of you.
You are really paying either way so take the time to research a program before signing up.
There are private CDL driver training schools which are completely independent from the big carriers. But generally they cost a fortune and at the end of the day when you graduate, there is no job guarantee.
The three greatest advantages of going with company sponsored CDL training instead of a private school are:
Low cost to get into the program. You're not laying out a lot of money or any money up front.
Earn money while training. They will pay you a wage instead of you paying them (although it can be meger).
Immediate job. The idea is also you will get a driving position with that company when you're done the training,
These are big advantages to most people who don't have the financial means to enter one of these private training schools.
RECOMMENDED PAID CDL TRAINING SCHOOLS
One of the most frequently asked question we hear is ,
"What are the best FREE TRUCK DRIVING SCHOOLS?"
We recommend checking out these Company Sponsored CDL Schools.
SCHNEIDER
ESTES
PRIME TRUCKING
MAVERICK TRANSPORTATION
JIM PALMER TRUCKING
We'll be publishing in detail exactly why we 'recommend' checking out what these schools have to offer.
**Check back often for updates, as we investigate/discover more programs which we feel good about recommending.
What Companies Offer Paid CDL Training?
These trucking companies offer CDL training with a job, upon completion of their program.
USA Truck
Carter Express
Werner Enterprises
Schneider
Swift Transportation
US Express
Pam Transport
Wil Trans
Estes
Jim Palmer Trucking
Roehl Transport
XPO Logistics
Maverick Transportation
Stevens Transport

Negativity Around CDL Training Schools
Be careful about all of the negative comments online about the company CDL training schools.
Most of the time, but not always, the person making the comment was most likely the one at fault for the bad experience.
Often these poor experiences come from:
a failed drug test
lying on an application
being absent from too many sessions
fighting with other students
smoking weed on the premises (yes, it does happen)
being reckless when driving with instructor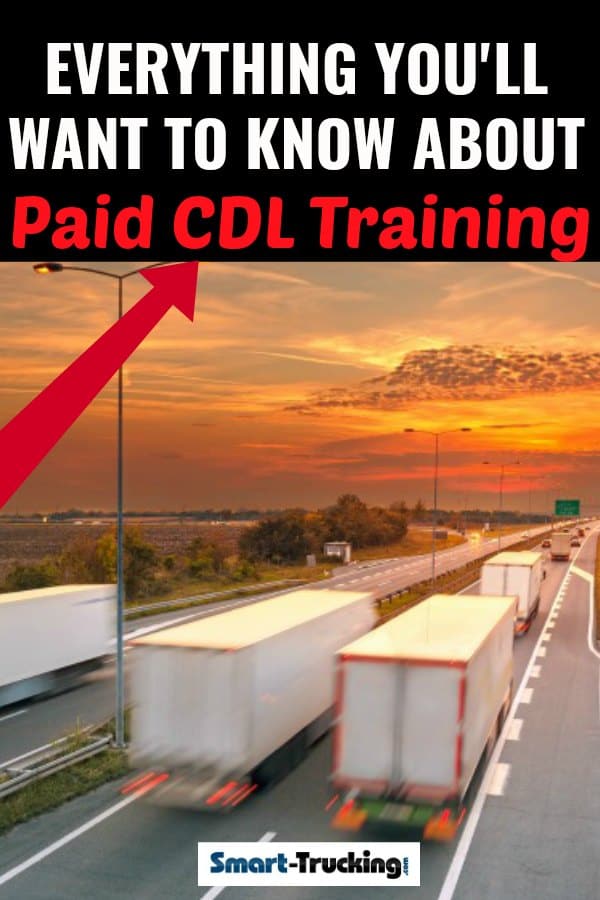 COMPANY SPONSORED CDL TRAINING SCHOOL — F.A.Q.
WORKING WITH A TRAINER DURING CDL TRAINING
Most trucking company training programs stipulate that you run with a trainer in one truck for a period of time, in order to gain valuable practical experience behind the wheel. But, not ALL of them do, as we discovered, but most require this.
While not exactly a disadvantage, you will need to work with a trainer – which can be a pain. Trainers are just part of life for a trainee. Like it or not. Living in a truck for a few weeks with a driver trainer can be a trying experience.
Some trainers are better qualified and more skilled than others. Some do the job because they actually like it or enjoy the company of a second driver. Others do it solely for the money.
Be aware that some driver trainers can be difficult to get along with, and it may be necessary to ask the trucking company for a different trainer, due to personality conflicts. However, be prepared to ride the wave with whoever you are assigned to as the company may not care about whether you get along with the trainer!
DISADVANTAGES OF WORKING WITH A BIG CARRIER
Be aware that when you sign up for your training with a mega carrier, they usually require you stay with their company for a year or so after your training is complete. This way, they can benefit from the training they've given you and recoup some of their investment.
Unfortunately, that contractual year may pay poorly. Often, they don't pay their senior drivers particularly well either.
Working for a smaller carrier after you get some experience may be a good idea.
Driving experience is what it's all about in this industry.
You may not have your choice of where you're running for the first year or two you are with the trucking company. In fact, the first year or two CAN be quite challenging.
But the object of the game is to get seat time and build experience.
If you decide to jump ship because you don't like working for them, at least wait until the contract expires with the carrier rather than get into a stressful legal hassle.
When you sign up with the mega carrier for CDL training establish clearly from them how much money you will earn during your training period. So many trainees literally starve on these training programs. Training wages are often low.
You need to know exactly how much money you're going to be bringing home a week. Then you will know if this company-sponsored CDL training program will allow you to pay your bills.
WHO WILL NOT BENEFIT FROM PAID CDL TRAINING?
Driving schools will welcome you with open arms once you have signed on the dotted line….. no question there. However, there are some circumstances which will NOT make you a good candidate for one of these programs.
If you have accidents or a D.U.I. on your driving record or a criminal history, you may not get a driving job AFTER your training.
They may tell you it won't be a problem, but in most cases, it IS a problem. The trucking companies are at the mercy of their insurance companies and if the insurance company rejects a driver, they cannot be hired.
Don't waste your time and money thinking you can outsmart the system or believe what the program rep tells you. Move on to another career where these circumstances will not stand in the way.
WHAT ABOUT PAID CDL TRAINING FOR 18 YEAR OLDS?
Most company sponsored training programs require the candidate be 21 years of age. If you're under 21, you'll need to wait a few years to apply for CDL training to become a truck driver.
CHOOSING THE BEST PAID CDL TRAINING SCHOOL
When looking for a training school, be certain to check out the details of the training program:
Thoroughly review all details, especially the repayment of the training, if any works and how much you can expect to be paid.
Be sure your financial obligations are in writing, after all, this is a contract you're about to enter.
Talk to some driver graduates of their program, if you're able, find out about their experiences.
Find out what type of trucking the company does and where they run.
Do they specialize in produce hauling, flatbed work, tanker hauling, dry vans?
Do they run OTR (long-haul trucking)? Short haul? Or just in a specific region of the country?
Teams?
All of this information will have a bearing on your choice of training school.
Try to choose a company which does the kind of work you are interested in.
Otherwise, you may be unhappy right from the start. If you're going to be working for them for the next year or two, it may as well be doing something where you're reasonably happy.
WHAT YOU SHOULD KNOW BEFORE YOU SIGN UP FOR FREE TRUCK DRIVING TRAINING
Before you sign up, here's some words of advice. You're in a for a major commitment and should be certain that it is what you want. It's a great opportunity but one that may be difficult at first.
LEARNING TO DRIVE A TRUCK IS STRESSFUL
First and foremost, the initial training period can be difficult and stressful.
It's possible that you will be paired up with a driver trainer who isn't particularly someone you like. They may even match you with a trainer who really isn't very good at training whatsoever. It isn't unusual to be paired with a driver trainer who only has a few years (or less) of driving experience.
It can be stressful when you're looking for new customers learning to maneuver that big truck down narrow city streets. You will worry about getting lost and you will worry about being able to find the customer.
Making the delivery on time is always stressful.
But, hang in there. The object of the game is to get lots and lots of behind the wheel time.
These training programs are not a walk in the park. It's going to be tough.
Persevere. Stick to it.
EXPECT LOW PAY, BUT DON'T SETTLE
Truck driver training wages are usually low for the trainee. It's something you need to be aware of if you're entertaining getting into a professional driving career.
My intention is not to scare new drivers away from the industry but rather to help them succeed by understanding the trucking industry. If you are pursuing a career in trucking, be aware of what you're getting into.
MEGA CARRIER CDL TRAINEE WAGES ARE LOW
Mega carriers are often publicly traded companies.
These trucking companies hate to lose one thin dime on anything they do.
As a result of this, many mega carriers will now train a driver, hire them and then bill them for their training while using the driver to drive one of their trucks and make them even more money, all at the same time. (BEWARE OF LEASE OPERATOR PROGRAMS!)
Be aware that starting wages for new drivers can be low. However, this differences from company to company.
So when researching for a trucking company to start off your driving career, do the research.
Get lots of detail about the training program and the associated costs. If you're able, get this information from the trucking company in writing.
Training time often can run into a few months, again, depending on the company.
Do the calculations to be sure you're still going to earn enough money during the training period to pay your bills.
WILL YOU EARN ENOUGH MONEY DURING TRAINING TO PAY YOUR BILLS?
If through your training period you're being paid strictly by the mile and that's usually the case, try to establish how many miles a week you can expect, so you can calculate your earnings.
You will need to know how much you will earn during training BEFORE accepting an offer to go into a paid CDL training driving position, while you complete your training.
This is important stuff to know. You've MUST be able pay your bills. You should at least be able to support you and your family. If it looks like the pay will be insufficient, tell the carrier and let him sweeten the pot.
If that doesn't work, look for another deal.
There's no point starving to death and having your family out on the street while you're learning to drive a truck.
GET THE TRAINING WAGES SCHEDULE IN WRITING
Be sure that you obtain in writing from the carrier.
the pay schedule
the mileage rate of pay
the method of how they determine the paid miles driven (PC MILER? HUB MILES?)
how much for unloading time, pickups, drops, etc.
Most of the most mega carriers pay poorly, but they are an initial stepping stone toward better paying jobs for you in the future.
Think of the process as a 'means to an end' for desired career as a truck driver.
DO WE THINK PAID CDL TRAINING IS A GOOD CHOICE?
Although paid CDL training has some downsides, it may be necessary for you to 'settle' for one of these schools. If you don't have the $ for private school CDL training, paid training is the way to go. For a 1 year commitment from you, they GIVE you CDL training and a truck driving job. Pretty decent deal.
This type of training must be the right fit for you. If you can't see yourself engaging in this type of training, don't do it. Remember Johnny Cochrane's famous words? If it doesn't fit, don't commit!
Carefully look at all of the paid CDL programs, to pick the one best suited to you. They are not ALL CREATED EQUAL.
Go with the flow. These programs are what they are. If you pick a good one that is best suited to you, it could be the smartest choice you'll ever make in your trucking career.
IS PAID CDL TRAINING WORTH IT?
Getting your CDL from a trucking company driver training school is a stepping stone to a trucking career. The experience gained initially with your training will give you what you need to secure the exact driving job you want later in your driving career.
Keep in mind that you'll likely need to spend an extended period of time with the same company after training to fulfill your contractual obligation. However, the guaranteed job will get you some good experience so you can then go out in the future and get the job you really want.
It's the easiest, simplest and least expensive way to get your foot in the door and get your career underway as soon as possible. There are numerous advantages and some downsides. However, it boils down to individual preference. Hopefully, you'll be lucky enough to have signed up with a carrier that you really like and you'll stay there and put in your time for a few years.Ideally, that's always the best scenario. However, you may find the carrier isn't a good match for you after you have your license. You may want to move on to another trucking company.
I still recommend getting at least a couple years with the initial carrier first so you've got a little bit of experience under your belt. This experience will make you more marketable when you then decide to approach other carriers later.
There are distinct advantages to paid CDL training schools. With little to no money up front and a job at the end of the training, you'll have the tools you need to start off your truck driving career right, with the best chance possible for future success as a professional driver.
It sounds intimidating. But stay with it.
If a career in truck driving is really what you want, hang in there. It WILL all work out.
USE YOUR TRAINING TIME WISELY — RESEARCH THE TRUCKING COMPANY YOU WANT TO WORK FOR
Taking advantage of company-sponsored CDL training is a great way to get your license, get as much experience as you can, and get comfortable with the truck.
Sometimes, the company you choose initially will have a great program and you may be happy to stay after your contract has ended.
If you decide to look elsewhere for a job after you've completed your initial training period with the mega carrier, here are some things you may wish to consider that make a truck driving job more worthwhile:
DOWNTIME PAY – Look for something that pays for downtime, loading time, and unloading time.
HOURLY PAY – Look for a truck driving job which is not just straight mileage pay because guys are starving on mileage pay. Ideally, look for something that pays you by the hour while you're sitting waiting in the dock
BENEFITS – Try to find something with 401K plan or a pension plan.
LOCAL ROUTES – I do recommend to drivers with families, that once they're finished their training period try to find something more short haul, regional or local, where you will be home more often and make better money in the process.
Every dollar counts in this business and there aren't dollars floating all over the place.
Try to nail down a small carrier that pays well and pays you for all your time not just your mileage rate and they're out there. I guarantee it.