Don't you just hate it when you're driving a truck and you find yourself on the wrong road?
It could be a low bridge, weight restriction, or a road that just doesn't allow big trucks. A typical GPS for cars or a smartphone is okay, but more often than not, you could find yourself confused in unfamiliar state roads.
On the other hand, truck GPS are specially designed to prioritize trucking routes and make it easier for truckers to plan a long distance trip.
We've done our homework and reviewed the best GPS for truckers on the market.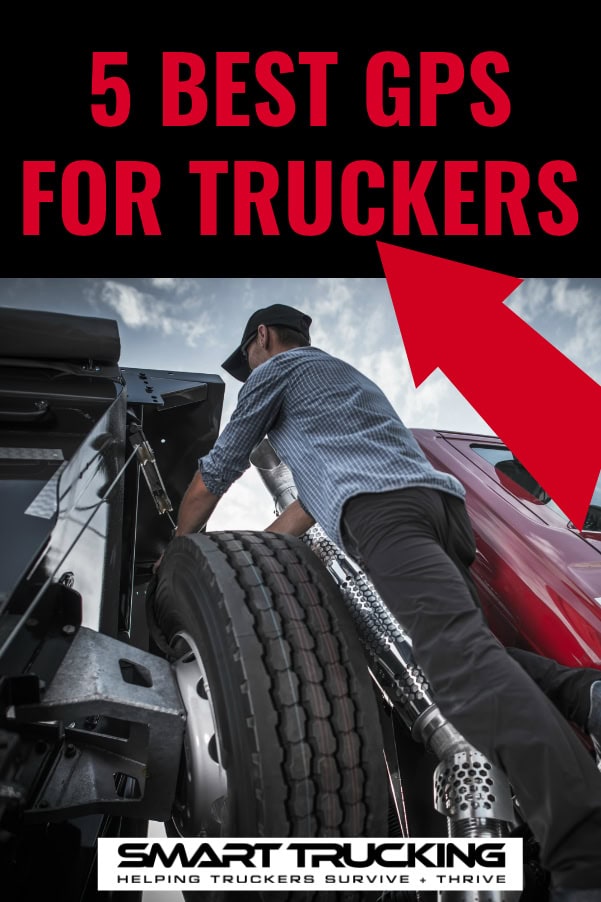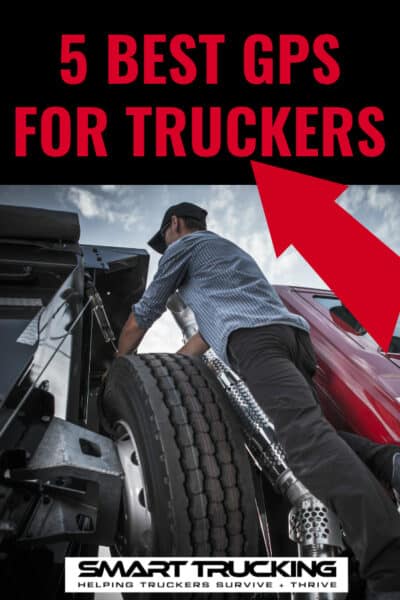 BEST VALUE
It features truck and trailer service directory
It includes built-in Wi-Fi and Bluetooth compatibility
It can be paired with a smartphone
Truckers get free lifetime map and traffic updates
It records hours of service
RUNNER-UP
It helps you to save fuel money by choosing the fastest route
It can pinpoint a location if you put latitude and longitude coordinates
It guides you on the correct lane to follow
It's easy to mount
It includes Wi-Fi and Bluetooth
BEST BANG FOR THE BUCK
SIXGO 9 inch HD Touchscreen Truck GPS
It has the largest screen on our guide
Users get free lifetime updates
You can check the maps in 3D view
It features a smart voice assistant
It includes 4 route options: fast, economical, green and simple
Our Selection Criteria
In a nutshell, we carefully considered the following factors to choose the best trucker GPS on our guide.
1. Brand. Garmin and Rand McNally are the most popular brands that manufacture truck GPS.
Most truckers are usually split 50/50 when debating which brand between Garmin and Rand McNally offers the best truck GPS units.
Sure, there are other reputable brands but Garmin and Rand McNally have the longest history of specializing in GPS technology.
2. Special Features. Besides the standard features that you would expect in any truck GPS, we carefully looked at the units that have included extra features to stand out from the crowd. Most of the GPS we've reviewed can be integrated with the latest modern technology.
3. Feedback. During our researching phase, we looked at the GPS devices with the most positive feedback from truck drivers.
Of course, no product is perfect, but as long as those flaws are not deal-breakers, they can make a good case for the top contender.
Type: Portable
Screen size: 5 inch
Bluetooth: Yes
Wi-Fi: Yes
Memory card slot: Upto 32 GB
Memory card slot: Up to 32 GB
What We Like
5-inch touchscreen
Free lifetime updates
Customized truck routing
Built-in Bluetooth and Wi-Fi adapter
Compatible with ELD
External memory slot
Voice control
What We Don't Like
The screen size isn't that big
The Garmin dezl 580 LMT-S ticks all the boxes you would expect in a premium trucker GPS; it features Bluetooth, Wi-Fi receptor, voice control, and an external memory card slot that can accommodate up to 32 GB storage.
But what really makes it stand out is the customized truck routing system that chooses the appropriate route depending on the weight and size of your truck.
What's more, it comes with a 5-inch touchscreen display with auto-brightness that makes it easy to see the map even when it's exposed to direct sunlight.
Thanks to the in-built Wi-Fi, you can enjoy free lifetime map and traffic updates. Not to mention, it records your service history logs and it can be connected to a backup camera.
On the downside, it seems the 5-inch screen could be a little small for some drivers.
However, if that's a problem, you could activate the voice control and let the GPS talk to you.
Type: Portable
Screen size: 9 inch
Bluetooth: No
Wi-Fi: No
Memory card slot: Up to 32 GB
What We Like
Large HD touchscreen
Voice assistant
Truck specific routes
Free lifetime map updates
3D map viewpoint
Night and day mode
Supports up to 32 GB memory card
Suction support
FM radio
What We Don't Like
No wireless smartphone compatibility
If you want something big, how about a GPS unit with a 9-inch screen?
Yes, it also comes with suction support to mount it. But that's not all; this trucker GPS features a memory card slot that supports up to 32 GB, a headset plug-in socket, and a USB interface to connect your smartphone or flash disk.
Since it's a truck GPS, you can customize your route by putting the length, weight, and height of your truck into the GPS.
Quite impressive. It's pre-loaded with the latest maps of North America (Canada, United States, and Mexico). That means you can use the GPS maps without an internet connection, unlike your smartphone.
The GPS voice assistant can tell you when you're approaching a red light, speed limit zone, high-speed camera, gas station, truck service, stores, motel, and any points of interest.
Additionally, it includes an entertainment section that enables you to switch to the FM radio, listen to an audiobook or MP3, and play games.
However, you will have to do without wireless smartphone compatibility.
You can transfer files from your smartphone to the GPS using the USB interface.
Otherwise, if you don't mind choosing a GPS made by a brand that is not popular, this truck GPS makes the cut.
Type: Portable
Screen size: 7 inch
Bluetooth: Yes
Wi-Fi: Yes
Memory card slot: Upto 32 GB
What We Like
7 inch HD screen
Truck specific navigation
Advanced lane guidance
Accurate mapping system
Built-in Wi-Fi and Bluetooth
Customized warnings
Advanced trip planning
Satellite radio
2 USB ports
Hours of service alerts
Free lifetime map updates
What We Don't Like
It needs constant updates
It's expensive
Forget the 7 HD touchscreen for a minute, and let's talk about the advanced trip planning on this Rand McNally GPS.
Apparently, it can plan a trip for you down to the smallest detail. All you need to do is put in the address or coordinates (latitude and longitude) of your next location on the GPS and it will calculate two routes; fastest route and alternate route.
Once the GPS calculates the routes, it will give you an estimate of how much money you will spend on fuel depending on the miles per gallon of your truck.
If you choose the fastest route, you will save fuel money.
Beyond that, the Rand McNally TND 740 will tell you all the travel centers, truck services, parking spots, CAT scales and weight/border stations along your route.
It will even tell you the exact lane to follow and what time you should arrive at your destination.
Still not convinced? It features Bluetooth, Wi-Fi, Satellite radio, 2 USB ports, audio output port, and driver logging monitoring system.
Well, it's a little bit expensive compared to other GPS units.
But then again, it's one of the best GPS for trucks on the market made by a reputable manufacturer.
Just remember, you need to update the maps once in a while, and it's free to do it.
Type: Portable
Screen size: 6 inch
Bluetooth: Yes
Wi-Fi: Yes
Memory card slot: Upto 32 GB
What We Like
Smartphone integration
6-inch touchscreen
Real-time traffic updates
Free map updates
Hands-free calling
Voice assistant
Bluetooth and WI-FI
Customized truck routing
It can be mounted on the windshield
What We Don't Like
The battery doesn't last long
This TomTom Trucker 620 GPS Navigation device is compatible with Siri and Google Now; you can make hands-free phone calls via your smartphone and initiate voice commands.
Likewise, you can access the latest traffic updates and weather reports, plus it will guide you to avoid any weight restrictions and low bridges along your route.
At the back of the GPS unit, there is a magnetic mount that you can suction to the windshield for easier visibility. Just make sure to install it at a position where it won't cause distracted driving.
The cool thing is that the GPS is pre-loaded with the latest maps for the USA and Canada; you don't need an internet connection to navigate. However, you will need to update the maps through a Wi-Fi connection.
Unfortunately, the battery doesn't last long and you would be lucky to use it unplugged for more than 1 hour.
For that reason, you have to continuously plug it into a charger to keep the battery from running low.
Type: Portable
Screen size: 7 inch
Bluetooth: Yes
Wi-Fi: No
Memory card slot: Up to 32 GB
What We Like
Bluetooth connectivity
Large 7-inch screen
Compatible with back up camera
Records hours of service
Free map updates
Screen splitting feature
Advanced lane assist
Compatible with ELD
Headphone jack/audio output slot
Memory card support
Voice-activated navigation
What We Don't Like
It needs a smartphone link to access real-time information
The Garmin dezl 770LMTHD comes with a 7 inch HD touchscreen, a memory card slot, back up camera compatibility and an audio line-out port to connect it to external speakers.
The GPS is pre-loaded with the maps of United and Canada, plus more than 30,000 truck-specific points of interest.
To improve precision, the screen is usually split into two parts; an aerial view of the map and a closer 3D point of view that shows you which lane to follow.
To avoid looking at the screen and getting distracted when you're driving, just say "voice command" and the voice control feature will engage.
It will talk back, and give you clear instructions; you know, like "In two miles, turn right". Also, it's compatible with electronic logging device (ELD) and even tells you when it's time to check your oil or tire pressure.
On the flip side, you need to pair it with a smartphone to access real-time information such as the weather or live traffic updates.
To do that, you need to download the Smartphone Link app to your iPhone or Android device and connect it to the trucker GPS.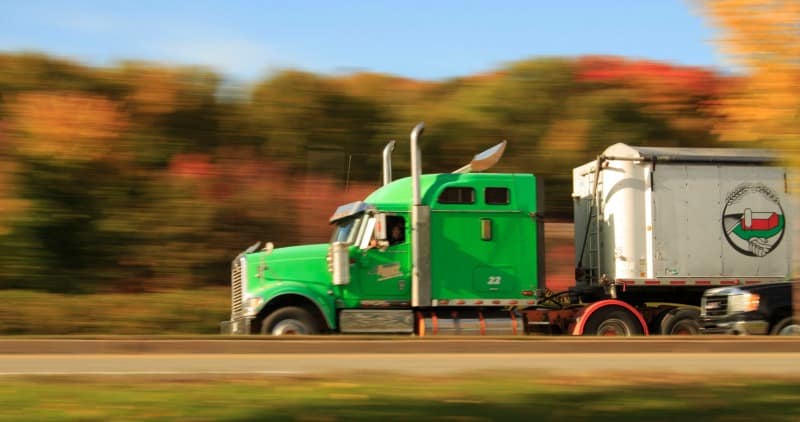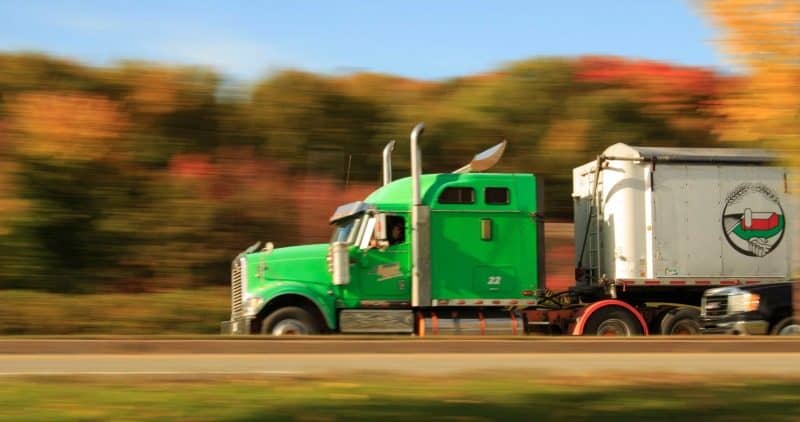 Why Should You Buy a Truck GPS?
1. Legal Reasons. Why not just use the apps on your smartphone as trucker GPS?
It's simple. Most jurisdictions have enacted distracted driving laws that ban drivers from using smartphones.
That means you could get a ticket if you're caught using a smartphone regardless of whether you were checking the navigation app, email, or text message. On the other hand, a GPS for your truck won't get you in trouble with the law.
2. Prioritize Truck Routes. A truck GPS will prioritize trucking routes that you wouldn't find on other regular GPS devices or apps.
For instance, you will get to know the weight limits, speed limits, and designated roads for trucks. The last thing you want is to get stuck under an overpass bridge that is too short for your truck to drive through.
3. Record Truck Reports. Some of the best truck GPS will keep track of the mileage, fuel consumption, driving status, and service hours.
Beyond that, your truck GPS can be used to verify if the information in your electronic logging device is accurate.
4. Access Truck Services. It's not just about navigation, but a truck GPS will inform you where you can find the nearest truck stops, rest stops, repair services, weigh stations, restaurants, and tow services that cater to truck drivers.
5. Get Traffic and Weather Alerts. Before you go out on a trip and find out that the road is closed due to bad weather or ongoing construction, a truck GPS will inform you in advance to avoid disappointment.
Actually, some of the best GPS for truckers will tell you when there is traffic congestion and suggest an alternate route to save time and fuel.
6. Navigate Without Internet Connection. Here is the thing; most GPS apps on your smartphone require internet connection.
However, a typical truck GPS doesn't need the internet to navigate; this could be very helpful if you're in a remote location with no network.
7. Manage Your Fleet. Some GPS units have an option that allows the fleet manager to monitor a network of trucks on the road.
By doing so, the fleet manager can easily coordinate the shippers and receivers by sending live updates.
8. Compatibility. Most trucker GPS units are compatible with smartphones if they come with Bluetooth and Wi-Fi features.
Besides that, most truck GPS devices also include back up cameras, hands-free voice control, inbuilt speakers, and microphones.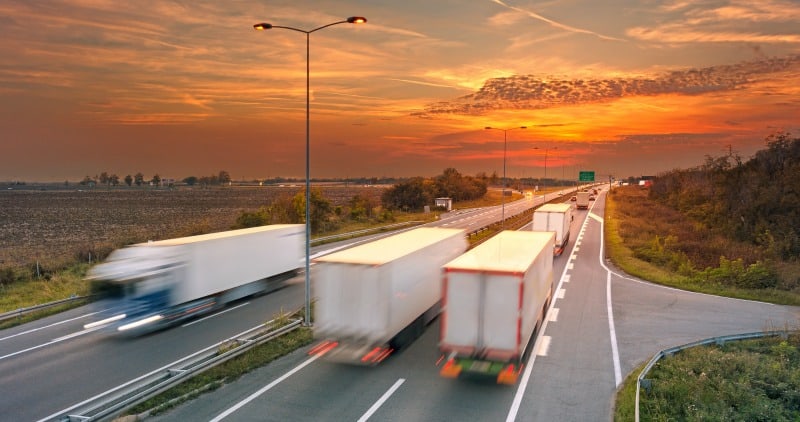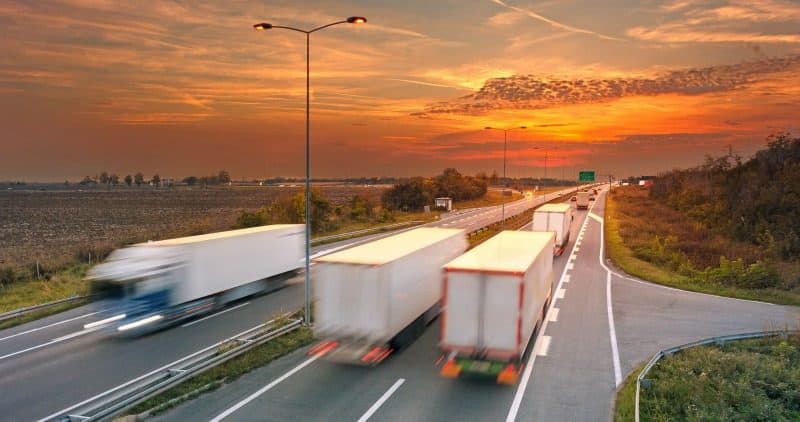 Types of GPS for Truckers
In-Dash GPS System
An in-dash GPS system is pre-installed into the dashboard by the manufacturer; although you can purchase an in-dash GPS and install it yourself.
In some cases, an in-dash GPS is usually integrated with the infotainment system. That means, the screen that you use to turn on the radio or change the playlist, is the same display that you will use to access the GPS navigation.
The biggest issue with the in-dash GPS system seems to be that the pre-loaded maps can become outdated after a few years. Also, in-dash GPS systems tend to be more expensive than handheld GPS units.
Of course, don't forget the big elephant in the room; you can't take an in-dash GPS outside of your truck. This could be a problem if you're switching trucks and you would like to access your saved history, addresses or points of interest.
On the other hand, it is difficult to steal or misplace an in-dash GPS compared to a portable GPS device.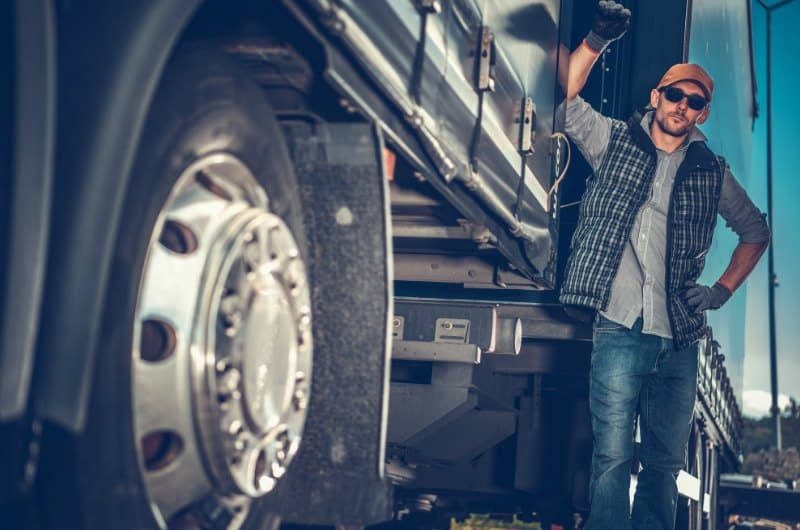 Handheld or Portable GPS
The first handheld GPS device was originally designed for the United States military back in the 1970s.
Later, in the 1980s, it was allowed to be used by civilians. Since its inception up to date, its biggest advantage is portability; you can take it anywhere with you and still access your saved addresses, history, or points of interest.
In comparison, handheld GPS units are cheaper and more popular than in-built in GPS systems.
Sure, a handheld GPS doesn't come pre-installed with the truck, but you can still mount it on the dashboard.
Our Verdict: So which is the best type of GPS for truckers?
Handheld GPS seems to be a better option than an in-dash GPS because it's cheaper and portable. Just make sure to use a mount when using a handheld GPS in your truck to prevent it from falling when you hit a bump or a rough terrain.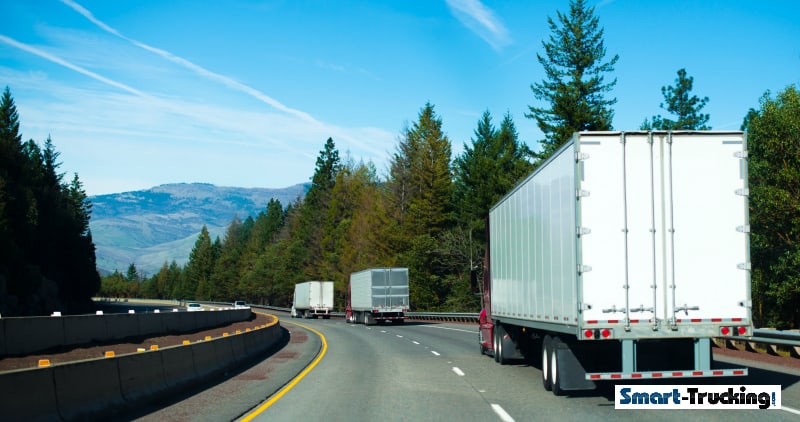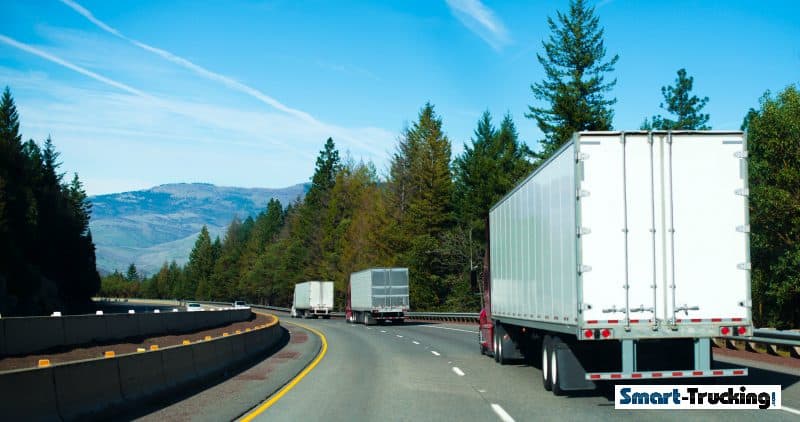 How To Choose The Best GPS for Truckers
Screen Display
Obviously, the first thing that you will notice about a GPS unit is the screen size.
Since the navigation routes are usually shown on the screen, it would be better if you settle for a GPS table with at least 5 inches or larger. If the screen is too small, you could struggle to read the map.
Additionally, you will be driving a truck during the day and you should have a GPS tablet that can change its brightness for easier readability when the sun is out. The best GPS for truckers automatically reduces the brightness level when it's dark, and increases it when it's exposed to light.
Of course, almost every trucker GPS device on the market today comes with a touchscreen display as a standard feature.
Mapping Information
How do you know the mapping system of the GPS you want to buy is reliable?
First, most modern truck GPS will have an option for drivers to zoom into different roadways and look at it from a 3D point of view.
Even if you don't think the 3D option is necessary, it's important to buy a GPS that comes with lifetime map updates in case of any changes.
Moreover, a detailed mapping system should include the street names, speed limits, and turn by turn directions; if you happen to miss a turn, the GPS should alert you.
But that's not all. The GPS tablet should inform you if there are nearby restaurants, hotels, truck centers, gas stations, or any other point of interest along your route so it would be easier to plan your trip.
Approved Roadways
Any truck GPS worth its name should have an option to include the weight, height, length, and cargo of your truck to configure the appropriate settings. That way, the truck GPS will choose a designated route for your truck to avoid colliding with low bridges or encountering weight restrictions.
The best trucker GPS systems can handle multiple truck profiles so it shouldn't be a problem if you switch to a bigger or smaller truck. Besides that, the GPS tablet should set the fastest and shortest designated route to your destination.
Driver Assist
Nowadays, we have GPS units that can give you voice instructions through a speaker. For instance, if you're approaching an intersection, the voice assistant will tell you how to proceed.
That means you will avoid getting distracted by looking at the GPS screen since you will be listening to the voice assistant.
It could get even better; some GPS devices have a voice command feature that allows you to talk to the software.
For what it's worth, you can activate a command using your voice by asking a query such as "Where am I?" and the GPS will respond by pinpointing your coordinates.
Connectivity
A GPS unit with Wi-Fi and Bluetooth can be paired with your smartphone to make a hands-free phone call conversation; although you may need a GPS with a built-in microphone and speaker.
Other than that, some of the best GPS for truckers have a port to connect back-up cameras, USB cables, flash disks, and other electronic devices.
Live Traffic and Weather Alerts
Talking about connectivity, if your trucker GPS tablet can connect to the internet, then it shouldn't be a problem for you to access live traffic and real-time weather reports.
In this case, a traffic update could be more than just a traffic congestion alert; the GPS could inform you of accident hotspots, narrow roads, steep inclines, and sharp curves. Heck, some GPS units can even tell you where to find the cheapest gas.
As for the weather updates, you should get the current weather conditions, forecast, and emergency alerts.
You don't want to get stranded in a hurricane, do you?
Trip Logging
Even though a truck GPS cannot be used to comply with the electronic logging device (ELD) rule mandated by the Federal Motor Carrier Safety Administration (FMCSA), a GPS unit can record driving status, hours of service, fuel data, mileage, meal breaks and hours of sleep.
Some GPS units are compatible with electronic logging devices that are connected with your truck's engine.
Fleet Management
If you're a fleet manager, you would want a GPS system that can communicate with your GPS units at the fleet base station.
In other words, you will be able to see the location of the trucks that you're managing in real-time.
Hence, you can calculate the estimated time of arrival and notify the clients when to expect load pick-up or delivery.
Needless to say, the fleet management feature is very useful if you want to monitor truck driver performance and reliability. In fact, if a truck is stolen, you can use the GPS to track it down.
How To Mount a GPS Tablet on a Truck

Common Q & A
Q. Do they make special GPS for truck drivers?
A. Yes. The biggest difference between a GPS for truckers and any regular car GPS is that a trucker GPS will recommend a designated route based on the weight, height, and length of your truck. That means, it will tell you the roads or lanes you're not allowed to drive and the roads you're not restricted.
Q. What Garmin unit is the best for a trucker?
A. The best Garmin unit for truckers is the Garmin dezl 580 LMT-S. However, if you want something with a bigger screen, you can go for Garmin dezl 770LMTHD.
Q. How much should I budget for a truck GPS?
A. It depends. You can find truck GPS with basic features for less than $150. However, if you want premium quality such as voice activation, real-time data, mounting system, and lifetime map updates, be ready to spend between $200 to $400.

Summary
Let's recap.
All the trucker GPS units in this guide are crème de la crème quality.
Keeping that in mind, if we had to pick the best overall GPS for truckers, we would pick the Garmin dezl 580 LMT-S.
Alternatively, if we were on a tight budget and we wanted the best bang for the buck, we would go with the SIXGO 9 inch HD Touchscreen Truck GPS.
The GPS is an electronic device which can contribute to distracted driving. Professional drivers must be aware of this drawback. Use your GPS wisely.
Related Articles