The trucking industry has seen a whirlwind of change in the last few years from the implementation of ELDs to a boom in trucking growth and even new trucking tech.
Now is the perfect time to take advantage of the present state in the industry.
Trucking is an industry, where one MUST make changes, in order to remain profitable.
So it's a good idea to stay on top of trucking industry news in order to get an edge in.
It's a very adaptive career and you have to be prepared to roll with the punches in order to get ahead.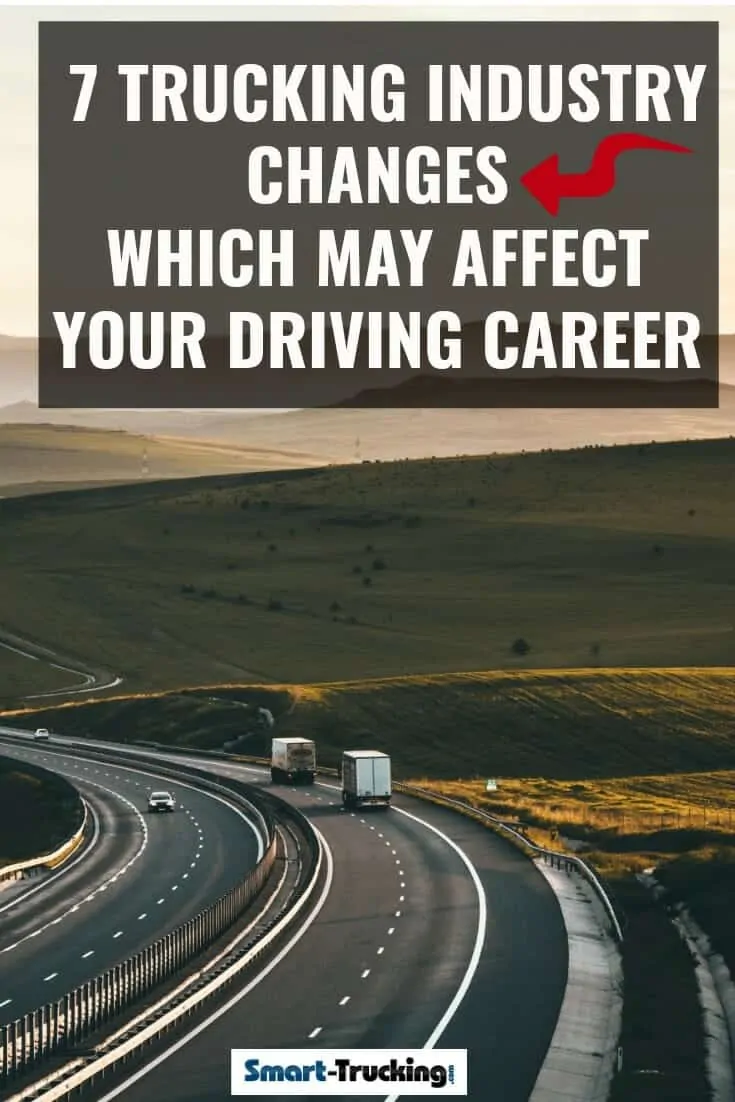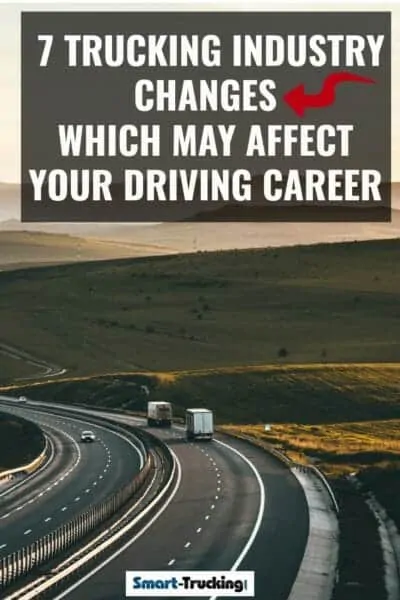 Here are some of the most influential changes to trucking we've seen in the last year.
Recent and Most Significant Changes in the Trucking Industry
Truck Technology – ELD'S and Autonomous Trucks
ELD'S – One of the biggest changes that the trucking industry has seen in the last few years is the introduction of the Electronic Logging Device (ELD).
There was a lot of anticipation and worry surrounding the ELDs in 2017 and how they would affect the industry as a whole.
Trucking industry news was mostly focused on the negatives surrounding ELDs but it's too soon to say how they've impacted trucking as a whole.
Unfortunately, some of the concerns around ELDs proved to be true.
For example, ELDs did have a dramatic impact on van rates, spiking them from an average of $1.80 per mile to between $2.31 – $2.82 per mile.
While many threatened to leave the industry because of ELDs, trucking has seen steady growth through 2018 and into 2019.
Autonomous Trucks – One of the most innovative changes being rolled out? Autonomous trucks.
Many truck drivers today are quite worried about the introduction of these 'self-driving trucks' into the industry. Drivers fear losing their jobs and being replaced by computer-driven trucks. This is not something that truckers will need to be concerned with for at least another generation.
The takeaway: It's hard to say exactly how ELDs have impacted the trucking industry so far since we have only seen them for the last year. Many carriers have adapted well to ELDs and are carrying on business-as-usual.
Many truckers have to adapt to a new way of driving in order to avoid ELD penalties. Some drivers may be cutting corners in order to adapt but it may also have a long-term benefit in that carriers are re-evaluating how they run routes and trying to reduce how much of a truckers time is wasted.
It's possible that truck carriers will want to utilize self-driving trucks in the future.
However, there are numerous problems yet to be ironed out. There are lots of mechanical issues and liability issues which will take many, many years to resolve.
Trucking Regulations – H.O.S. and California Emissions
H.O.S. – In line with the implementation of the ELDs, the government has also been paying special attention to driver's Hours of Service (HOS). The intention of the ELDs is to make drivers more accountable for their drive time.
Not that long ago, there were no electronic logs. Hell, if you go back far enough, there were no paper logs. When tired, a driver could sleep without fear of a dispatcher buzzing on the Qualcom. A driver could run until they were tired, instead of running till Congress dictated they had to stop and sleep… tired or not. Not anymore.
One regulation that ELDs are intended to enforce is the 14-hour rule, which specifically says that the driver:
"May not drive beyond the 14th consecutive hour after coming on duty, following 10 consecutive hours off duty. Off-duty time does not extend the 14-hour period."
While this rule has been around since 2013, it was common for driver's to "doctor" their driving logs to get around this regulation. ELDs make it impossible to manipulate driving records, which could impact driving safety. Whether that's the for the better or not, we haven't seen yet.
Emissions – Another issue that many may be dealing with is the updated emission regulations in California. The California Air Resources Board (CARB) set strict regulations for both small and large fleets of trucks that are transporting goods to and from California.
It meant that owner operators, myself included, had to give up our California lanes. Or adjust to the new emission rules, by purchasing a new emission-friendly truck, to the tune of hundreds of thousands of dollars. Thousands of independents and owner-operators opted out of bowing to these new trucks and gave up their California runs.
California has also passed a recent regulation that makes working as an owner operator nearly impossible in the state. I've decided to stop my routes there. California isn't the only place with freight and working there just isn't worth the hassle.
The takeaway: Old driving regulations are now under closer monitoring with the implementation of ELDs. It's best to practice safe driving no matter what even if the new ELDs make you feel like you have to rush through your route to make time.
Emissions regulations are common practice in larger cities. You can expect them to get stricter as cities continue to grow larger.
Keeping an eye on trucking industry trends and news will help you stay up-to-date on which states or cities you'll need to avoid or adapt to in the future.
If you don't have the dime to purchase an emission-friendly truck, then you'll need to relocate and search for work elsewhere. The fines are just too much to work around.
Related > D.O.T. Hours of Service Explained
Pay – Increases, But Is It Enough?
The trucking industry is growing exponentially each year. In 2018, it saw a growth of around 4.2% which is expected to decrease but continue steadily into 2024. This growth means a higher demand for drivers.
Despite many companies offering enticing sign-on bonuses to get more drivers in the door, they often come with so many stipulations and strings attached that they aren't worth it.
Even though pay rates are on their way up because of the significant driver shortages, they aren't offering enough raises to compensate for inflation and hours worked.
Unfortunately, with the implementation of ELDs, many carriers are still reeling from the high cost of switching over their trucks and are hesitant to offer a decent wage.
The takeaway: Shop around for the best company to work for with good routes and decent pay. You have the opportunity now to be picky and work at your discretion.
Related > 5 Important Things You Should Know About a Career in Trucking
Truck Styles – Electric Trucks
Not all change is about regulations and restricting the trucker's freedom. Some changes happening are exciting.
For example, Nikola is coming out with an electric truck. What an innovative machine! Cool looking too! I'm very anxious to drive one when they're ready. It's certainly something to look forward to.
The Old School Way – Loss of the Brotherhood of Truckers
One of the toughest things to adapt to with all the changes to trucking in the last decade or so isn't technology or regulations or truck styles. It's the loss of camaraderie among truckers.
Truckers used to chat on CBs to one another. They showed respect to others on the road.
I guess that's why it's kind of cool to see older restored trucks in pristine condition. To me, it shows there's an element of truckers out there who still consider trucking an honourable profession.
To survive change in trucking, we must be prepared to change. We must adapt to the changes, to be sure we remain profitable.
But no matter how the trucking industry changes, we can still bring back pride and brotherhood to our trucking industry.
Trucking as a career may have changed over the years. But, it's good to know there are some truckers out there who still uphold those old school ways.
They are the ones who recognize and aspire to belong to an old school trucker group with a set of core values. 
These are the loyal, dedicated truckers who work hard, take pride in their job and their equipment. This was once the foundation of the trucking industry and we shouldn't forget that.
I think with that strength and pride in our profession, we will be better suited to adapt to the coming changes whether it's self-driving trucks, more intense regulation, or a continued trucking boom.
Related > The Best Trucking Companies to Work For — USA
Don't Fear Change
One of the biggest advantages that drivers face right now is that they have the ability to pick and choose which company they are going to work for.
Trucking industry news is reporting steady growth and high-demand for truckers. Qualified drivers have the freedom to move on to new carriers if they aren't being treated well or paid enough.
Now is a good time to get out there and seek out a fair truck company, where you can earn a decent living and you feel contented and fulfilled as a professional driver.
How the Professional Truck Driver Can Take Advantage of Changes in Trucking
Take advantage of the 'shortage of truck drivers'. There's a shortage of professional drivers. The trucking companies need drivers and they need them badly, in large numbers. There's still an enormous amount of freight to be moved.
If as a driver, you are unhappy with your present trucking job, don't be afraid to go looking for a better job. There are plenty of good, solid driving jobs out there. As a driver, you must be prepared to buckle down, and seek out these good jobs.
Now is a good time to get out there and seek out a fair truck company, where you can earn a decent living and you feel contented and fulfilled as a professional driver.
More Articles