The Peterbilt 379 is the epitome of a real big rig!  Just when we thought Peterbilt couldn't improve nor out do themselves with the 359, low and behold, they designed and released the iconic 379 model.
The 379 was clearly aimed at the owner operator market. This long hood ride rose to be THE truck to own by owner operators and small trucking fleets.
It was Peterbilts' top selling model in every year they were built.
There's no doubt, the 379 was once the 'King of the Road'. It was and still is one of the most sought after models of trucks, in the used truck market.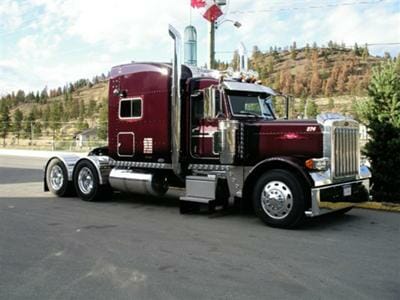 What a shame this fantastic design and model was discontinued.
Features of the Peterbilt 379
Air ride steering axle. This option was originally offered, but later discontinued (was in the 359). The movement in the front axle wore out bushings, tires, shocks etc.prematurely. There was also some difficulty in controlling the air pressure to the airbags, so it either rode too choppy or too soft. Recently, Pete brought back this option, after years of working at smoothing it's bugs and glitches.
Remote locking systems. The early 379's had remote locking systems with an entire book of options available.
Air ride system. The 379 Peterbilt is the best riding truck available, with 3 different air-ride systems, a system where the unit sits of 3 sets of air bags: there's air ride on the axle, under the bunk and cab(Unibilt) and also in the driver's seat.
Improved turning radius. In fact, this feature was also superior to it's competition, too.
Aluminum cab and bunk. Just like the 359, the cab and bunk was still the lightest on the market. The aluminum hood was very easy to tip, too.
Roomy under the hood. Just like the 359, the 379  Peterbilt kept the roomy area under the hood, so any engine and transmission combination would fit.




The 379 was always more expensive to buy than others on the market, but resale was then and still is now, 'tops' in the industry. In fact, even after the company has discontinued the production, the resale on a 379 Peterbilt, is even better now than ever!
Pete 379 Photo Collection