My winning Peterbilt 379 specs.
To make money as an owner operator, one of the most important things you need to do, is correctly spec your truck.
I like to spec a truck which is versatile, with reliable components.
These specs for my 2004 Peterbilt 379 are the specs that I've been following for decades, with only minor modifications on each order.
These truck specs have made me a lot of money as a truck owner.
Winning Peterbilt 379 Specs
This flat-top 2004 Peterbilt 379 is powered by a 475 Caterpillar diesel engine, 18 speed with 3.70 rear ratio, 380″ wheelbase, leather interior, wood wheel, 24.5″ aluminum wheels, dual stainless breathers and a 20″ Texas bumper…. midnight blue in colour.
It was spec'd to be versatile and with tried and true features. The long hood and flat top bunk are personal preference, but will also help to bring in a good buck when it's time to sell.
This truck was custom ordered in 2003. It has around 1,000,000 miles on it, presently.
When it was new, it worked running general freight to the the Southwest U.S. and hauled produce back from California and Arizona.
It's in excellent shape mechanically, as the drivers on it, were good drivers and knew how to drive.
It's done some hard work through the mountains on the back haul from northern California, but the Cat engine has held up well and is still going strong.
This Cat hasn't needed anything more than regular maintenance, since it was new.
It is spec'd for 5 axle work in a variety of terrain, although it can pull heavier weight if the need arises.
Lately though, I've avoided running in the mountains and pulling heavier weight because of the price of fuel…. the extra weight can really drive up the operating costs.
I find the compensation for the heavy loads, not sufficient to make up for the extra fuel costs and the wear and tear on the truck.
The specs have worked out well. Drop a gear or two and it pulls the hills well, yet still turns 1300 rpm in top gear for fuel economy and reduced engine wear on the flat interstate highways. Drop a gear and it turns 1300 at 55 mph on the two lanes.
Nothing touched on major components at all.
Related > 7 Tips For Buying Your First Truck as an Owner Operator
It was originally ordered as a 244″ wheelbase and then recently stretched to a 280″ wheelbase, when it started work hauling tankers. The extra space is great for mounting tool boxes for extra storage space etc., as tanker work demands hauling lots of extra gear around like hoses, safety suits etc.
I consistently get offers to buy it. But I'm not quite ready to throw in the keys.
I've been spec'ing and buying trucks, since 1984. So when I spec'ed this particular truck in 2003, I had refined the spec to exactly what I wanted.
Related > 10 Sure Fire Tips For Spec'ing the Right Custom Semi Truck
Specs For 2004 Peterbilt 379 Flat-Top
2004 Peterbilt 379, 63″ Flat- Top

Intended Service: General Freight
Front Axle Load (lbs) 12000
Rear Axle Load (lbs) 38000
G.C.W. (lbs) 80000

Engine & Engine Equipment

Transmission & Clutch

Fuller 18 Speed
1810 HD Driveline with single midship bearing
Eaton Fuller 15.5 Clutch Ceramic EP VCT

Air & Trailer Equipment

2 Alum Polished Air Tanks

Tires & Wheels

24.5″, Peterbilt Pit Alm Wheels

Fuel Tanks

26″ Aluminum 150 Gallon Fuel Tank -2

Alpine AM/FM/CD w/3 Disc Stereo unit

Cab & Equipment

Alum CVab 127″ BBc Alum Hood Severe Service Cab Pkg
63″ Low Hood Unibilt Sleeper
Thermal Insulation 63″ Low Roof Sleeper Berth
American Class Interior Desert Taupe

Frame & Equipment

1-3/4″ Steel rails, Steel Xmbrs, to 354″
Holland Air Slide 24.5″
Fifth Wheel Setting Behind C/L Bogie 6″
LH Fifth Wheel Release
Non-slip Deck Plate 42″
Dana Spicer E1320W 12,000 lb, 71″ KPI, 5″ Drop
Taper Leaf Springs With Shocks
Power Steering TRW TAS65 0 0
PHP10 Aluminum LMS Hubs, Cast Drums, 15X4 Brakes
Horton Roller Bushings For Steer Axles
Brake Dust Shields
Dana Spicer DSP41P
PHP10 Aluminum Hubs, Cast Drums, 16.5X7 Cam Brake Ratio 3.55 Axle
Peterbilt Low Air Leaf 38,000 lb
Dash Mounted Dump Valve, Indicator Light

Battery Box & Bumper

Alum Battery Box, with non-slip step
Steel Texas Style Bumper Chromed

Total Adjusted Price $124,711 CDN

Total Weight 13,721 LB
Related Article > The Best Trucking Companies to Work – U.S.
Wheelbase
The wheelbase is 280″, a slightly longer spec than most trucks. However, I found the extra length improved the ride considerably.
It also gives good swing dip clearance between the bunk and trailer, while still allowing me to load 12,000 lb or more on the steering axle.
I also like to have the extra frame rail length behind the fuel tanks to mount extra tool boxes.
The extra storage space is great to have, in order that I am able to carry whatever supplies I need for several weeks on the road, whether tools, a BBQ or whatever…. very handy.
I haven't found the longer wheelbase has adversely affected the turning radius or maneuverability of the truck and I believe the wheelbase will improve the resale of the vehicle over that of a shorter wheelbase 379 model.
Transmission, Drive-Line
The Pete has an 18 speed transmission meshed with 3.70 rears on big rubber. (24.5″)
With this setup, the truck runs about 1350 rpm at 65 mph and the same rpm one gear down at 55 mph for the 2 lanes.
The 3.70's are also still a high enough gear set to pull well through the hills. At 1350 rpm's, the 475 Cat gets decent fuel mileage and doesn't work too hard.
The low rpm's have contributed to the engine longevity and the truck now has over 1.2 million miles on it with no engine work on it other than regularly scheduled maintenance.
Caterpillar tells me it has seen these engines go to 1.7-1.8 million miles on occasion before a rebuild is required.
Rubber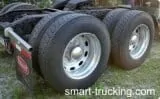 I prefer the 24.5″ rubber over a smaller diameter tire, because the larger tire allows more air flow underneath the truck, to keep the engine, tranny and rears cooler as well, as sitting high enough to avoid damage to the truck from any stray recaps I may happen to run over.
Finally, I believe the larger the diameter of the tire, the fewer revolutions the wheels have to make, resulting in longer tire life.
The higher sidewalls also help soften the ride of the truck.
The Interior
On the inside, there's a full gauge package, to help monitor all available information including temperature and vehicle performance.
The outside air temperature gauge is an option I've grown to like, not only because it allows me to compare the Pete's operating temperatures with the outside air temperature, it also lets me know when the temperature has dropped to the point that ice on the road has become a possibility.
You'll notice the wood steering wheel. I find it more comfortable than a leather wheel. Comfort is so important when you are holding the wheel for 11 hours each day.
Comfort is also the reason I use the Bostrom wide ride air seat with a low base. I can't say enough about the comfort level of these seats….a choice I'd highly recommend.
The interior is the 'leather' option (not real leather), but is easier to clean than the cloth interior, which also adds to the resale value.
The Bunk
The flat top bunk is Peterbilt's 63″ Unicab bunk and sits on its own air bag ride system. The bunk has a rear window to help bring light to the interior.
If I were to order another custom truck, I would add a sliding glass window to this rear window, to allow better airflow through the bunk and cab.
One should also be aware that one of the downsides of having a window in the bunk, is that it creates a cold spot in the bunk area on cold winter days.
However the window does have a roll down curtain, which helps keep the cold out.
The bunk has two full closets, one behind each of the seats in the cab and each with a storage shelf on top. The bunk also has a small shelf for a TV or laptop computer.
It's minimalistic bunk, compared to some of the big bunk trucks on the road today. There's no microwave or second bunk which converts to a couch or table.
The bunk is light weight, which lowers the overall tonne weight and allows for greater payload. I'm not sure I'd benefit from the extra options in the bunk anyway.
Resale and Some Added Features
It has always been important to me, that I get the best resale possible on my vehicles.
The long hood and the flat top bunk of the 379, not only brings great resale value, I think the combination makes it one of the best looking rides on the road.
4 States in Joplin, MO installed the 7″ exhaust system. Not only do I think it adds to the look, it has improved the fuel mileage.
The truck has all aluminum alcoa polished rims and dual stainless breathers, again for the look which will in turn increase resale $$ at sale time.
Related > Let the Truck Driver Decide, NOT the Truck Engine!
Reliability Plus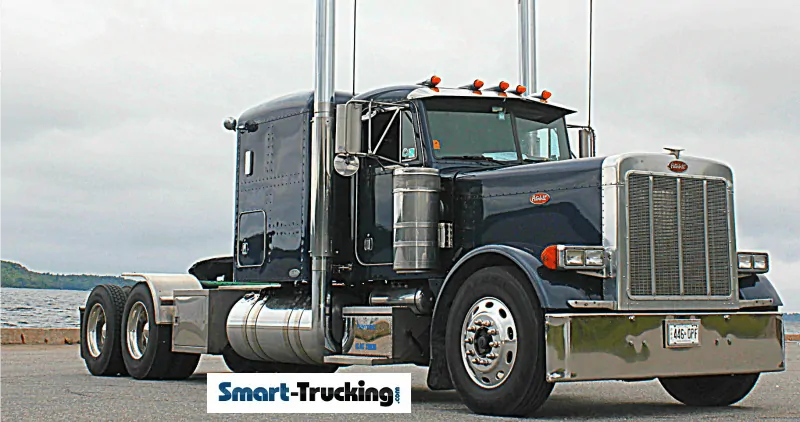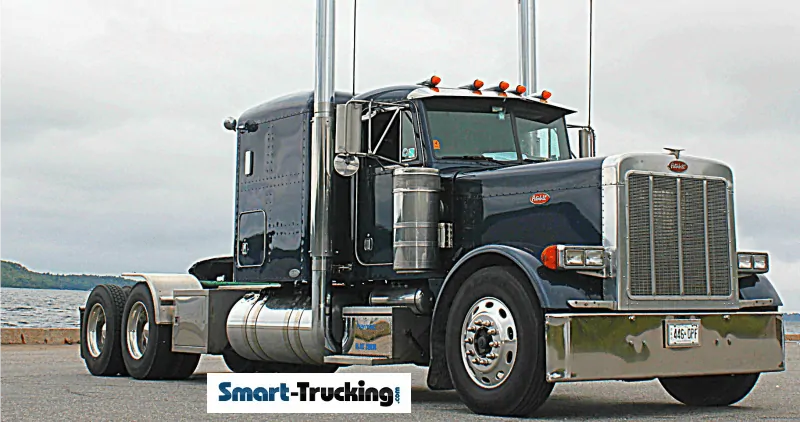 This Peterbilt was one of the first 2004's off the assembly line. I had hoped it would be a reliable truck for at least the next 4 years.
I've now owned this truck for 16 years and it's still going strong and far exceeded my expectations.
If I were to spec a new truck, there are a few things I would probably change.
Drop nose, rather than long hood. Fuel mileage is far more important now than it was in 2003. Diesel prices are so much higher and the freight rates in comparison are lower, hence a tighter profit margin. With that in mind, if I were to spec a new truck today, I would buy a rolling glider kit, probably a drop nose truck, with a high bunk, to improve air flow over the trailer. I'd install a fresh rebuilt pre-emission engine in the glider kit for the sake of reliability. However, it would be difficult to let go of the flat top, long hood ride!
Related > Long Live The Long Hood Trucks
The new emission engines are unreliable. Vehicle reliability is critical for an owner operator to survive in the trucking industry, these days.
New truck manufacturers these days also tend not to be upfront with the cost of operating one of these new engines which require DEF fluid. The annual additional cost of the DEF fluid is expensive, even when things are working well, which is seldom.
I wouldn't spec super single tires and rims either. NO matter what you hear, the truth is they have traction problems.
When a super single has a blow out at highway speed, chances are, you're replacing both tire and rim, as there's no support from an adjoining tire and it can drop immediately onto the road, grinding itself on the road surface until the truck can stop.
A tire shop's new best friend? The super singles! A new tire, new rim and a service call can easily exceed $1500!
The market in trucking has radically changed since my early days in the industry. It will continue to change.
My advice when spec'ing a truck…. build one that is versatile and suitable for the type of work you are doing or intend to do, but be sure it's not so specialized, that it's unsuitable for another type of work, should you need to switch jobs.
More Articles Which May Be of Interest to You