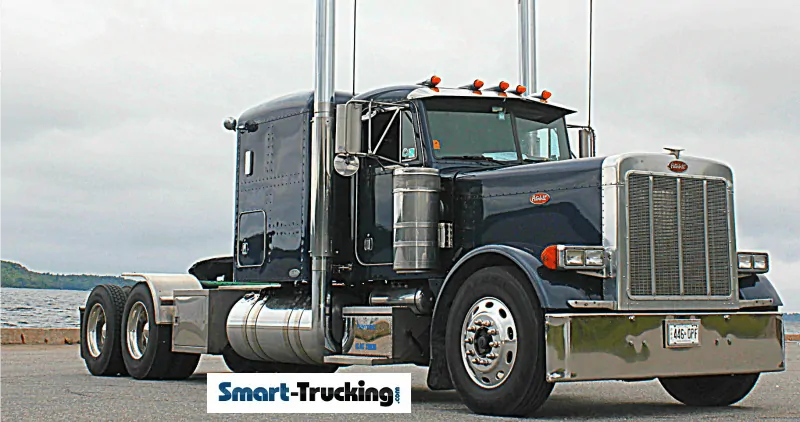 The best way to keep a big rig clean, is to hand wash it.
The Blue Beacon Truck Wash does a great job when you have no other option.
But a truck is an expensive piece of equipment and the power washers from commercial wash bays can be hard on the paint on a big rig.
If you happen to be running California, there are truck washes such as Little Sisters who do hand wash the truck, and it's a lot easier on the paint..
I try to wash and clean the truck each time I'm home, just to save a little money, as washing a big rig, is around 40 or 50 dollars U.S., and that's just for the tractor.
Steps to Hand Washing a Big Rig
Give it a good soak. Wet it right down. I use a good quality automotive soap rather than dish soap or detergent. It's a little easier on the paint and does a better job.
I like to use a soft natural fiber wash mitt. By doing the cleaning by hand, you can get in around nooks and crannies and not miss any of the hard to reach spots.
Clean a small area at a time, and then rinse it off right away. Make sure to give it a good rinse to get the soap off. It's best to do this on overcast day or in the shade, so it will dry evenly, and you'll avoid sun spots and streaks.
For the very difficult to reach parts, I  use an extended brush. They cost a bit, but they do a good job and they're great for reaching the high spots. I also have an attachment for the extended pole, to wash the stacks. The one I have is meant for 5″ pipes and mine are 7″, so it's tricky to use. But, I can reach around and can still do a decent job with it.
It can be a lot of work, but dry the truck if you're able with a soft chamois cloth.
Waxing and Polishing: For Protection and Good Looks
After the truck is washed and dried, it's good to put a coat of wax on it to protect the paint. The hot summer weather and the ice and snow in the winter, and whatever else, can really take its toll on a paint job.
I've found wax products, are like many things. You can pay a little more and get the really good stuff or you can pay a little less and get a lower quality product.
I like to use the best quality wax I can find. I apply it in a circular motion, in just small sections at a time.
Do a nice even coat then let it set for a minute or two. Then take another clean dry cloth and polish and buff it out. By polishing little sections at a time, it's easier to keep track of where you've done and where you haven't. It also makes the job more manageable. I just like to putter away and do a section at a time between loading or unloading or when I'm on my 30 minute break, just to keep up with the maintenance and care on my truck.
After applying a good coat of wax in the spring, I like to use a spray wax in between major waxing. It's less strenuous, faster and keeps the shine up. It helps keep the dust off the paint job. It does a marvelous job. Just spray on the wax, rub it on and let it sit for a minute, and then buff it out again. The was coat gives the truck a nice shine, helps protect your paint job, helps protect your investment. In turn, you'll get more money for your truck when it's time to trade up.
Use of a Ladder
Here's one advantage the flat bedders have over the rest of us. They carry ladders. A ladder makes it a whole lot easier to reach up to the high spots that need cleaning.
Remember to be careful when you're up high, especially if there's no one else around. If you fall, it hurts like heck! Make sure the ladder is well-braced and balanced, in a good level spot. Be very careful.
Add a Coat of Wax to Chrome Parts
It's also a good idea because chrome is made so cheaply, to put a quick coat of wax on your chrome. Just apply it and wipe it off. It'll help protect the chrome from the weather and particularly from salt in the winter. It just takes a few minutes.
The stacks on my truck cost $3000. If I can make them last the life of the truck, I'm $3000 ahead! I don't want to replace them because they've corroded. A simple coat of wax will help keep them looking good.
Clean Off the Rust
To clean off the rust my truck, I use Turtle Wax Chrome polish. It's inexpensive and it does a really good job. It lifts the rust off with just a few easy circular motions.
Polishing the Aluminum
Another good idea for truck clean up is try to bring back your aluminum after it suffers through the salt all winter. Not everyone spends the time or money to have the aluminum machine polished.
Doing your own polishing is pretty simple to do. You'll need a hand buffer for this task, or it can be done by hand.
One thing I don't like about buffers is they tend to spray. I don't like spray all over the place, so I usually just do a quick clean up of the aluminum rims initially then I'll take a buffer to them, when I'm in a more remote area and I'm not spraying the vehicles around me.
I've tried just about every product on the market for polishing, but I like California Purple Polish for polishing aluminum rims. I think it does a really great job. It doesn't take much elbow grease, which is one of the things I like about it. Just rub it on in a circular motion, just a little at a time.
In order to do a good job, be prepared to spend some time if you decide to polish your chrome. Although it can take some time, the results are worthwhile. It's much cheaper than paying to have the rims polished out.
Keeping Your Big Rig Clean & in Tip Top Shape
I like to do a thorough job on my truck exterior maintenance in the spring. It's a good use of my time, if I'm waiting to load or unload.
Cleaning and polishing keeps the truck looking good. It may even help you slide through the occasional DOT inspection If you look like you've got a nice clean, well kept unit, they just may wave you on through.
Big rigs are an expensive investment. With a little work and elbow grease every week or two, it's possible to keep your truck looking like new.
Even if you don't own the truck, it's a good idea to keep it clean. A clean, well maintained truck, is a sign of a professional.
Related Articles