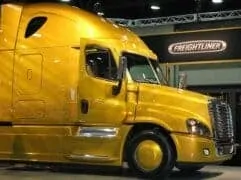 A well known trucking Canadian trucking company, Bison Transport, has a terminal in Mississauga, Ontario.
They are a sizable company with one thousand, five hundred tractors and a ratio of 3:1 tractors to trailers, employing company truck drivers and owner operators.
Bison is a full load and LTL carrier, with runs all over Canada and the U.S., however, most of their runs go to the eastern U.S. and to their main terminal in Winnipeg, Manitoba.
They operate mostly Freightliners with automatic transmissions. Drivers can expect around 12,000 miles per month at Bison, which we know translates to good miles, but can also mean a pretty strict schedule, with long days, and a lot of time on the road.
Company truck drivers must be available for work 24 days in each month.
Bison indicated they are now hiring company drivers. They also indicated they will hire newly licensed truckers without experience, and can be matched with a driving partner as part of a driving team.
What We Like About Bison Transport
 We spoke with a very knowledgeable driver recruiter at Bison, who was able to supply us with complete answers to all of our questions pertaining to the company operations and company driver pay packages. They were respectable and friendly.
Bison was one of the few companies who compensated the company driver for delinquency time and as should be noted, at a decent rate too, $30/hour.
Their tractor units are equipped with fridges, a very nice perk.
One of the few companies who paid for on-the-road resets.
Fitness facilities available at each of their terminals…. very nice health benefit. WE LIKE THIS A LOT.
We received a note from a present Bison Transport employee indicating Bison tracks the drivers miles for the week, and Friday at 12pm, does the required pay calculations and direct deposits the $$ to the employee's bank account, and WITHOUT TRIP DOCUMENTS! Very nice perk, Bison…. WE LOVE THIS.
A Few Things We Didn't Care For
They indicated that 98% of their loads were no touch loads, however, 2% of the loads could require manual unloading. However, we felt that at least they was being honest about the fact, that there may be occasions where the driver was required to assist with the unload.
Slip seating.
Since Bison is a multiple terminal carrier, when in another jurisdiction, drivers would be dealing with different dispatchers and fleet managers. We find the practice of a single dispatcher/supervisor for each driver, to be the best practice for the benefit of the truck-driver. This system has the potential to be a dispatching nightmare, if not handled well.
Bison Transport – Company Driver Pay Package
Company drivers are paid .38/mile for Canadian miles and .40/mile for U.S. miles
Drops and pick-ups are paid at the rate of $30/each.
Waiting/delay times are paid $30/hr
Resets on the road: $50
Layovers are paid $100/after 24hr, and every 24 hours thereafter.
Border crossings pay $8/per occurrence.
Training/orientation for new hires is 3 days and is held in Winnipeg at their main terminal. Hotel and lunch costs are covered as well as some pay to compensate for the time ($amount not available)
There is no compensation offered for the time spend completing the daily circle check.
Health care packages are available, after 3 consecutive months of employment. No details of the coverage was available.
Truck drivers are assigned a $100 float for out of pocket expenses, and are reimbursed on a weekly basis, by T-check.
Summary
All things considered Bison Transport seems to have a pretty decent salary package to offer a company driver.
Truck drivers who are not owner operators are much less likely we find, to be paid for their waiting time.
Bison says they do offer a wage for the driver's waiting time, and a very decent hourly wage for doing so.
I'd recommend Bison based on their pay package as it's hard to find a trucking company these days who will pay the driver an hourly wage for delays.
Good stuff, Bison!
More Articles You May Like …….