Car hauler jobs are specialized trucking jobs. This type of work requires a specific skill set for the driver, outside of the regular skills and duties of other types of driving jobs.
Car carrier jobs are considered a 'specialty niche' in the trucking industry.
I always say one of the best ways to learn about a particular trucking job in this industry, is to get it first-hand, from a trucker that has experience in the field.
Here's some first-hand info from a trucker who knows the ropes in the car hauling business.
The Scoop on Car Hauler Jobs
This is an interview with Caroline. She's a trucker who specializes in pulling car trailers.
Car Hauler Jobs. This is a very specialized kind of trucking job. What are a car hauler's responsibilities as a driver?

The responsibilities of a car hauler are many. The driver must inspect the vehicles for any damages, and note the damage on the pre- inspection report. If the damage isn't noticed or recorded, the damage costs will be deducted from your pay.
The driver must examine the load, to decide what car goes on what deck. The size of the vehicle must be considered, as the load can't be over length or too high.
Then the loading begins. First, set the decks to load. On a ten car trailer, the first car is backed onto the overhead deck. It gets chained or strapped down. Then, the second car goes on. Once the top deck is loaded, the decks are lifted and set.
Now, the bottom deck is loaded. The vehicles must all fit together like a puzzle and this comes with experience.
The driver must also make sure the load is of course, DOT legal, according to height, weight and length.
Does this type of work demand being available to do long haul driving? What are some of the destinations?
Some car hauler jobs with some companies run coast to coast, some do local work. It all depends on the company and what their customer wants.
I've traveled from Eastern Canada to as far away as BC, with a load of BMW's. I travel frequently to Toronto with Audis.
Describe the process for picking up a load for a dispatched trip.
First, the driver will receive their trip package from dispatch with a list of vehicles and VIN numbers. Then, the cars must be inspected to match up the VIN's to the cars, inspect for damage, which is recorded on the inspection sheet. Dispatch receives a copy of the report.
Now, the fun begins on to figure out the best way to load each of the vehicles on the trailer. When you've successfully loaded, check your turning radius so that you don't crunch a vehicle when making a sharp turn leaving! Then, it's time to hit the road and go make your delivery.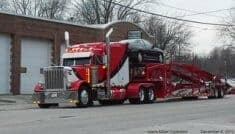 When the truck is moving, is there any unusual movement from the cars on the trailer?
Yes, sometimes there can be unusual movement of the vehicles when on the trailer. Sometimes, a chain or strap can come loose causing a little movement of a car. When the truck stops, the load must be checked to be sure the load is still secure and safe. When hauling Audis that are bagged, the driver needs to make sure the bag is intact as some tend to fly apart .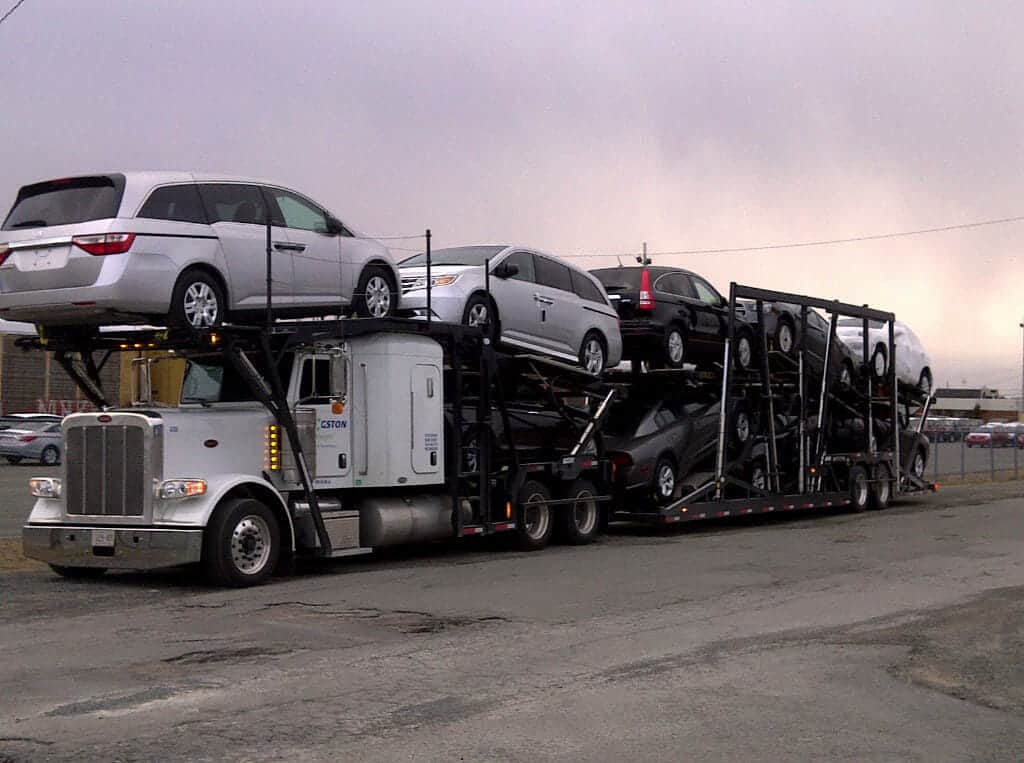 What special precautions does the driver take when driving a loaded car trailer?
Car hauler drivers take special precautions with their loads. The driver needs to be familiar with the surroundings, as an average car carrier sits 8 inches off the ground. The driver must always take care not to hit a curb, watch for gravel on the road as it can fly up and damage paint on a vehicle etc., always on the lookout for low bridges, wires, low hanging trees which can cause damage to the load.
Related > 7 Things You Need To Know About Your First Year as a New Truck Driver
How is a car hauler driver paid? By the vehicle, by the mile or percentage? Is the pay lucrative?
Every company is different on how they pay for car hauler jobs. As an owner operator with my company, I get paid a percentage of what the load pays. As far as Class A trucking jobs, the pay is more lucrative than pulling a dry van or reefer. A car hauler's job responsibilities start when we load and when we unload. The driving part is the break in between loading and unloading.
So, yes we tend to make more money, but also the equipment is more expensive, too.. The last new Peterbilt I purchased was $268,000 US for truck and trailer. They certainly aren't cheap…. so we don't haul cheap cars on them, either!
Where did you get your training to do this specialized type of trucking? Where could a driver get training if they were interested in car hauler jobs?
In order to be trained for car hauler jobs, a driver can learn from someone who is experienced in this type of work. The training is overwhelming at times but I found that I still learn something new everyday. There's lots to learn about how to place the decks in order to fit the load.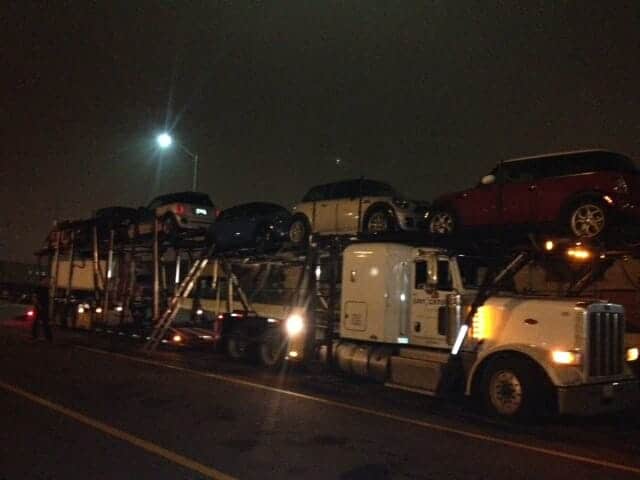 Are car haulers in demand? (Canada? U.S.?)
Car hauler jobs are good as they are in demand. The cars need to get to the dealers and it's such a specialized job, that even if you have your Class A license, a driver just can't grab a load of vehicles and go.
The driver must also be able to load and unload the vehicles, which is tricky and very stressful at times . The decks can be covered in ice, frozen, if it's windy it's a dangerous deal. Never load cars in thunder and lightning as the trailer is a magnet for lightening.
Related > 9 High Paying Truck Driver Jobs You Should Know About
Any particular trucking companies you'd recommend if someone were looking for work hauling cars?
In Canada, there are only a handful of car carrier companies that hire but most are willing to train. Most companies hiring require 2 years experience as a car hauler.
What do you like best about this type of trucking?
I love the freedom as a car hauler. There's no appointment need to deliver cars. There's no one screaming that the cars are late. The driver can night drop at most dealers. I've always enjoyed a challenge in trucking and hauling cars is where my heart is. It's the hardest job I've ever done in trucking, but it's also been the most rewarding.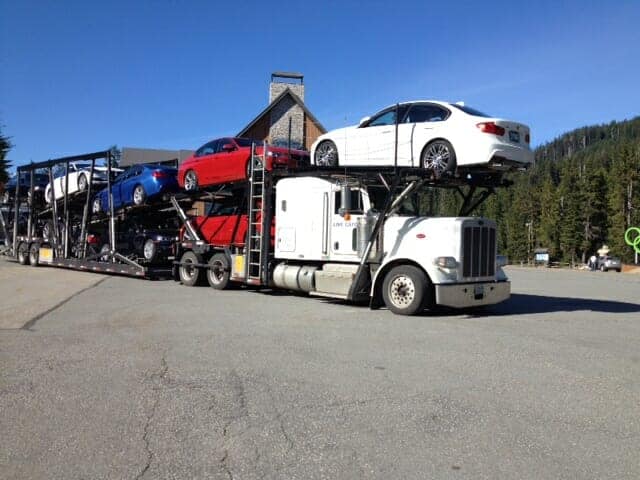 Anything you don't particularly care for about car hauler jobs?
The part I like the least is loading and unloading cars, when the weather is lousy, and when it's freezing cold, as I'm dealing with frozen decks, and that's not fun.
As a female driver, are they any particular challenges doing this kind of work?
The hardest part of being a female car hauler is that some people assume that women can't do the job because of the physical abilities needed to do the work. But it can be done.
It not an easy job but once your loaded and trucking, it is very rewarding to know that you are one of few women car haulers on the road!
I'm very fortunate to work with such a great team of men who support me as a female trucker and car hauler.
Specialized trucking.
Car hauler jobs are very rewarding and challenging trucking jobs, but I can say without a doubt, I'll be a car hauler forever and I'll never go back to hauling any other type of freight!
It would be great to see more women truck drivers get into car hauling. Yes, it may be a bit harder, but the bottom line? We are a unique, tight knit group of truckers doing specialty trucking and we love what we do... it doesn't hurt that the pay is above average, too!
Where Would You Like to Go Next?