Buying the right truck is a crucial step in becoming an owner operator.
If you are in the market to buy your first truck as an owner operator, there are some important things you should consider.
These tips will help you narrow your search so you can buy your first truck with confidence.
Tip #1 Decide whether to buy a new truck or a used truck.
The first step to narrowing down your search for the right truck for you is deciding whether you want a new or used truck. There are pros and cons for both options.
Buying a New Truck – A major advantage to buying a new truck is that a new truck comes with a warranty. A warranty can be a major benefit, especially considering the fact that some makes and models are not necessarily reliable.
A big drawback to buying a new truck is that they are expensive.
Buying a new truck can be a painful investment for someone who is hoping to make more money as an owner operator.
Keep in mind, if you are purchasing a new truck it's important to establish a relationship with a dealership, a salesman, and a repair shop. You'll need to work with all three to keep your new rig working great.
Buying a Used Truck – A used truck can be a good option for a first-time truck. However, used equipment is always a gamble.
While a used truck may be appealing initially because of the cheaper price tag, you may wind up paying more in costly breakdowns and loss of road time.
Even if you have experience repairing big rigs yourself, you may find that you are spending all of your downtime fixing your truck.
You can find a reliable used truck by checking with trucking companies. They will sometimes have fleet trucks which they sell.
Another option is to purchase a truck which has been owned by someone who you know.
Related > What You Should Know About Buying a Used Big Rig
Tip #2 Find a good salesman.
Take your time to seek out a good, reliable salesman. It's worth the effort. Otherwise, you may get wrangled into a bad sale.
There is no point in having a salesman who is just focused on his commission rather than building you the truck you want.
Ask around to find out one with a good reputation and has knowledge about heavy trucks.
A salesman with experience in this field is invaluable. They understand what features and specs a truck needs in order to do the job well.
You really want to avoid a salesman who was selling Buicks last year and maybe next year he'll be selling ice coolers!
Find one who knows what you mean when you tell them you're looking for a reliable long-haul truck or dependable engine.
Related > Financing Your Truck – A Practical Guide for the Owner Operator
Tip #3 Choose the right truck for your type of hauling.
You need to be clear on what type of work the truck will be doing. This is important as the specs of the truck will give you the truck that you need.
For example, it's unnecessary to have a double frame if you'll be hauling general freight.
Nor is it necessary to have an overpowered engine if your payload won't be grossing over 80,000 lb.
This will also save you money as you won't be paying for features you don't need.
The truck only needs to be as versatile for what you intend to use it for.
Related > Quick Guide For Choosing the Best Make of Truck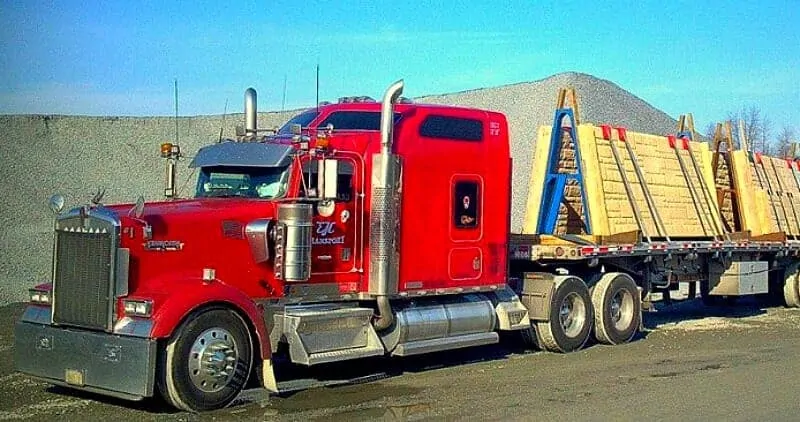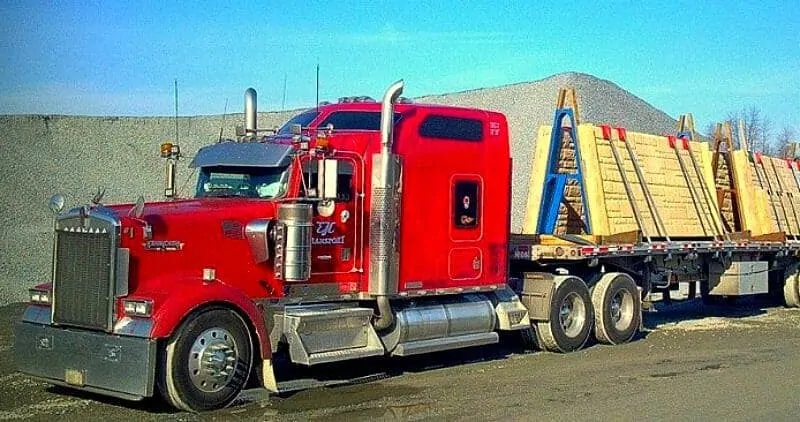 Tip #4 Consider choosing a nearby repair shop or dealership.
You will be surprised how often you will need repairs and maintenance on your truck.
A conveniently located shop will keep your travel time to and from the shop to a minimum, which will also save you money.
It's great to just drop off your truck and go home, rather than hang around the shop all day because it's too far to go home and back again to pick up the truck. Not to mention coordinating a ride home.
A nearby shop is a big time saver for your first truck purchase.
Tip #5 Choose a competent, reliable mechanic.
Best way to find a good mechanic?
Ask around to find out the experiences of other truck owners for a mechanic with a good solid reputation.
Online reviews are great too but you can't beat a direct word-of-mouth recommendation.
Reliability is just as important as competence.
Even if you've found the best mechanic around, they won't be much used to you if they're booked out for 4 months or cancel your appointments at the last minute.
Tip #6 Prioritize what you want from your truck.
Do you want a toss away truck which you only plan to keep for a few years? Do you only plan on being an owner operator for a short period of time?
It is possible that an inexpensive, used truck from a lot such as a used Volvo or a used Freightliner will do the job well.
If you are planning on being an owner operator for the long term then you'll probably want something with more reliability and longevity.
You may find that a Kenworth or Peterbilt is a better choice for you.
Related >8 Tips To Protect Your Truck From Damage At Truck Stops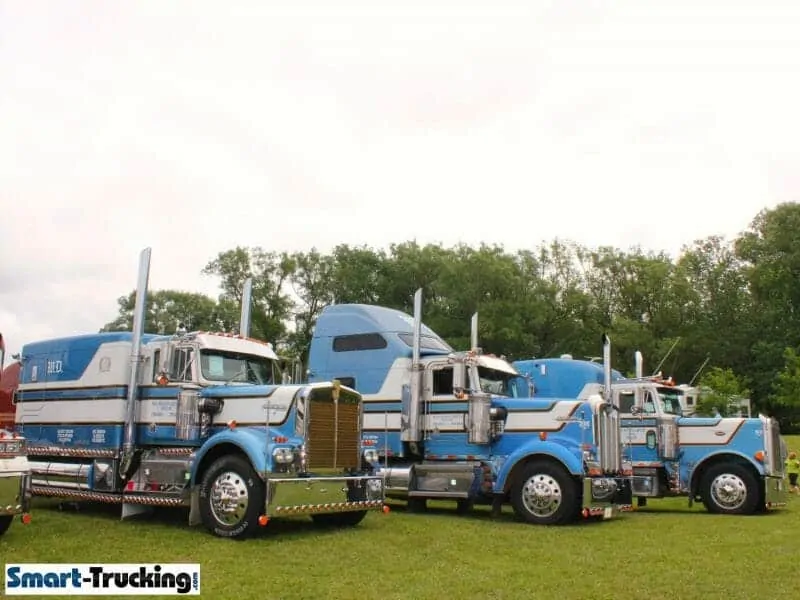 Tip #7 Consider buying from a trucking company.
If you are presently a company driver for a big fleet, they may have decent trucks which they are trading in.
Consider buying one of their used trucks which you know has been well cared for and one where you can examine the maintenance and repair records.
Not all fleet trucks would fall into this category, but some trucking companies do an excellent job of maintaining their trucks.
If you are a company driver wanting to transition into becoming an owner operator, this is a great way to do it.
If your working relationship with the company has been positive and you enjoy working with the company, this might be a smart way to go about becoming a truck owner.
You may have had your eye on a particular truck at your company. Perhaps it's a truck you've driven since starting your employment with the company.
This is a nice, easy way to transition from company driver to owner operator.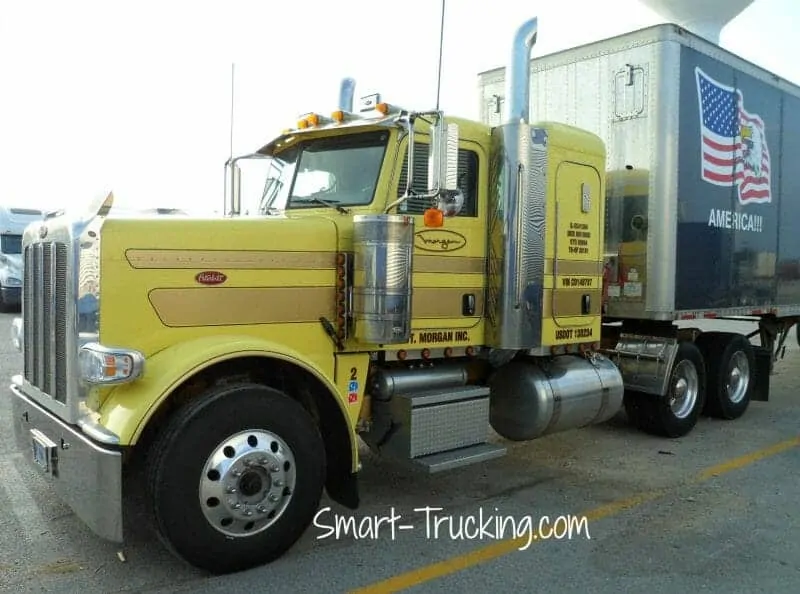 Buying Your First Truck – Take Your Time!
Buying your very first truck as an owner operator is serious business. It is a major consideration and a major purchase.
If you have the ability it is worth it to take your time to find the best truck.
Do your research in order to find the make, model, and specs that suit your needs.
Ask around and find the best dealership near you and choose a dependable mechanic.
If you take your time, you'll wind up with a much better deal and a dependable truck that is best suited to your needs.
HERE'S THE VIDEO VERSION OF THE ARTICLE.
More Articles For You