You've made the decision to buy a truck? But do you know the ins and out of financing a semi truck?
In this post, we'll cover what you should know about:
The options available to finance
What to expect when you're financing
How to apply
Understanding how your credit score will affect the process
The downpayment
Payment options
The industry lingo when it comes to buying a truck
After all new trucks can cost $100,000, depending on the size, style, horsepower, and the engine.
Because you are investing a large amount of money the most important asset as an owner operator, it's critical to finance that truck in a way that is best suited for your situation.
But before you sign anything, it's best to understand what sort of financial agreement you are committing to.
By having a firm grasp on the financing process, you'll ensure the ongoing success of your owner operator business.
1. KNOW YOUR OPTIONS -FINANCING YOUR SEMI TRUCK
Finance a truck.
As as a first time (or repeat) owner operator through a direct purchase from a leasing company or by financing offered through a carrier.
**WE DO NOT RECOMMEND LEASING OR FINANCING WITH A CARRIER**
Traditional loan.
Loans are available to finance your truck.

These are typically more difficult for most owner operators to qualify for, so they are rarely utilized nowadays.
Leasing.
There are two different kinds of leases to consider.

Keep in mind the pros and cons of both and decide which one works better for your business.

In certain situations, a lease may cost more than a traditional loan.

Leases are easier to qualify for than traditional term loans.

They include more flexible terms compared with equipment loans and are often obtained without a down payment.

There are also leasing options specifically for financing a fleet of trucks if you are a start-up trucking company.
Since we don't recommended lease to own programs through carriers and an outright purchase by a traditional loan is tough to qualify for, we'll focus on the two types of leases available.
Related > Why Lease Operator Programs Don't Work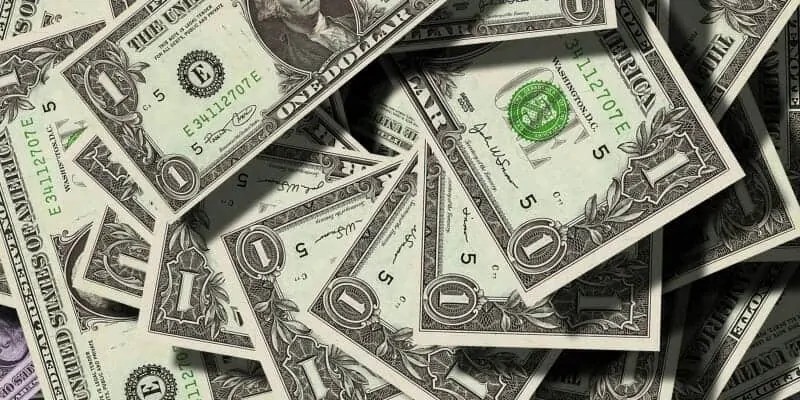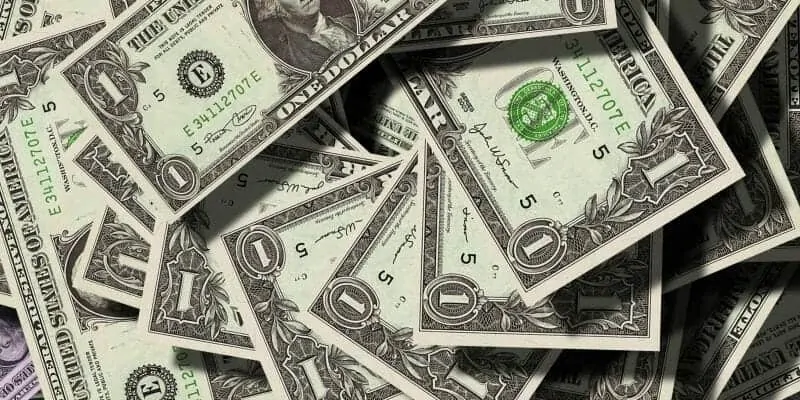 1. CAPITAL LEASE | "FINANCE LEASE" – TYPICAL OWNER OPERATOR LEASE
A capital lease is more like a loan. At the end of the lease, the vehicle becomes yours.

Throughout the loan, you are considered the owner of the vehicle and are therefore responsible for maintenance, taxes and all costs related to the ownership, operation and care of the truck.

The leasing company will offer you the option to purchase the truck at the end of the term at a price less than fair market value. This buyout amount typically ranges from $1 – $100.

So after all payments have been made, and the small buyout amount is paid, the vehicle is free and clear.
Length of Lease
A capital lease term for semi truck financing exceeds 75% of the estimated life of the truck.

Most capital leases are either 48 -60 months. Longer terms are available, but typically I don't recommend longer terms.
Value of Lease
The value of the lease payments equals or exceeds 90% of the total original cost of the equipment. So the majority of the cost of the equipment is financed, with the other 10% (more or less), typically being the downpayment.
Advantages of a Capital Lease
Not only can you depreciate the asset but the interest amount can be expensed and deducted as an operating expense. This can be a huge benefit for owner operators and start-up trucking businesses .
Disadvantages of a Capital Lease
If a capital lease is right for your business, there are no real disadvantages.
2. OPERATING LEASE
An operating lease is more like renting than a capital lease.

This is usually the preferred lease option for companies wanting to start a fleet.

You are given permission to use a truck (or trucks) by the lease company for a monthly fee. Your lease can be cancelled and your truck could be transferred to someone else.

Lease payments are considered operational expenses.
Length of Lease
An operational lease term for semi truck financing is less than 75% of the economic life of the truck.
Value of Lease
Just like with capital leases, the value of the lease payment usually equals or exceeds 90% of the total original cost of the equipment. However, some lenders will calculate the full amount of the lease payments from income.
Potential Disadvantages
Operational leases place a high financial commitment on a monthly basis for the use of the truck.

Not only that, but the truck stays off your balance sheet. You can't claim depreciation or get that tax write-off. Payments on an operational lease can be quite stiff, due to the fact that some of the operational costs of the truck are worked into the payment.
Advantages of an Operating Lease
Taxes are simplified with an operating lease since the truck is not included on your balance sheet.

Lease payments are operational expenses and they are fully tax deductible.

Companies that choose an operating lease have the flexibility to replace their equipment frequently and reduce their risk of working with out-of-date equipment.
Related > The Complete Semi Trucks Guide – The Only One You'll Ever Need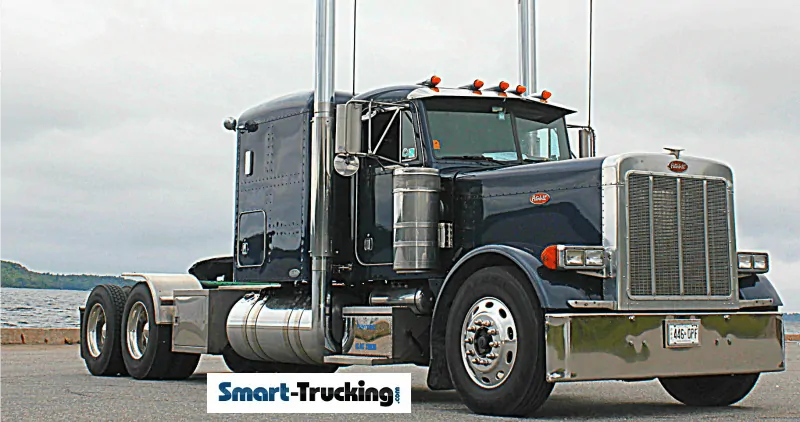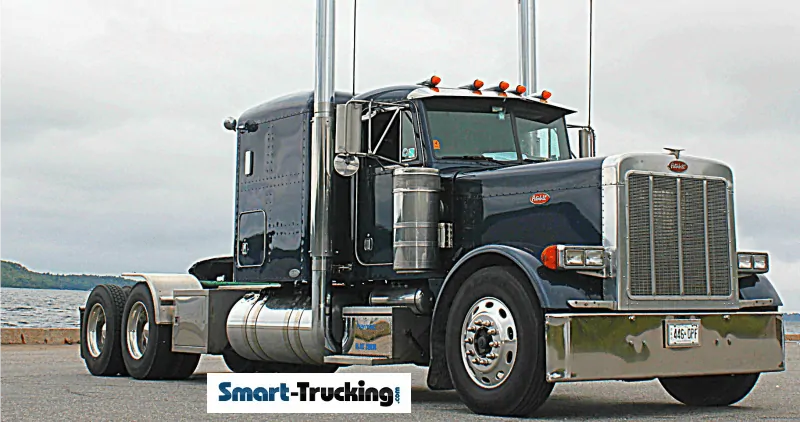 2. HOW TO PREPARE TO APPLY FOR SEMI TRUCK LEASING
Before you apply for semi truck leasing, make sure you have a clear understanding of your credit situation. Know where you stand financially.
Have a plan that demonstrates to the funder that you are able to secure work and make your payments on time. Having a contract is the best way to illustrate to a funder that you have secured work and will continue to be employed.
Be sure your income tax situation is stable. You have filed your tax returns and paid all amounts due to the tax man. 
Choose the best lease method to suit your business model. Advice from a trusted, qualified accountant is worth it's weight in gold.
Related > How to Spec Your Truck to Get the Truck You Need
3. KNOW WHAT TO EXPECT WHEN APPLYING FOR FINANCING
Applying for financing when buying a truck can be an intimidating process. Knowing what to expect can ease the stress.
When you a ready to submit your info for truck financing
Have your financial documents in order. If you are not a registered business yet, do that before submitting your application. This information may include:
How long you've been in business.

How many trucks you want to buy.

Profit and loss statement, and/or previous tax returns.

Credit information

The dealership should provide you with the details of the vehicle, on a bill of sale.
Complete the application. The financing company will help you with any additional information they may need.
Once approved, thoroughly review the lease structure, monthly payments, interest rate, and length of your lease agreement. If everything looks in order then you can submit for approval. (I'd recommend having a reliable accountant check thi

s.)
The process can be completed as quickly as 24 hours.
Disability Insurance — Keep in mind that you may have to purchase disability options in the event of your passing or injury that prevents you from working. A major contributor to bankruptcy is an injured truck driver who is unable to work for several months. Disability insurance will make the lease payments until you are able to return back to work. There is no medical exam required.
4. UNDERSTAND HOW YOUR CREDIT SCORE WILL AFFECT YOU
Before looking into a truck lease, take a look at your credit score.
While a perfect credit score isn't necessary to qualify for a commercial truck lease, you typically have to have a credit score of 600 or more.
A lower credit score will also influence your minimum payment, down payment and interest rate. So, having good credit (or at least decent credit) is a major advantage.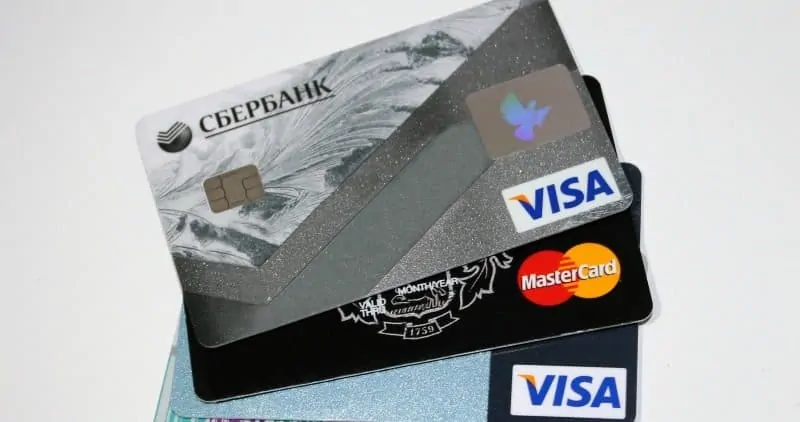 Related > Best Truck Engines + The Worst – A Trucker's Guide to Getting the Right Engine
5. HOW BANKRUPTCY AND POOR CREDIT MAY AFFECT YOU
Don't worry about financing with poor or no credit.
You can still qualify for semi truck financing.
There are various ways for a previously bankrupt individual to acquire financing.
If you are discharged from bankruptcy, you may still apply.
If you have a co-signer to help reduce the risk and therefore reduce the rate. This is optional and does not restrict you from getting approval.
If you use existing, free, and clear assets to secure the loan.
6. HOW THE INTEREST ON YOUR PURCHASE IS DETERMINED
Interest rates are based on personal credit factors.
Both personal and corporate profiles help the lender determine if the potential lessee is considered A through D credit.
Terms are flexible for all credit criteria but having GOOD SOLID credit is always an advantage.
7. YOU MAY HAVE PAYMENT OPTIONS AVAILABLE ON A LEASE
The overall monthly payment for operational and capital leases is based on either income or the value of the truck.
Your lender may have a varying payment schedule to match your business revenues.
Sometimes seasonal payment options are available if the business qualifies (i.e. 6 months on and 6 months off.)
8. UNDERSTANDING HOW MUCH IS NEEDED FOR YOUR DOWN PAYMENT
There is plenty of flexibility when it comes to down-payment options and it really depends on your business and the lender you're choosing.
Individuals applicants are scored on their business type as well as personal credit bureau.
If you have strong enough credit then often no down payment will be required.
Most funders will require minimal. However, no down payment is possible too, if the credit is strong enough to support it. 
However, some will have a deposit of between 10-30% of the value of the vehicle. This can be a huge amount to put upfront so choose your lender carefully.
Credit is not the only determining factor in downpayment for semi truck financing. For example, some lenders give favourable consideration to businesses operating for 2 years or more.
Some creditors request financial statements based on equipment type and amount of exposure.
Trucking businesses usually have a higher success rate and therefore are preferred and weighted generously.
Some lenders will take "asset type" into consideration. They may set requirements on the age and mileage on the truck you want to purchase.
Often a downpayment is recommended even if you qualify for no down payment because it reduces your monthly payment considerably.
Related > Our 10 Best Tips For Owner Operator Success
9. TERMS OF PAYMENT FOR NEW AND USED TRUCKS
Your lender will help you determine the best terms of payment for semi truck financing.
The terms of payment will depend on your loan and truck or trucks.
 new vehicles are better suited to a longer-term payment plan.
 used vehicles are best suited to short-term plans such as 24 months to 84 months.
10. WHICH TRUCKS QUALIFY FOR FINANCING?
Your lease terms may require you buy from certain dealers and may exclude private sales or set requirements for used trucks.
It is best if the truck being purchased is free of all incumbents and liens (free and clear).
New trucks usually will have a very competitive rate, very similar to factory financing.
If you are buying a used truck, in order to qualify for a capital lease, it is recommended that it is less than 10 years old or has less than 700K in mileage and is in good operational condition.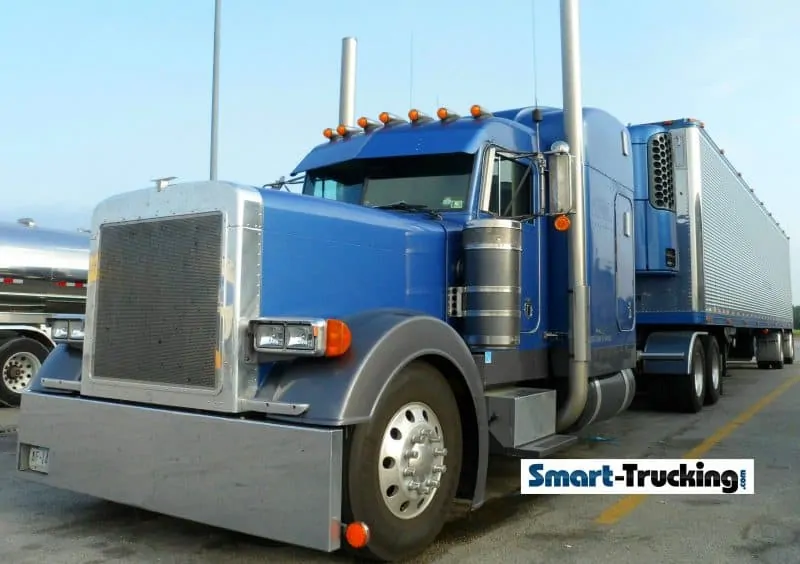 It is important to understand the process involved with purchasing your biggest asset as an owner operator.
This will help to strengthen your confidence, knowing you are making good solid decisions for your business.
Hopefully, you have a better understanding of some of the basics of semi truck financing and feel comfortable moving forward with becoming an owner operator or financing a fleet of trucks.
MORE RELATED ARTICLES
F.A.Q.
What should I know before buying a semi truck?
There's a LOT you should know before diving in to buy a semi truck. Do you want a new or a used truck? Do you understand how truck financing works? Do you have experience as a truck driver or are you new to the industry? How much can you pay for a down payment? Do you have work for the truck you are buying? It's advisable to do your homework and be methodical when buying a big rig. It's an important part of your owner operator business. A bad purchase could destroy your livelihood.
Is it hard to get financing to buy a semi truck?
If your credit is solid, getting a loan or lease to buy a big rig should be a straight forward process. If you don't have good credit, there are specialized programs where you may be charged a higher interest rate on your payments.
How much downpayment do I need when buying a big rig?
Much depends on the time of loan or lease you are entering into. Some companies like 10%, some less.
I'm buying a used truck? Does that mean I can't finance the payments?
No. You can finance a used truck. Tell your salesman that you wish to finance the used truck you are buying. He should be able to guide you to a company that specializes in financing used heavy equipment.