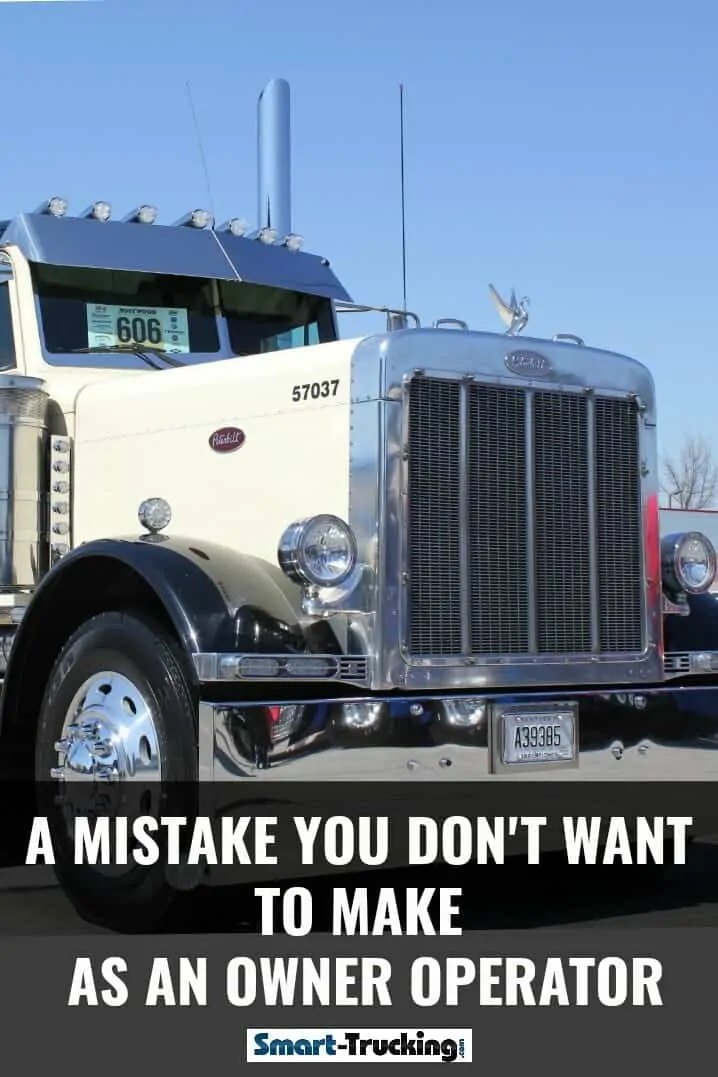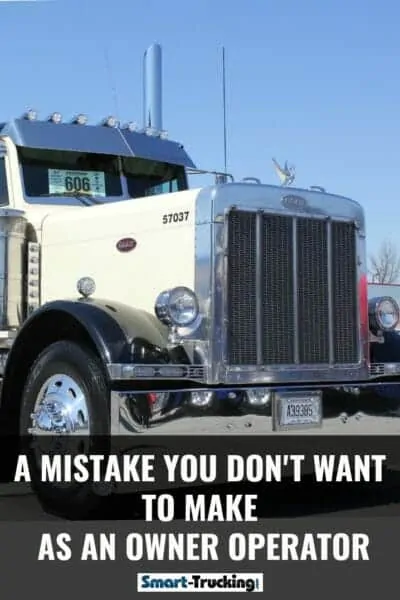 The most common and biggest mistake owner operators make, is NOT constructing a budget or cash flow projections for their trucking business.
Record keeping and reviewing the numbers, should be of the utmost important to the owner operator.
Yet, it's surprising just how many truck owners consider this a low priority in their business. It's a given those operators will find themselves out of business eventually.
A Serious Mistake Owner Operators Make
Constructing a budget is a wise move. In fact, it's a must do, for a successful owner operator.
The budget should include your personal expenses along with your business expenses from your trucking operation.
The budget should include measures for 'back up funds' (reserve money) for unexpected costs such as truck breakdowns, lack of miles, freight delays, personal needs etc.
Some operators will just pay their bills and live off what's left, until the next pay check appears in their bank account. This is a recipe for disaster and failure.
It's easy to get away with this methodology for the short term. But, I can guarantee that all will catch up with you eventually. It's just a matter of time.
The money received from the trucking company you are contracted to, in payment for the work you have done, is not ALL yours.
That's the simplest way to think of it. There are business expenses to be paid first, money to be set aside for repairs, taxes etc., and then comes your personal bills.
Related > Stay Away From Lease Operator Programs!
The Power of a Budget, Profit & Loss Statement and Cash Flow Calculations
A projected budget and cash flow calculations are simple ways for owner operators to make decisions for the following:
According to your contract and number of earning miles, it can be estimated how much you can earn in a month or a year
A way to see how the business is doing. Is it profitable? If not what changes are needed
 Helps to determine an affordable truck payment
 How many miles do those wheels need to turn each month?
 Is there a decent profit to be made running the optimum number of miles each month, or will you be left in just a break even situation? You may need to rethink the contract you are considering or perhaps becoming an owner operator is not for you.
 Will the carrier contract you are considering pay sufficiently to meet your needs? Is the fuel subsidy offered sufficient? Pay package sufficient? You'll need to know who you'll lease on with to determine your projected profitability.
 Are your personal bills too high to also support your owner operator business?  Is the projected net profit too low to sustain your business or personal expenses?
 Are the current fuel costs too high for your older model truck with high gallon/mile usage?
One thing you're bound to see, is that a high mileage rate doesn't necessary result in a high profit.
Related > Tips on How to Spec a Truck
---
How to Calculate Your Budget/Cash Flow
A sample budget/cash flow projection.
| | |
| --- | --- |
| GROSS INCOME (mileage rate X avg miles/month) | 13,5000 |
| 1.50 X 9,000 miles | |
| Fuel | |
| (Fuel price/gallon Xavg miles/month)  2.50X9000/6 | |
| Truck fuel mileage | 3,750 |
| Reserve $$ | |
| Insurance | 500 |
| License | 150 |
| Maintenance | |
| (.10/mile: truck services, tire replacement, grease, fluid top ups etc.) | 800 |
| Income Tax (Approx. 10- 25% of Gross) 15% | 1800 |
| Loss Reserve (Unexpected) | 500 |
| Total Reserve $$ | 3750 |
| Personal Bills | 2800 |
|  NET INCOME  | |
| (Gross Income  Fuel   Total Reserves  Personal Bills) | 3200 |
| Truck Payment | 1300 |
| Projected Net Income  | |
| (Net income – projected truck payment) | $ 1900/month |
---
It is a sensible idea to examine the best situation numbers and also complete the exercise using the WORST CASE SCENARIO figures. This gives the most realistic view you should be after.
Using this calculation will help you see:
How the number of completed miles will affect your net outcome
How other factors such as fuel prices, truck age, truck condition, truck payment etc will affect projected income
Play with the numbers, by inputting a variety of numbers, reflecting a variety of situations.
As monthly and 1/4ly records are produced, comparisons with budget projections are possible to check on the well being of your business.
Do not wait until the year is over to do this exercise. Then it's too late to make any changes and do anything about it.
According to the outcome of your projections, it's then often possible to 'tweak' your plan to improve your bottom line. Are you driving too fast and burning up too much fuel? Maybe you're not getting enough miles.
These calculations will allow you to see where you are falling short and make changes accordingly.
Bookkeeping Software for an Owner Operator Trucking Business
My choice of bookkeeping software is Quickbooks. Way back when, I started using Quicken and then found Quickbooks had features which were better suited to the needs of a small business.
I've been using it for over 20 years. It's easy to use and will generate useful reports for your owner operator operation, big or small.
In the alternative, hiring a bookkeeping service is a good idea. This is a good choice if you are too busy with driving and family when you are home. Some operators do their data entry when on the road during downtime on a laptop. Or have a family member at home, enter the data….also a good choice.
Take the time to avoid the biggest and most common mistake owner operators make.  The time and effort WILL PAY many times over, to make your small trucking business a success.
More Helpful Articles for the Owner Operator