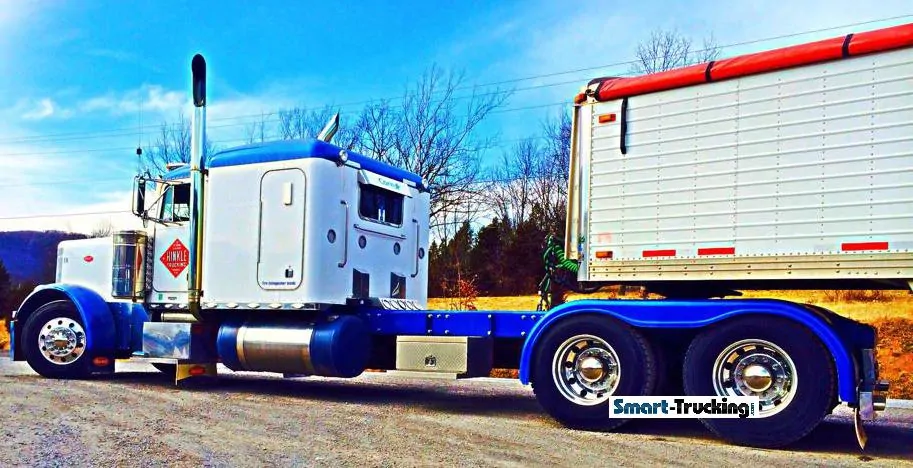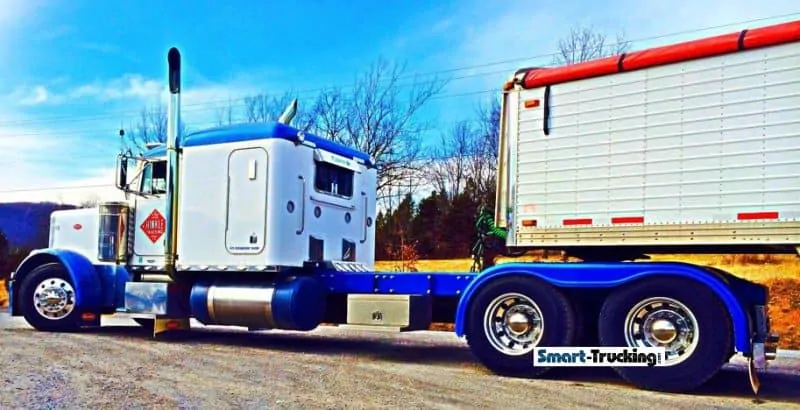 Owner operator pay questions are asked of us most frequently, by truckers looking to owning their own trucking business.
Just how much money  do owner operators make?
There's lots of variable involved. It depends on the contractual agreement the owner operator has with the trucking company he is leased on with.
Some operators are paid on a mileage basis, some are paid on a percentage basis.
The various niches of trucking pay within a very broad pay range as well. General freight/van work often pays less than specialized niche work, such as oversize and liquid hauling.
It's near to impossible to even state a range of pay you might expect as an owner operator, due to the huge number of individual contracts with the respective carriers.
Some carriers include license, insurance liability, road taxes, fuel taxes etc., in their mileage rate, some do not.
Carrier contracts are often many pages long, with a great deal of detail, outlining the agreed rates of pay for various work the owner operator will perform.
The best way to address the inquiry regarding how much an owner operator makes, would be to take a look at a few of our pay statements.
We are contracted to a liquid bulk hauler doing tanker work, hauling mostly hazmat products.
Related > Are You Ready to Be an O/O?
---
Owner Operator Pay Statement – Liquid Hauling
Let's take a closer look at a few examples of some owner operator pay statements.
This information may be helpful if you're thinking of becoming an owner operator. You may be unsure of what to expect for income or a fair mileage rate.
Be aware that contracts vary immensely  from company to company. The samples below will give you a basic overview of what to expect. Keep in mind this is a sample from one trucking company.
But, we do seek out the better paying companies and the better pay packages.  We've been with this company for about 5 years hauling tankers. It's been a pretty lucrative deal, considering the average wages that can be expected, owning your own truck.
Keep in mind, hazmat liquid hauling pays well above average in the trucking industry.
Every month is different. Some months, the pay is higher, some months the pay is lower
If maintenance costs are higher, the net profit is less.
In winter, diesel fuel costs are greater, the net profit is less.
This trucking company pays waiting time. Most trucking companies do not.
Insurance rates can vary a lot from one company to the next, depending on their safety track record.
Related > What You Need to Know About Tanker Truck Driving Jobs
Sample A
2 weeks

Revenue                 7462.28

Fuel Subsidy          2557.08 (5218 miles)

Total  Revenue   10,019.36

---

Deductions 

Fuel                      3845.26

HST (Fuel)              42.20

License                   97.12

Insurance             211.54

Total Ded             4196.10

---

Net                       5823.26

Safety Bonus   +    350 

$ 6173.26

Net Revenue/Mile  $1.18

Sample B
2 weeks

Revenue                       6399.94

Fuel Subsidy                1853.70 (4550 miles)

Total Revenue              8253.64

---

Deductions

Fuel                                   3016.15

HST                                     154.20

License                                  97.12

Insurance                             211.54 

Total Ded                          3279.17

---

Net                                  4974.47

Safety Bonus            +        175 

                                     $  5149.47

 Net Revenue/Mile    $ 1.13
Mileage Rate – Owner operator pay: This company pays a mileage rate base rate of $1.24/mile. The additional income is a paid out fuel subsidy, which fluctuates, from week to week.
Trips under 500 miles from the home terminal, are paid at a higher mileage rate.
Heavier loads over a particular gross weight, pay a higher mileage rate.
The number of years loyalty at the company also pays an extra premium on the mileage rate as well. There's a 1 year, 3 year and 5 year+ rate.
Drops & Pick-Ups – Included in the revenue are drops and pick-ups. In this case, tanker work pays $20 for a pick-up if the owner operator uses his own equipment( hoses), the pay rate is greater. In this case, we've opted out of using our own hoses because we found they are just a maintenance nightmare and not worth the small additional amount of compensation. Offloading is paid $40 and $80 if the operator uses their own equipment.
Tip: If the trucking company has fuel cards available, it's often wise to take advantage of  their program. Often the carrier gets a good deal on their diesel fuel and will pass the savings on to the owner operator. I recommend running on a company card also because your fuel deductions will always be current. If you're charging on your Visa Card or some extra credit card, if you're not keeping your payments up to date, you can get yourself into an awful lot of trouble.
Fuel Subsidy – This company pays a fuel subsidy. All companies ought to pay a fuel subsidy, unfortunately, some do not. Diesel prices are so high, that it would be virtually impossible to make a profit, without receiving a fair fuel subsidy from the carrier.
Insurance – Total premiums for the year: $5500. The company breaks up the payments over 24 pay periods, so deductions are $211.54/ pay. This particular company is self-insured so the rates are pretty fair.
License –  Total licensing costs for the year is approximately $2600: $97.12, deducted each pay period.
Safety Bonus –  This amount includes a safety bonus, which the trucking company assesses each month. Each o/o receives a report score card indicating several areas of assessment, such as hours of service violations, e-log corrections, miles without hours, posted speed, frequency if you were speeding, overspeed percentage, etc. A bonus is paid out according to the driver's safety performance, to a maximum of $350/month.
Overall the pay package is decent money for a Canadian owner operator.
However, there are many, many influencing variables involved. The above figures are intended to give potential o/o's an example of the potential earnings, when owning your own truck.
So these examples give an idea of a Canadian owner operator pay statement and income, in a specialized niche.
Related Articles